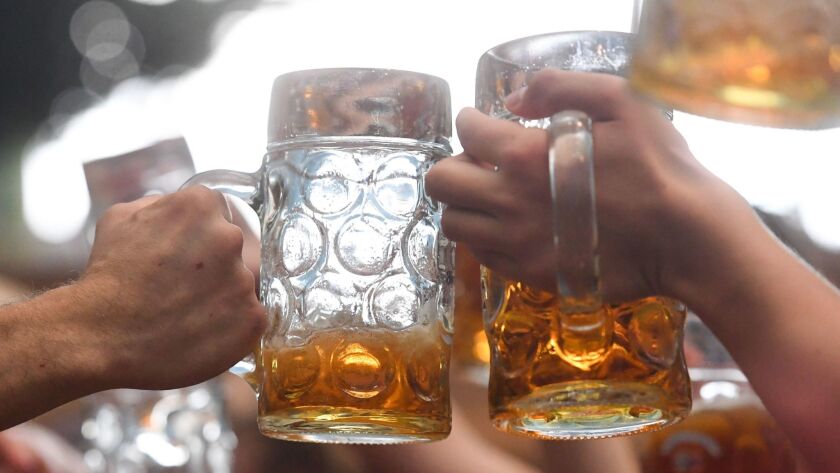 Two applications for new microbreweries are on tap for the Costa Mesa City Council on Tuesday.
Council members will decide the fate of applications from Salty Bear Brewing Co. — which is looking to move into about 3,700 square feet at 2948 Randolph Ave. — and Brewing Reserve of California, which proposes to occupy 3,000 square feet at 2930 College Ave.
Both of those properties are multi-tenant complexes.
As proposed, the two businesses would brew beer onsite and have designated tasting rooms.
City planning commissioners approved the microbreweries in September, but council members called up those decisions for review.
Mayor Katrina Foley and Mayor Pro Tem Sandy Genis asked to look at Brewing Reserve, noting it would be a new business type for the area.
In her review application, Foley wrote that her rationale was "to review concerns raised about compatibility and determine whether council desires to transform this industrial business area into an entertainment zone."
Genis wrote she was "concerned about proximity to residences and operating characteristics in general."
Several speakers raised similar concerns during the Planning Commission hearing. Others said they worried that the microbrewery might worsen parking or traffic flow in the area.
Brewing Reserve co-founder Steven Aguilar told the commission that "we don't want to start a bar; our idea isn't to have people come drink, get drunk and be disorderly or anything like that."
"We create craft beer," he said. "It is an art to us, and we want to share that with other people."
Councilman Jim Righeimer asked to examine the commission's approval of Salty Bear.
The council, he wrote in his request for review, "needs an overall parking plan before we continue to allow dramatically underparked businesses."
Parking also was cited as the primary issue when Salty Bear went before the Planning Commission.
In a bid to address that concern, the applicant has agreed to a land-use restriction requiring currently vacant tenant spaces on the property to remain unfilled until the city approves a comprehensive parking plan for the site.
With that in place, "the proposed parking layout and permitted uses on the site would not create a parking shortage," according to a city staff report.
As part of the microbrewery project, a pedestrian path would be developed to link the Salty Bear property with the Camp commercial center just to the east. Doing so, supporters said, would improve walkability in the area and enhance synergy between the sites.
The proposal also includes a patio for the microbrewery and an outdoor common space with a shade structure and campfire area.
"I'm trying to operate a business that will enable my family to remain in Costa Mesa and also be an active part of the Costa Mesa community," Salty Bear owner Joe Scagliotti told the Planning Commission in September.
Tuesday's council meeting — which starts at 6 p.m. at City Hall, 77 Fair Drive — will be the second in a row with beer on the agenda.
On Oct. 17, council members unanimously reaffirmed a Planning Commission decision to allow Bootlegger's Brewery to open a branch at 696 Randolph Ave.
Three other microbreweries are already open in Costa Mesa — Gunwhale Ales and Barley Forge Brewing Co. on Randolph and Karl Strauss Brewing Co. on South Coast Drive.
Twitter @LukeMMoney
---