Regional water quality board to hold meetings in Newport Beach about proposed regulation of copper in bay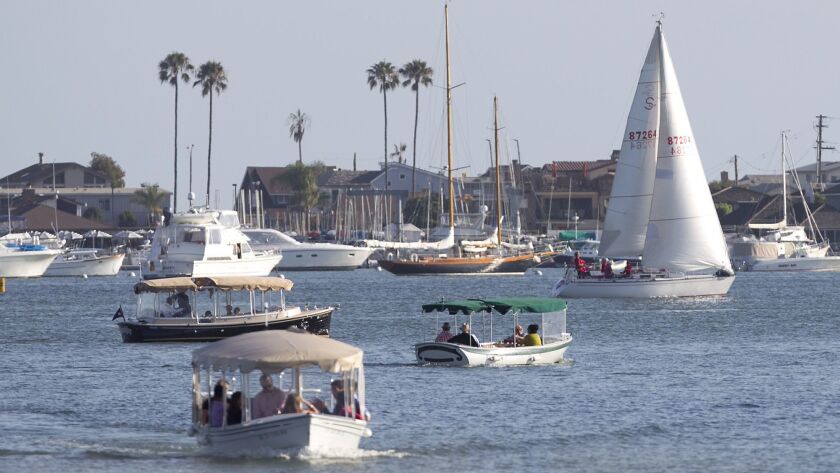 The Santa Ana Regional Water Quality Control Board will hold workshops Thursday and Friday in Newport Beach about proposed copper regulation in Newport Bay.
The workshops are part of a potential adoption or revision of proposed amendments to incorporate total maximum daily loads for copper, plus action plans for other metals, in the bay's waters.
Copper enters the water via "anti-fouling" paint on boat hulls. The paint is intended to prevent damaging barnacles or algae from sticking to vessel bottoms. But water experts say the copper also harms the gills and nervous systems of fish and kills invertebrates that other marine animals feed on.
The first workshop will run from 5:30 to 7:30 p.m. Thursday at the Marina Park Community Center, 1600 W. Balboa Blvd. The second will run from 11:30 a.m. to 1:30 p.m. Friday in the Friends Room at the Newport Beach Central Library, 1000 Avocado Ave.
Anti-barnacle paint and copper levels will be discussed, and public comments will be accepted.
The water quality board has said commercial and recreational boats release 36,000 pounds of copper into Newport's waterways each year, leading to concentrations exceeding standards set by the U.S. Environmental Protection Agency.
Copper levels are a longtime issue for Newport Bay. The regional water quality board said in 2015 that it was considering a reduction plan that could force boaters to use copper-free paint.
In 2008, Costa Mesa-based environmental group Orange County Coastkeeper said it planned to launch an educational campaign touting nontoxic paints. In 2010, Coastkeeper partnered with the city of Newport Beach to help boat owners pay to remove copper-based paint from their vessels in exchange for a silicone-based paint believed to be more environmentally friendly. The program didn't take off, however.
---
All the latest on Orange County from Orange County.
Get our free TimesOC newsletter.
You may occasionally receive promotional content from the Daily Pilot.