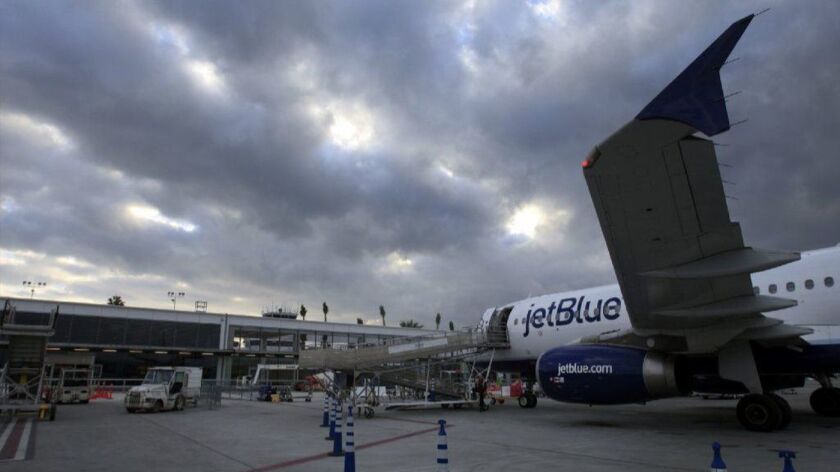 Huntington Beach is asking county and federal representatives to address aviation noise related to a relatively new system the Federal Aviation Commission requires to control air traffic at regional airports.
Mayor Mike Posey described the city as an "epicenter" for "heavily concentrated new landing and flyover patterns" in an April 2 letter addressed to Sen. Dianne Feinstein (D-Calif.), Orange County Supervisor Michelle Steel, U.S. Rep. Dana Rohrabacher (R-Costa Mesa) and FAA Regional Administrator Dennis Roberts.
"The combined results is virtually constant aircraft noise over significant swaths of our city beginning as early as 5:30 a.m. and continuing past 11:30 p.m.," Posey wrote.
Within the past year, the FAA implemented the Southern California Metroplex project, flight path alterations that cover Long Beach, John Wayne and other airfields.
The agency has said the changes would shore up inefficiencies, save fuel and reduce carbon emissions and flight delays.
Posey urged the politicians to take immediate action to help mitigate the "unacceptable noise and environmental impacts" created by Metroplex.
In a phone interview Tuesday, Posey said the city has not heard back from the federal and county officials, but he has submitted a request to meet with Rohrabacher.
Residents in adjacent cities are also unhappy with the new takeoff and landing patterns. Newport Beach and Laguna Beach sued the FAA over the system in 2016, calling inadequate the project's environmental review, which determined there would be no significant effects.
FAA spokesman Ian Gregor told the Daily Pilot in September that more than two dozen air routes have historically passed over Huntington Beach. He said the environmental findings are final and "will not be revisited."
But Huntington Beach residents have increasingly complained, which prompted the City Council in January to unanimously approve a task force to examine the issue and establish talks with aviation officials.
Council members Patrick Brenden and Barbara Delgleize proposed the panel as a way to discuss potential solutions to air traffic noise, establish a working relationship with federal aviation and local airport officials, assess opportunities for lawsuits and host community meetings
Delgleize said Tuesday that the Air Traffic Noise Working Group will meet with the city attorney to determine options.
"We're not done yet," Delgleize said. "We're still in the early stages only because we're trying to figure out the best strategy."
Twitter: @vegapriscella
---