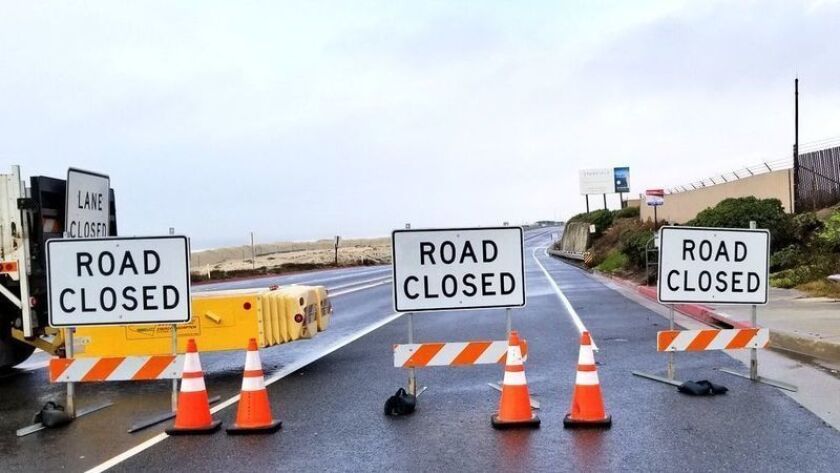 Downpours and detours go hand-in-hand for travelers on Pacific Coast Highway in Huntington Beach. But despite repeated washouts, the California Department of Transportation says there are no plans to make changes to a low-lying portion of the highway that is prone to flooding.
The stretch of highway in question, which narrows to four lanes between Seapoint Street and Warner Avenue, has Bolsa Chica State Beach on one side and the Bolsa Bay State Marine Conservation Area and Bolsa Chica Ecological Reserve on the other.
Heavy rain caused the area to be closed fully or partially at various times last weekend and on Jan 15 and 17.
"We are actively managing the occasional flooding occurrences on this low-lying portion of PCH," Caltrans representative Van Nguyen said in a statement Tuesday.
Any changes to the roadway would be difficult and potentially detrimental to the surroundings, according to Caltrans. The state owns the highway, but the adjoining land has multiple owners and is controlled by several regulatory agencies that oversee development.
"This is a highly environmentally sensitive area, and we are doing our best to maintain coastal access while preserving the environmentally sensitive areas," Nguyen said. "We don't have any projects planned to change the roadway configuration or hydraulics."
Huntington Beach Mayor Erik Peterson, a local native, said occasional PCH closures have been a way of beachside life for as long as he can remember. He said there have been no major complaints.
Before a storm approaches, Caltrans maintenance workers begin monitoring the area, Caltrans says.
"They set up barricades and place signs in case a closure is needed," Nguyen said. "They assess the situation and will let motorists through if it's safe for them to drive on the roadway. Our team works to get the road open as soon as possible after the storm."
Detours don't cause significant traffic issues or hazards for pedestrians or drivers, according to the Huntington Beach Police Department.
During inclement weather, residents can follow Orange County traffic-related alerts from Caltrans on Twitter at twitter.com/caltransoc?lang=en.
---