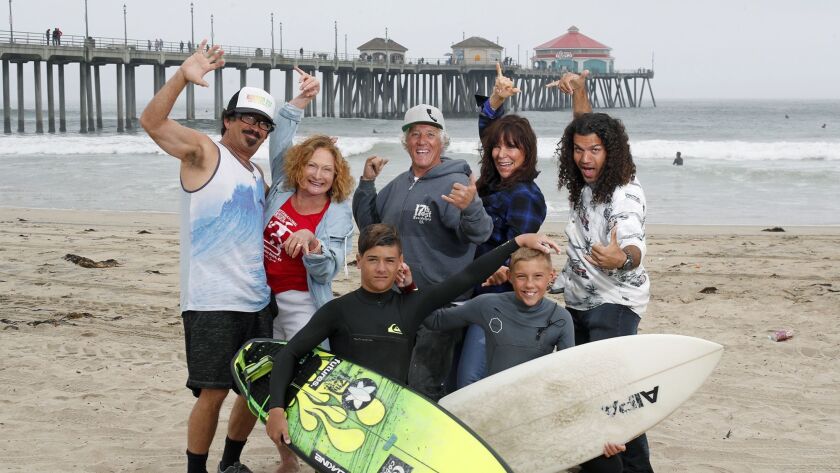 When Diana Dehm dreamed of creating the five Olympic rings with surfers in the ocean two years ago, she did it with the intent of raising awareness for the financially struggling International Surfing Museum in Huntington Beach.
But what Dehm, then the museum's executive director, didn't expect was the ripple effect her vision would create for the surfing community beyond Surf City.

Nearly a year after Huntington Beach set the Guinness world record for the largest paddle-out by forming the Surfing Circle of Honor in 2017 (rather than the Olympic rings), Dehm got a call from Israeli surfers who were seeking advice on how to create their own circle and break Huntington's record. The surfers were upset, saying an oil company was going to ruin their favorite surf break, Dehm said.
She said it's evident the Surfing Circle of Honor created waves, inspiring people to keep the oceans clean and preserve "the love of our surf breaks around the world."
Dehm's vision is continuing to make an impact with a 24-minute documentary called "Surfing Circle of Honor for Surfers by Surfers," which will debut Friday during the Newport Beach Film Festival. The festival runs Thursday though May 2.
The documentary, created by Dehm and Eric VanDruff, explains how the Surfing Circle came to fruition.
Footage shows Dehm explaining why the surfers didn't form the Olympic rings (they're trademarked); interviews with Jericho Poppler, the first female world surfing champion, and Don Ramsey, founder of the Kowabunga Van Klan of Huntington Beach, which presents an annual Volkswagen show; and how the event was nearly called off because of choppy surf, strong currents and fog.
It took 511 surfers to claim the world record. Surfers were supposed to hold onto a massive circle of pool noodles, but it eventually broke and they joined hands instead. Several city officials, including then-Mayor Barbara Delgleize, were in attendance.
According to Ramsey, the plan also was to put Huntington Beach on the map for the 2028 Summer Olympics after the International Surfing Assn. succeeded in getting surfing included in the 2020 Games.
"We want to be considered the surfing village or venue for the 2028 Olympics," said Ramsey, who was the first to learn about Dehm's plan and immediately got onboard to make it happen.
Several people interviewed in the documentary explain how the event was a spiritual experience. For Ramsey, it marked "one of the biggest adventures of my surfing career."
Dehm is inviting all the surfers to join her at the film festival to relive the experience together as the documentary is projected on the big screen.
"It's a dream come true," she said. "We came to set a world record, but we also came together in ways we created friendships we'll forever have. That chokes me up."
If You Go
What: "Surfing Circle of Honor for Surfers by Surfers"
When: 5:30 p.m. Friday and 5:45 p.m. Monday
Where: Triangle Square Cinemas, 1870 Harbor Blvd., Costa Mesa
Cost: $16
Tickets and information: newportbeachfilmfest.com/?s=surfing+circle+of+honor
---