Legal settlement between Laguna Beach and ACLU details changes to be made at city homeless shelter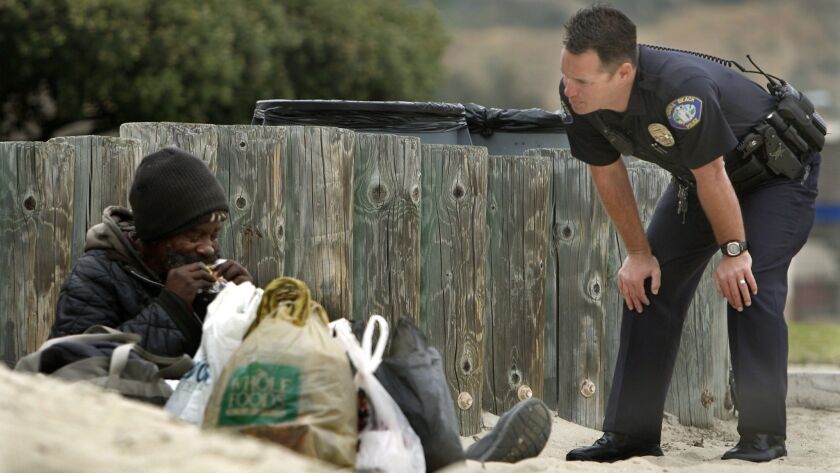 A settlement agreement between Laguna Beach and the American Civil Liberties Union filed Wednesday in federal court outlines changes in accommodations for disabled homeless people at the city's night shelter and marks an end to a class action lawsuit that has spanned nearly three years.
The ACLU filed the suit in 2015 on behalf of five chronically homeless people with mental and physical disabilities. The organization accused Laguna Beach of trying to push homeless people — especially those with disabilities — out of the city by not providing adequate accommodations for them.
Laguna Beach City Manager John Pietig said in a statement Wednesday that the allegations in the lawsuit of violations of the Americans with Disabilities Act and the Rehabilitation Act of 1973 were "grossly misguided and resulted in years of staff time and substantial financial resources that could have been devoted elsewhere."
"We are happy to be moving past it," he added.
It isn't clear how much money the city spent fighting the lawsuit. No money changed hands as part of the settlement.
Eve Garrow, an ACLU homeless policy analyst and advocate, said Thursday that the settlement puts other cities and counties on notice that they must be conscientious and flexible in providing services to homeless people who suffer from mental and physical disabilities.
A federal judge must certify the settlement agreement before it can take effect. A date for that has not been set, according to court records.
The 17-page agreement, signed March 23, focuses extensively on conditions at the shelter in Laguna Canyon called the Alternative Sleeping Location.
The site provides shelter nightly for up to 45 homeless people, plus meals, laundry, showers and van service to Laguna's bus depot. The Laguna Beach-based nonprofit Friendship Shelter has operated the facility under contract with the city since 2009.
As part of the settlement, the city agreed to pilot a program that will identify sleeping areas at the shelter for disabled people who can't tolerate crowded or noisy conditions, provide raised cots for those with disabilities that make it difficult for them to sleep on a mat on the floor, and provide refrigeration for medication and access to electrical outlets.
The settlement also puts a process in place for homeless people to appeal a denial of a request for a certain accommodation.
In addition, the city committed to have daytime hours at the shelter for people to use the laundry services, shower or eat a meal.
ACLU attorney Ian Kysel said the agreement provides a blueprint for necessary accommodations that other cities can use to provide services to homeless people.
"These changes are all reasonable accommodations that should have been made available under the law," Kysel said Thursday. "Some of the key changes provide a road map for municipalities to ensure their most vulnerable population can access shelter and services without being kicked out or limited because of their disabilities."
Laguna Beach Mayor Kelly Boyd said in a statement that the city "has made unparalleled efforts to help the homeless population in the area."
"Unfortunately, this is a regional crisis and not one we alone can solve," Boyd said.
The ACLU and the city have been at odds before. In 2008, the ACLU challenged a Laguna Beach ordinance that allowed police to ticket homeless people who had no other place to sleep. That case was settled quickly, with the city agreeing to repeal sections of the ordinance that prohibited sleeping or camping in public places. The Alternative Sleeping Location was established after that lawsuit.
As part of the settlement in the latest case, the Laguna Beach City Council agreed to adopt a resolution to affirm its commitment to end homelessness in the city, encourage Orange County to fund and expand affordable housing for unsheltered people and coax other cities in the county to take a similar stance.
"It's a call to county government to get serious about taking a leadership role in a regional solution to ending homelessness," Garrow said.
The settlement comes at a critical time for Orange County communities that have been grappling for months to find locations for homeless shelters. A civil lawsuit was filed in federal court in January after hundreds of homeless people were removed from encampments along the Santa Ana River.
U.S. District Judge David Carter, who is overseeing that lawsuit, has called for a regional approach to homelessness in which the county would be split into three zones, each with a shelter.
Twitter: @HannahFryTCN
---
All the latest on Orange County from Orange County.
Get our free TimesOC newsletter.
You may occasionally receive promotional content from the Daily Pilot.