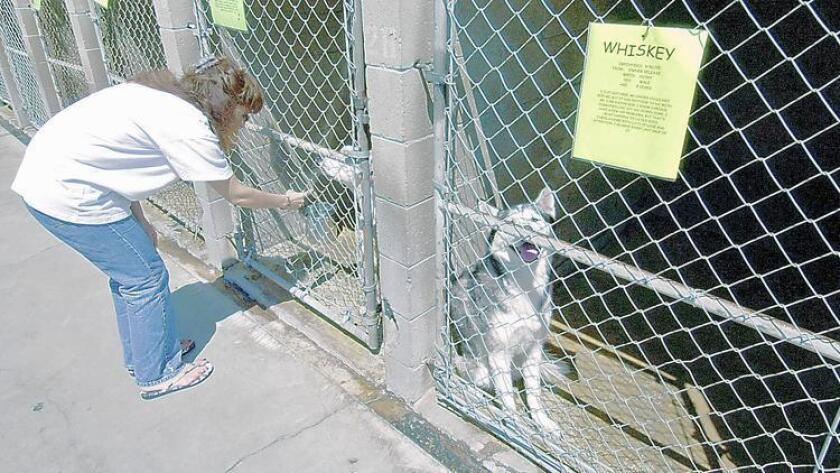 Costa Mesa is getting its own animal shelter following a unanimous vote by the Planning Commission on Monday night.
The decision to allow the Orange County Humane Society to develop and operate a shelter at 642 Baker St. came despite sometimes strenuous objections from nearby business owners and residents, including one who called the organization's leader "Dr. Death."
Commissioners said they favored having a shelter in Costa Mesa to house stray cats and dogs picked up by local animal-control officers.
The commission's decision is final unless appealed to the City Council within seven days.
Currently, Costa Mesa's stray animals are taken to the Humane Society's shelter in Huntington Beach. That facility also serves the city of Garden Grove.
Costa Mesa has contracted with the Humane Society for animal-care services since 2009.
"I'm in support of having this kind of shelter and I think this is probably the best location that we're going to find, at least for now," Commissioner Jeffrey Harlan said.
The shelter will be in a one-story, 3,700-square-foot building and be open from 10 a.m. to 6 p.m. Mondays through Fridays and 9 a.m. to 5 p.m. weekends.
The facility will include separate housing areas for cats and dogs, as well as an onsite outdoor exercise area. Humane Society staff will provide basic handling, minor medical treatment, cleaning and health evaluations. Public veterinary services will not be offered.
According to the city, the Humane Society also will clean and disinfect the facility regularly using odor-control products.
The shelter will hold animals for five to seven days in case their owners claim them. After that, the animals will be made available for public viewing and adoption.
No animals will be euthanized at the location, according to city staff.
Though many residents who spoke at Monday's meeting said they favor a local shelter, they objected strongly to having the Orange County Humane Society run it.
Speakers leveled a litany of allegations against the group, saying its shelter in Huntington Beach is unsanitary and unsafe for animals and that the organization lacks transparency and too often euthanizes animals in its care.
They also didn't like that no shelter staff members would be at the Costa Mesa facility outside public operating hours.
"Please, for the animals of this city, find a better alternative," said Sharon Logan, who runs a Seal Beach-based nonprofit called Paw Protectors Rescue.
Such grievances have been raised against the Humane Society before. In 2015, the city of Newport Beach scrapped its agreement with the organization after its animal-control officers alleged they had found unsanitary and inhumane conditions at the Huntington Beach shelter.
At the time, Costa Mesa officials acknowledged that aspects of the shelter's operations needed improvement but said their observations didn't match some of the issues raised by Newport's officers.
On Monday, several business owners objected to the new shelter's chosen location, saying loud noises from nearby auto shops could be harmful to the animals.
Baker Street also presents a risk, they said, because any animal who slips its leash or darts through a fence would likely run headlong into traffic on the busy road.
Others said they were worried that barking dogs and mewling cats could interrupt their businesses or that shelter staff and visitors might take spaces in their parking lots.
Costa Mesa resident Bill McCarty said the city "really needs to sever ties with OCHS, not continue building a bigger relationship with them."
"They have a long record of mistreating animals in their care," he said.
Regarding Samir Botros, who owns the Huntington Beach shelter, McCarty said he's "heard many rescue organizations refer to him as 'Dr. Death.'"
Botros took offense to that. "To call me 'Dr. Death,' that's really insulting, because we're here to save lives," he said.
He also dismissed many of the criticisms of him and the Humane Society as innuendo fanned on social media.
"All what I hear here is 'He said, she said' and Facebook and Twitter and Instagram and all that stuff," Botros said. "If somebody here loves the animals, it's all about emotion. We work for them — work our butts off for them."
After several outbursts from Logan, commission Chairman Stephan Andranian asked her to leave. As she did, she threatened to file a lawsuit "if the city of Costa Mesa allows him [Botros] to continue to kill animals."
Commission Vice Chairman Byron de Arakal acknowledged the objections to the Humane Society but said he trusts local animal-control officers who regularly inspect the Huntington Beach facility and will do likewise at the Costa Mesa shelter.
"If they are confident that this is a clean operation and they're doing a good job, that means they're staking their reputations on coming forward and publicly stating that," he said.
De Arakal added that he's "perfectly comfortable with the operator at this point in time."
Twitter @LukeMMoney
---