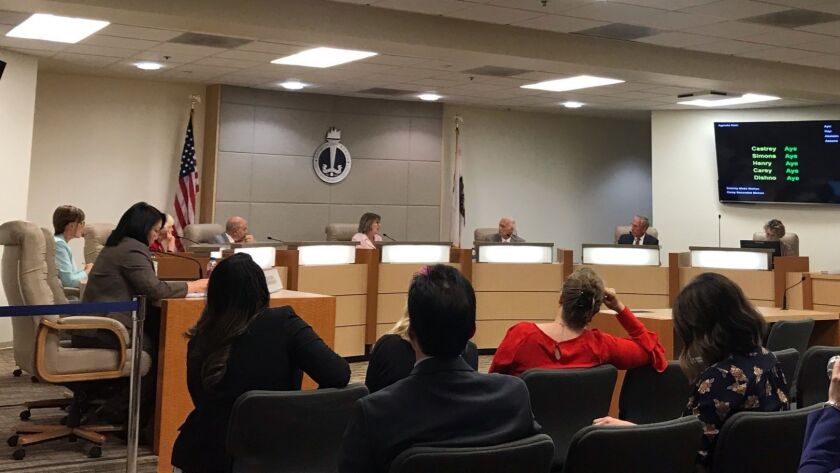 The Huntington Beach Union High School District expects a comprehensive report on the air quality at Edison High School within the next few days, as some parents continue to raise concerns with the effects of the controversial cleanup of the former Ascon landfill nearby.
Earlier testing from Compton-based Forensic Analytical Consulting Services initially indicated the air at Edison High was well within safety standards set by the California Air Resources Board and the American Industrial Hygiene Assn., the district announced last week.
Those results gave the district the green light to proceed with summer school classes and other planned campus activities after concerns were raised about dust and odor from the 38-acre former landfill across the street.
"They did some cursory tests first to get summer school open and then they put some canisters out that have some greater readings, and we're waiting for that report," Supt. Clint Harwick said during Tuesday's district board meeting. "We hope to get that report in a few days."
A copy of the report will be made public on the school district's website, spokeswoman Cheryl McKenzie wrote in an email Wednesday.
Complaints about the final cleanup of the Ascon site at Hamilton Avenue and Magnolia Street have ballooned since April. Officials with the South Coast Air Quality Management District have said the agency has received about 150 complaints and issued some notices of violation.
Remediation work at the site came to a halt earlier this month when the California Department of Toxic Substances Control suspended the cleanup indefinitely until Project Navigator, an environmental consultant overseeing the daily activity at Ascon, implemented 10 safety enhancements.
State officials have tried to assure residents that the project has not posed significant public health risks, according to data gathered so far. Ascon spokeswoman Mary Urashima has previously said the site is in compliance with safety standards and that the air quality is monitored throughout the day.
If Project Navigator meets its requirements and resumes digging extensively, Harwick said the district could call for additional testing on campus, in parks, in homes and the surrounding area. Ascon also needs to communicate with students, he added.
The cleanup at the site — which served as a waste disposal facility from about 1938 to 1984 — is expected to continue through 2020.
McKenzie said after Tuesday's meeting that the district received a summary report from Forensic Analytical and is waiting for more information.
During the public comment period at the board meeting, some parents and other residents called for more transparency from the district, requested additional testing for the new school year and, in one instance, asked to relocate the campus.
Parent Jami Marseilles told Harwick that she appreciated his update but said there needs to be more communication and that the district should test the soil, water and air at Edison and the surrounding area.
"Who is the third party that did these tests?" Marseilles said. "If they tested the air, did they test it on a Tuesday at 9 a.m. and then at 2 p.m. when the wind blows up? Did they test it over by Sowers [Middle School]? Did they dig deep in the soil? We all agree we want this cleaned up. We pay big bucks to live in this amazing city, but no one wants to be infected by what's going on there."
Fellow parent Mariya Sheldon urged the district to stop "stonewalling" and help protect students.
"We were here a few weeks ago and asked for third-party air, soil and water testing to be conducted at Edison High School," she said. "We asked for communication to the parents. Did that happen? Where are the results? All we got was a watery robocall saying it's healthy. Who determined that? If you preach transparency and collaboration, where are the results from those tests? We deserve to know what our children have been and continue to be exposed to."
Resident Ryan Messick told the board that community members have been "crying for help" and that trustees are trying to get in front of the issue only after residents got the cleanup halted.
"Nobody stepped up until these parents stopped what was going on at Ascon all by themselves," he said. "None of you guys stepped up for 15 years. … You're just trailing our draft."
Support our coverage by becoming a digital subscriber.
---
UPDATES:
This article was originally published at 10 a.m. and was later updated with additional information.
---