Newport Beach may make 'commitment' to not violate open meetings law in city manager transition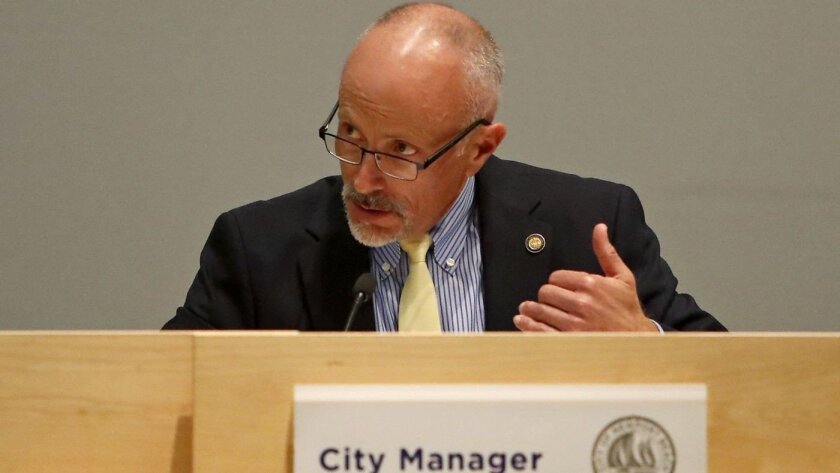 Newport Beach city staff is recommending that the City Council formally commit to not violating the state open meetings law in the transition to a new city manager — a response to allegations that a majority of council members had done just that regarding the impending departure of City Manager Dave Kiff.
But the proposed "commitment letter" also emphasizes that such surreptitious meetings never took place.
In a complaint to the council April 10, resident Lauri Preedge leveled accusations of violations of the open meetings law, known as the Brown Act. Rather than issue an outright rejection of the allegations, which could leave room for Preedge to file a lawsuit, Kiff and City Attorney Aaron Harp recommend the council issue the "commitment letter," which also does not admit fault.
The council will consider the matter at its meeting Tuesday.
"The letter explicitly does not acknowledge the presence of a Brown Act violation and instead is designed to conserve public resources and avoid unnecessary litigation by agreeing to comply with the law, which the city already does," Kiff and Harp wrote in a memo in advance of the meeting. "Although we strongly disagree with the allegations in Ms. Preedge's letter, to conserve city resources and avoid unnecessary litigation, we recommend following the process outlined in [state law] and approving the letter."
Preedge's complaint alleges that a majority of the seven-member council met secretly to plot Kiff's ouster months earlier than the April 2019 expiration date of his contract. Kiff plans to leave in August after 20 years with the city and nine as its top administrative official.
"In its meeting of March 27, 2018, four members of the Newport Beach City Council conspired to, and did, take action to terminate the employment of City Manager Dave Kiff by acknowledging an alleged request by Mr. Kiff, apparently made under duress and threat of termination without cause, to have his current employment renegotiated and prematurely concluded," her complaint reads. "The action taken was not in compliance with the Brown Act because it occurred as the culmination of discussions over a period of weeks by a majority of the City Council members in private, either directly or through intermediaries. The act does not allow for this type of clandestine activity, either in closed session or outside of a properly scheduled meeting."
In a suggested response, the city staff offers this solution: "In order to avoid unnecessary litigation and without admitting any violation of the Ralph M. Brown Act, the City Council hereby unconditionally commits that it will cease, desist from and not repeat the challenged past action as described above."
Kiff's supporters have accused council members Kevin Muldoon, Scott Peotter, Mayor Pro Tem Will O'Neill and Mayor Marshall "Duffy" Duffield of conspiring to force Kiff out. The four have denied the allegations.
Preedge, a real estate agent, said Friday that the suggested solution is incongruous.
"The council majority … and the City Attorney Aaron Harp seem confused about what they are doing," she said. "Their words about an early retirement of Mr. Kiff certainly contradict with the $200,000 severance package being paid to him. Their Brown Act cease and desist is also contradictory — they agree to no longer violate the Brown Act, but claim they didn't do it. An honest person will stand up and do the right thing, even if it is not the easiest path. If they did nothing wrong, that is what they should say, future litigation be damned. Of course, any rational person can see that the Brown Act was violated with these secret negotiations, which excluded three members of the City Council yet included the city attorney, whose job it is to protect the city and limit litigation."
Community survey
Also Tuesday, the council will hold a brainstorming session on what qualities the next city manager should have.
Members of the public will be able to give their input on who should succeed Kiff, focusing on experience, values and related qualifications. The city also has released an online survey asking residents to rank potential candidates' personal style and attributes, along with community issues such as Newport Harbor and water quality, traffic and John Wayne Airport relations. The survey is at newportbeachca.gov/communitysurvey.
The council meeting starts at 4 p.m. with a study session, followed by the regular session at 7 p.m. at City Hall, 100 Civic Center Drive.
Twitter: @Daily_PilotHD
---
All the latest on Orange County from Orange County.
Get our free TimesOC newsletter.
You may occasionally receive promotional content from the Daily Pilot.