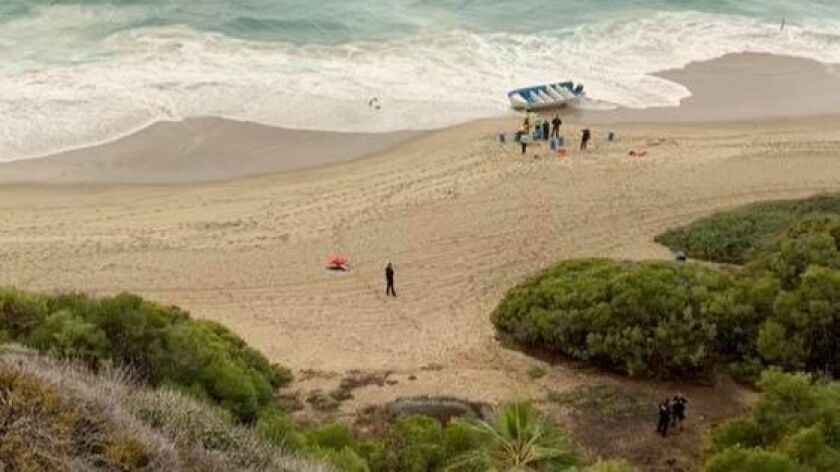 Nine people were detained after a fishing boat landed in Laguna Beach on Thursday morning. Other people aboard fled and are being sought, police said.
Just before 7 a.m., police contacted members of a group who had traveled on the blue-and-white panga-style boat to a beach in South Laguna, said Laguna Beach Police Department spokesman Jim Cota.
Two men suspected of human smuggling were among those detained, U.S. Border Patrol spokesman Vincent Pirro said in a statement. No drugs were involved, he added.
The two suspects are a U.S. citizen and an undocumented immigrant, the Border Patrol said.
Seven men — four nationals of Mexico and three of China — were among the passengers, the Border Patrol said.
Two vehicles were found that authorities believe were assigned to pick up the boat's passengers, Laguna Beach police said.
Police obtained video showing 13 people fleeing the boat. Authorities searched for the additional passengers on the beach and surrounding cliffs, police said.
Laguna Beach PD, Marine Safety, and @CBP are still in the area searching on foot for additional panga boat passengers after the obtained video shows 13 individuals fleeing from the boat. Currently, 7 are detained. pic.twitter.com/ETvZ2gAr4f

— Laguna Beach Police (@LagunaBeachPD) November 29, 2018
An observer alerted police after seeing the boat approaching the shore at Coast Royale Beach in front of the Laguna Royale condominium community near Bluff Drive, the Border Patrol said.
The boat's starting point isn't clear, authorities said.
Panga boat landings have occurred before in the Laguna Beach and Crystal Cove areas.
In June, a similar vessel was found abandoned near Crystal Cove State Park. An investigation estimated that 12 people had disembarked, according to U.S. Customs and Border Protection.
In 2010, eight to 10 people in a small boat reportedly went ashore at Crystal Cove State Park.
In 2013, officials seized a boat carrying 24 passengers, including a 17-year-old, near Crystal Cove. A year later, officials found an abandoned 30-foot panga boat in that area.
Panga boats are fishing vessels that tend to be about 20 feet long and often are powered by outboard motors. They sometimes are used to smuggle drugs and people into the United States, according to the Border Patrol.
In the 2017 fiscal year, the Border Patrol reported it apprehended 347 people trying to enter the country by water along the California coast.
---
UPDATES:
5:35 p.m.: This article was updated with additional details, including the latest number of people detained and a change in the location from West Street Beach to Laguna Royale Beach.
11:40 a.m.: This article was updated with the latest number of people detained and further information on the passengers' nationalities.
This article was originally published at 10:30 a.m.
---