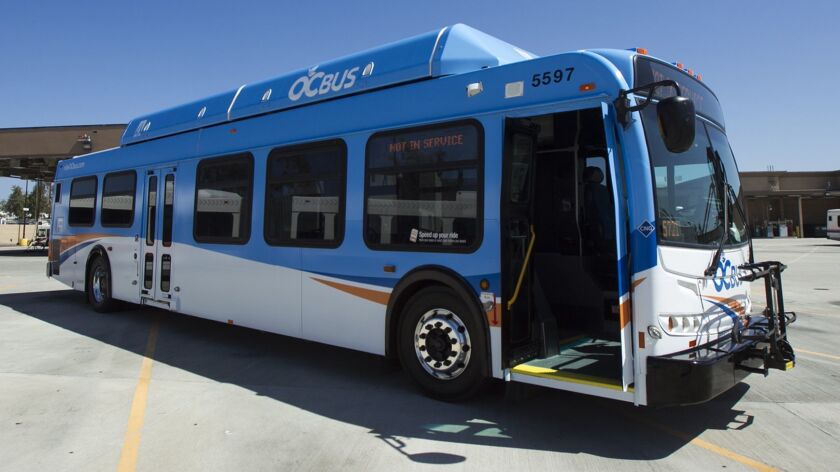 Some Orange County Transportation Authority buses didn't make their stops in February and March, leading some Orange Coast College students without cars to pay for ride services or miss classes.
Judie Ramirez, 23, a business major who commutes to OCC's Costa Mesa campus from Newport Beach, said buses have not arrived several times in the past few weeks.
"I either call an Uber or just have to miss class," Ramirez said.
She said she may have to drop a class if she's not able to catch up with her work.
Computer science major Joshua Chong, 20, said he's also been affected, though he lives close by in Costa Mesa.
"Sometimes the bus is 20 to 30 minutes late, or even 15 minutes early, which is much worse," he said. An early arrival means riders have to wait until the next scheduled pickup, which could be an hour or more later, depending on the route and time of day, he said.
According to the OCTA, the reason for the missing buses is that many routes don't have an assigned driver due to scheduling problems with a contractor.
OCTA spokesman Eric Carpenter said the problems happened after Feb. 10, the agency's most recent service change.
As part of the change, First Transit, a company OCTA contracts with to provide coach operators, updated its services to comply with federal regulations regarding breaks during work.
First Transit adjusted its schedules to include more operators but didn't have sufficient staff to cover the routes. More than 500 bus trips were missed out of 48,000, about a 1% failure rate, officials said.
Despite the low rate, the effects can be hard on people counting on those routes. Routes most often were dropped in the early morning, when people take the bus to school or work. Problems with the bus schedule also can cause trouble for people trying to get to appointments and interviews.
Coral Mestas, a 22-year-old art history major, said her mother suffers from serious physical disorders that make it impossible for her to work, so Mestas has supported her since she was a minor.
When Mestas was younger, they rode the bus every day so she could attend a better school in a different neighborhood, she said. But she and her mother were unable to keep up with the challenges of the bus system and accepted a closer, though less optimal, high school, she said.
"When it's late you can complain, but when you really have to be somewhere it's a … problem," Mestas said.
When her bus failed to arrive this month, Mestas thought it had arrived early or would be late. She called the OCTA help line and was surprised to hear the bus was not coming at all.
She waited an hour in early-morning cold and rain, and when she got to school she dried her shoes with a hand dryer in a bathroom.
Rain Reinoehl is a staff writer for the Coast Report, the student newspaper at Orange Coast College.
---