Former Angels pitcher Jim Abbott encourages students in Sage Hill prosthetics group to 'keep opening doors for others'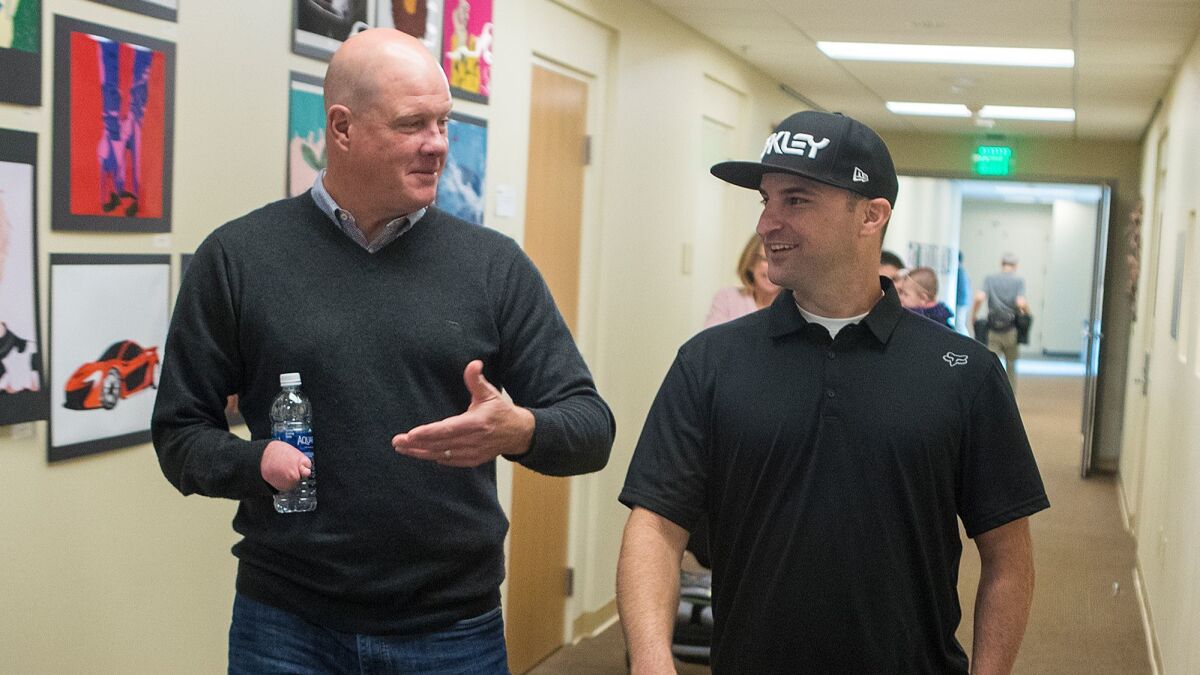 Jim Abbott, who overcame being born without a right hand to pitch 10 seasons in Major League Baseball, visited Sage Hill School in Newport Coast on Wednesday to share with students how he learned to make the most of his opportunities.
Abbott, who played for the Angels, New York Yankees, Chicago White Sox and Milwaukee Brewers between 1989 and 1999, was one of three speakers with upper limb deficiencies who told how they conquered hurdles with and without the use of prosthetics.
The other guests were Lauren Scruggs Kennedy, a former model and current fashion blogger who lost her left hand and left eye in 2011 when she walked into a spinning airplane propeller, and Stephen Ley, who was born without four fingers on his left hand and now races and builds mountain bikes for a living.
The event was held with help from Sage Prosthetics, a group of students and faculty that collaborates with Enabling the Future, a web-based international network that provides design sheets and kit materials for 3-D-printed prosthetic hands to volunteer makers and ships their completed products to places where they're needed.
Sage Prosthetics faculty advisor Tanya Lerch said feedback received from the speakers would help shape the group's direction and vision.
Rachel Bryant, 18, who has been involved with the group since it began in fall 2016, said it was inspiring and enlightening to hear how the guests were able to push forward despite their obstacles.
Abbott, who now works as a motivational speaker, praised the group for dedicating time to helping others. He shared how he learned to focus on the talent he was given instead of on his shortcomings.
Abbott credited his hometown of Flint, Mich., for embodying an attitude of seeking solutions and helping others.
His parents would triple-knot his shoe laces because he didn't know how to tie them, Abbott said. But one day his second-grade teacher showed Abbott a method he had brainstormed to help him tie his shoes.
"Think about that generosity to go outside of yourself and think of somebody else," Abbott said. "I was grateful for my hometown because of people who helped me be creative."
Abbott said he didn't want to be known as "the one-handed pitcher" but as a "good pitcher."
Meeting families and their children served as "profound inspiration" for him to make the most of the opportunities in front of him, Abbott said.
"I encourage you to keep opening doors for others and yourself," Abbott said. "Approach life with a passion, with an obligation, with an accountability to make the most with the talent you have. I encourage you to continue opening these doors and helping find solutions to make this world a better place."
Twitter: @vegapriscella
---
All the latest on Orange County from Orange County.
Get our free TimesOC newsletter.
You may occasionally receive promotional content from the Daily Pilot.