Orange Coast College breaks ground on 814-bed student housing project
Orange Coast College officials break ground on the Costa Mesa campus' student housing project Thursday. The project is set to be completed in fall 2020 with 323 fully furnished apartment-style units containing 814 beds.
(Don Leach / Staff Photographer)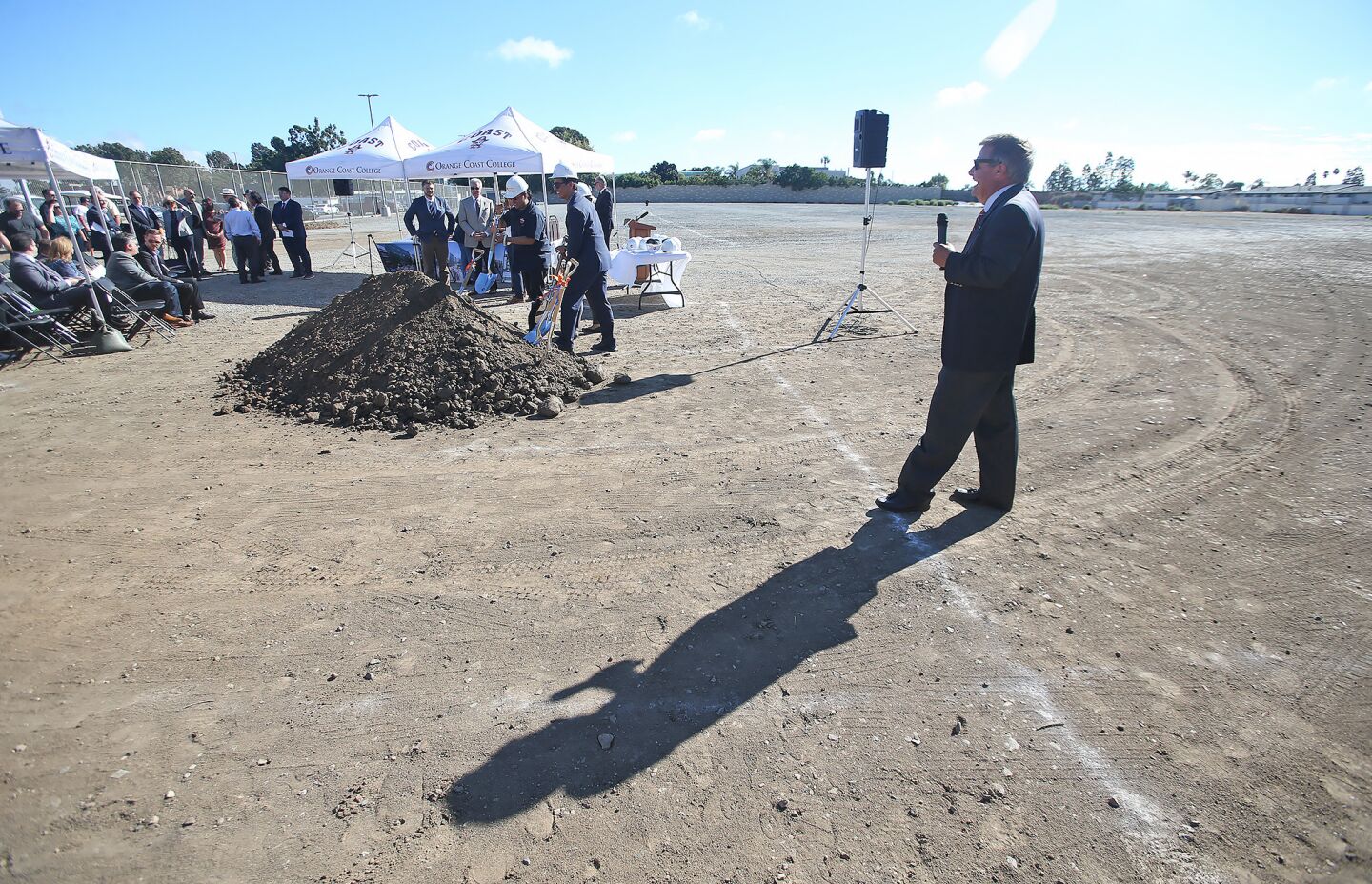 Doug Bennett, executive director of the Orange Coast College Foundation, comments during the groundbreaking ceremony Thursday for the college's student housing project.
(Don Leach / Staff Photographer)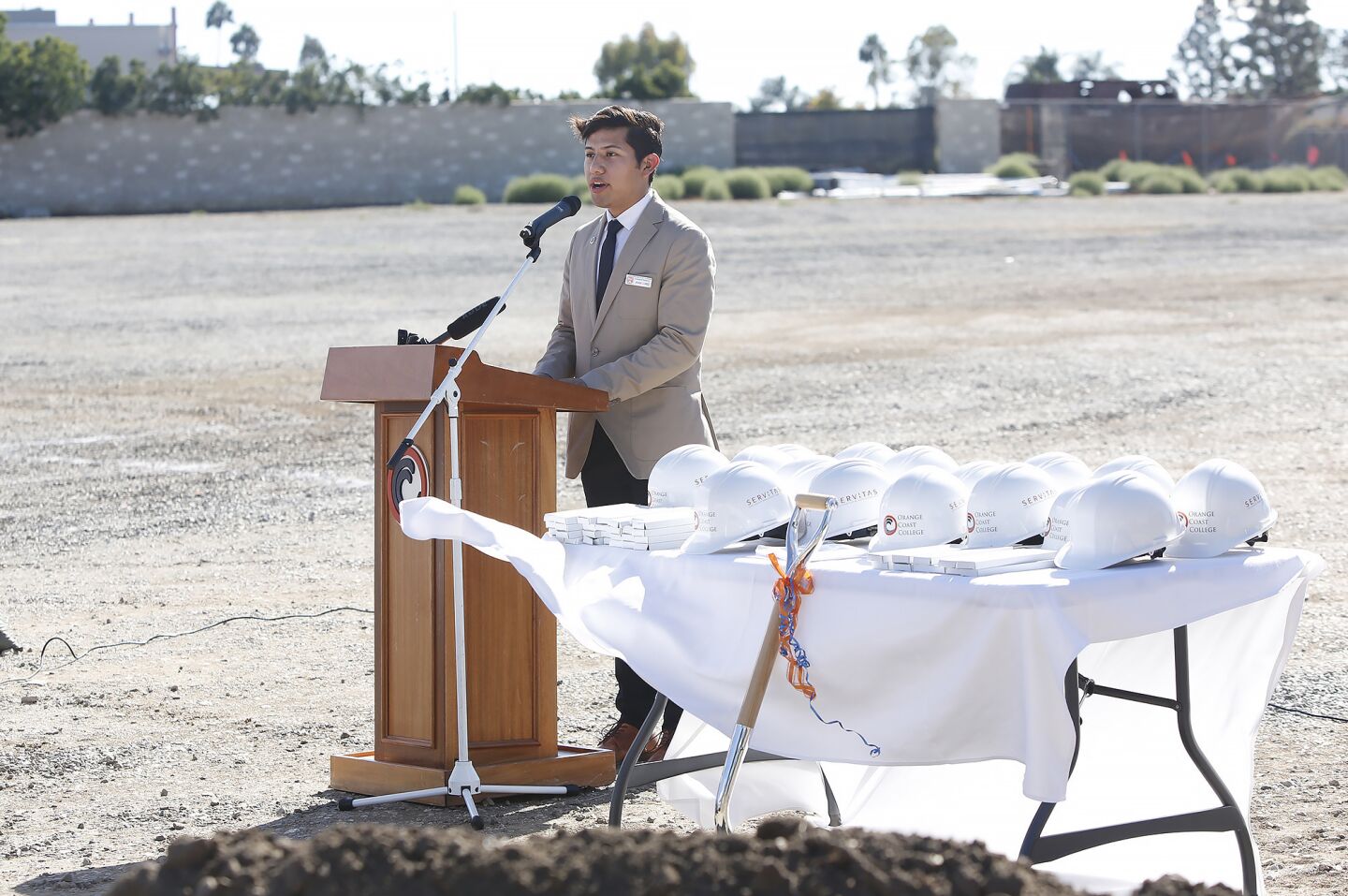 Student Body President Jesse Lopez speaks during Thursday's groundbreaking ceremony for Orange Coast College's student housing project.
(Don Leach / Staff Photographer)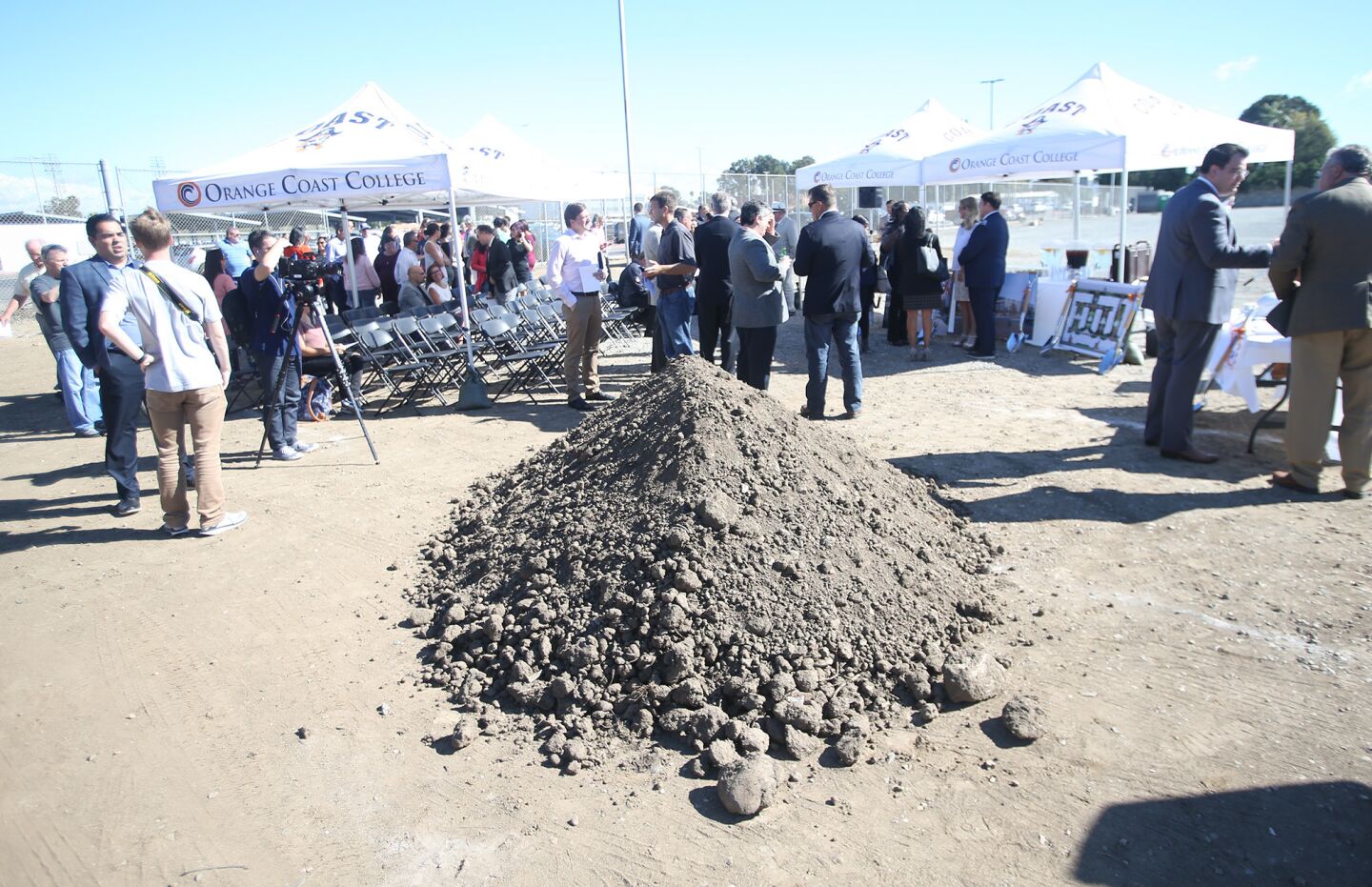 Ground is broken Thursday for Orange Coast College's 323-unit campus housing project for students.
(Don Leach / Staff Photographer)
Orange Coast College broke ground on its first on-campus student housing project Thursday.
The 814-bed development is set to be completed in fall 2020 with 323 apartment-style, fully furnished units centrally located on the Costa Mesa campus. Common areas will include a study space and kitchen.
"It's not going to be your typical multifamily housing like we have all around us," said Richard Pagel, OCC's vice president of administrative services. "It'll be purposefully built for students in mind. So it's a little bit different than, say, the apartments across the street."
The idea is to create convenience and camaraderie for students living at the facility and encourage them to participate in campus activities, such as attending athletic and theater events.
"We wanted to move to a seven-day-a-week operation," Pagel said. "So having that population of students that are … right here on campus gives us a great opportunity to have them intermingle with the campus, become a cohort of students and then stay in school. That's really the bottom line: Stay in school."
Having student housing is expected to increase retention and eventually the graduation rate, since a place to stay on campus eliminates obstacles such as lack of transportation, officials said.
In fact, the college hopes many students will come without a car. Though the housing will include about 800 beds, only about 600 parking spaces will be added on campus. Students will be encouraged to walk, bike, skateboard and use public transportation to get to the stores and restaurants within a mile of OCC.
When the college went through the project's California Environmental Quality Act review process, it determined that the housing would decrease traffic since it would eliminate some commuting. Businesses and residents within a mile of the campus were sent letters informing them of the project and inviting them to a series of public forums at the college.
The construction cost comes to about $89 million. The college sold tax-exempt bonds, and as residents of the housing pay rent, a portion of that will help pay off the bonds over the next five years, Pagel said.
For students, the cost will be close to market rate for apartments, though Pagel said the college is trying to get below that. The most expensive unit — one bed, one bath — will cost just over $2,000, while the most affordable — two bedrooms, with two beds per room — will be about $1,000 per person.
The units will come with all utilities and cable included. Students will not be required to have a credit check and will not have to put down the first and last month's rent.
"It's unique because housing is so expensive here in Southern California," Pagel said. "We're seeing property going up by 10% [each year], and that's not sustainable for students."
OCC has partnered with the Scion Group, the nation's largest operator of collegiate housing, to bring on assistants and directors for the housing, and security will be around the clock.
Student residents must be in good academic standing and agree to live by the rules, which include no alcohol and no smoking.
OCC will begin leasing in October 2019. The units will be available on a first-come, first-served basis.
Twitter @CharityNLindsey
---
All the latest on Orange County from Orange County.
Get our free TimesOC newsletter.
You may occasionally receive promotional content from the Daily Pilot.