Oversized murals at O.C. Fair pay homage to agricultural icons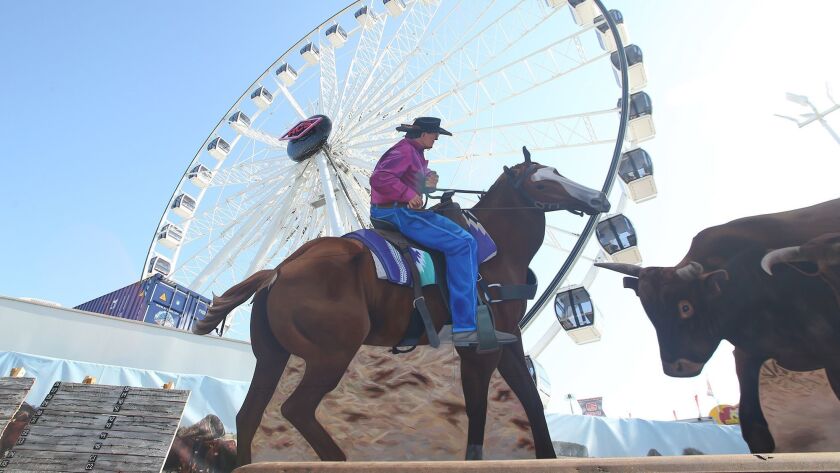 Cowboy Frank Fitzpatrick believes it's important to remind local residents of Orange County's agricultural roots.
The O.C. Fair is doing just that with three new murals in the "Bounty of the County" exhibition that depicts the people behind some of the area's enduring farms and ranches.
One image is of Fitzpatrick, owner of the 5 Bar Beef ranch in Trabuco Canyon.
"I've seen the mural, and I think it's amazing," he said.
The other works are of the Tanaka family, which runs Tanaka Farms in Irvine, and Martin Almanza, manager at Neff Ranch in Yorba Linda and Tustin.
Salinas artist John Cerney, 64, who is known for larger-than-life cut-outs, painted the pieces, which tower over each of the fair's entrances.
The fair commissioned Cerney about a year ago. Working from photos of his subjects, he crafted the images in his workshop between April and June. The three murals cost $19,750 and are planned to be on display year-round.
The pieces share a common trait with Cerney's other work: scale.
The Fitzpatrick and Neff pieces stand 14 feet, the Tanaka, 16 feet.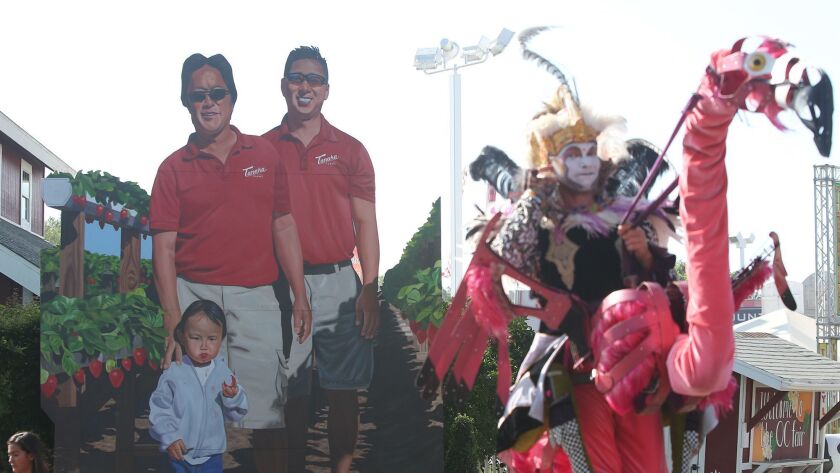 Fitzpatrick runs a booth next to the Millennium Barn. He said fairgoers have flocked to it to learn more about his business, which sells grass-fed beef raised on some of Orange County's last undeveloped land.
Attending the fair daily is particularly special for Fitzpatrick, who showed cattle, pigs and sheep at the fair in the infancy of his cowboy days. He began raising cattle in 1963.
Family-run Tanaka Farms began operations in 1940. Located on 30 acres in Irvine, the farm, which features strawberries, watermelon and other fruits and vegetables, allows visitors to pick their own produce.
Neff Ranch stands as one of the county's last vestiges of its orange-growing days. Aside from a 20-acre orchard, the ranch has an avocado farm in Tustin.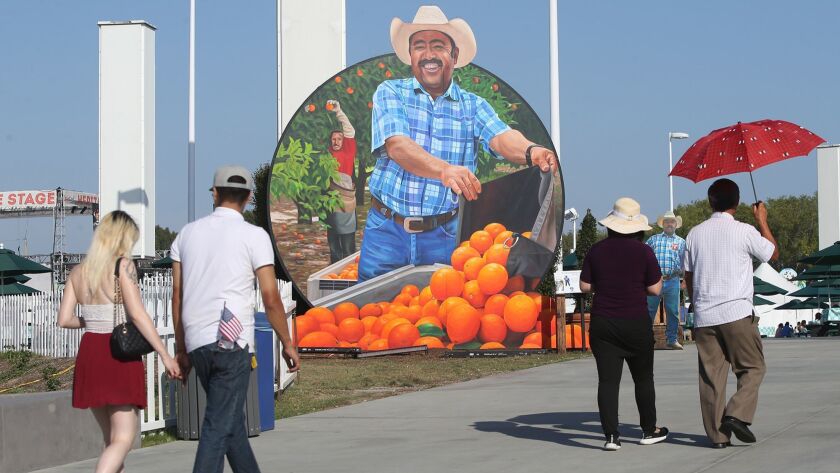 Cerney's work can be found about anywhere — just not in museums. It tends to look better in the light of day, on farms, along highways, on the outskirts of small towns.
Not all of his subjects are agricultural in nature. Last year, he painted a mural of George Harrison for the city of Benton, Ill. to commemorate the first visit of a Beatle — Harrison made a stop there to see his sister in 1963 — to the United States.
On a highway about 70 miles north of Roswell, N.M., Cerney's painted images of two, 18-foot-tall cowboys arguing can be seen from across the road.
"I like the thought of entertaining people as they drive down the highway," Cerney said. "People are just driving down the road, and their mind is on whatever; then you see this art out of nowhere. They think, 'What does it mean? Does it make any sense?' "
Cerney's style developed over the years. At first, he would ask farmers if he could paint large murals on their barns — for free.
"Eventually, I realized I could just do them in a field," Cerney said. "But then I knew that I needed them to be bigger so people could notice them while driving fast down the highway."
Cerney doesn't just do commissioned work. He donates murals a few times a year. He estimates that he's completed and installed more than 300 cut-out pieces nationwide.
He tries to keep track of his work, though it's not easy. Cerney estimates there's probably about 100 pieces still standing.
"Most of the time, they die a slow death — 12 to 15 years," Cerney said.
For more information, visit ocfair.com/category/oc-fair/.
Twitter:@benbrazilpilot
---
All the latest on Orange County from Orange County.
Get our free TimesOC newsletter.
You may occasionally receive promotional content from the Daily Pilot.