'Cambodian Rock Band' looks at a brutal piece of history through music in its world premiere at SCR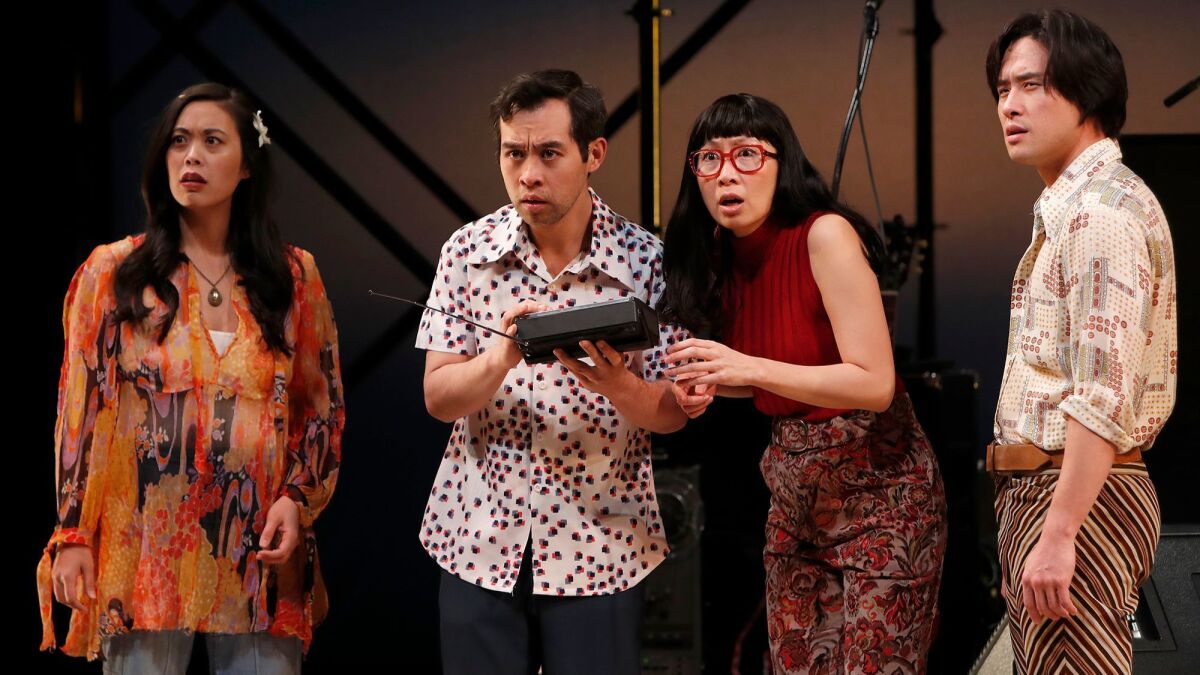 Eight years ago, one of playwright Lauren Yee's friends took her to see indie-rock band Dengue Fever.
"As soon as I heard them, I said, 'Oh my god this music is amazing!' " the San Francisco-born writer said. "And that night I immediately went down a rabbit hole to discover everything I could about it."
That rabbit hole, twisted by "unbelievable coincidences along the way," comes to an end on South Coast Repertory's Argyros Stage, where Yee's "Cambodian Rock Band," a play with music directed by Chay Yew, is making its world premiere through March 25.
Yee learned that the music of the L.A.-based Dengue Fever is based on Cambodian oldies of the 1960s and '70s, and in turn were based, as band bassist Senon Williams explained in the 2007 documentary "Sleepwalking through the Mekong," on California surf music that went to Cambodia and was rewritten with Cambodian melodies.
The next question of what happened to the music and the band's musicians led Yee to one of the darkest periods in recent history.
"This incredibly joyful period of Cambodia's rock scene directly hit the Khmer Rouge's takeover of the country in 1975," Yee said.
For four years, the Khmer Rouge exterminated as many as 3 million Cambodians — the Western-influenced rock musicians among them.
Millions more were brutally imprisoned or resettled into labor camps.
"Immediately I thought, 'This is an incredible story that needs to be told,'" Yee said.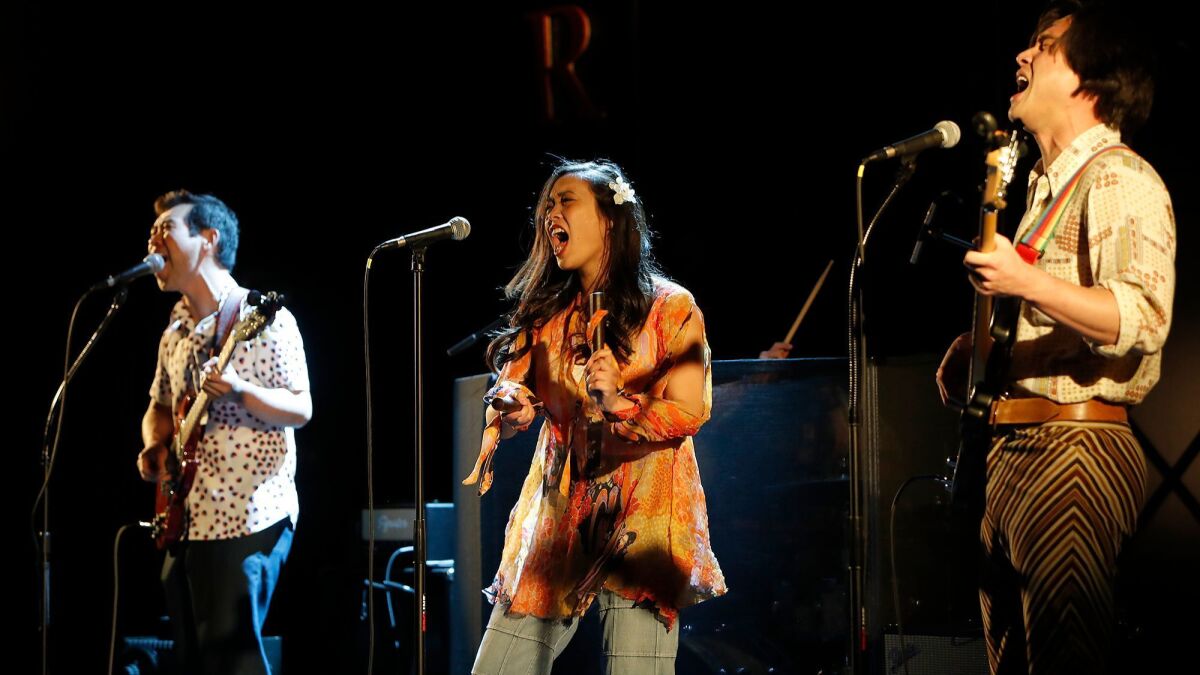 Her first attempt, she said, didn't do justice to the vibrancy and life of the musicians, but then a 2015 playwriting commission from SCR's Crossroads program sparked a reset.
The commission required a two-week residency in which recipients would explore Orange County and, presumably, find the diversity beyond the stereotype. They could then write whatever they wanted.
Yee's randomly picked weeks just happened to coincide with the annual Cambodian Music Festival and, even more serendipitously, with a Dengue Fever concert in Long Beach. She met the band's five American men and Cambodian-born female singer, and with a fresh injection of musical inspiration, was back on track with a workable draft.
"I was working on her play 'King of the Yees' in Seattle," said actor Joe Ngo, whose parents immigrated to Southern California after spending the late '70s in a Cambodian labor camp. "When we were introduced, she said it was like kismet, because she had this Crossroads play and wanted to have a table read to help her develop it."
That Ngo played guitar was another lucky sign.
"By accident I had cast actors who played electric guitar and bass guitar," Yee said with a laugh. "That was the point at which I realized this should definitely be a play with music. If it is about this incredible lost rock scene, then we should see people playing it live."
From the first workshop to the world premiere, Ngo has played Chum, a young guitar player in a 1970s Cambodian rock band who survives imprisonment, emigrates to the United States, and in 2008 has followed his daughter Neary, played by Brooke Ishibashi, back to Cambodia.
Neary is part of an international team prosecuting the man who ran S-21, the most notorious Khmer Rouge prison.
In addition to the uplifting music, including six Dengue Fever songs, Yee has laced her script with a surprising amount of humor. Rather than compromising the impact, the contrast has enhanced it.
"I think this play is representative of my larger body of work," she explained. "They're stories of ordinary people in extraordinary circumstances that skate the line between humor and heartbreak. I think once I figured out that, at its heart, this is the story of a father and a daughter searching for one another, the tone of the play came quite naturally to me."
It also comes naturally for Ngo, who has the lion's share of skating that line.
"I understand the humor of Chum," Ngo said. "My parents are funny in a way that other people might find a little brusque or rude. It serves the dual purpose of hiding the pain, but also being able to remove yourself from that pain. Chum encapsulates that, too. He is able to be funny about it because his life was so hard."
If You Go
What: "Cambodian Rock Band"
When: Through March 25; performance times vary
Where: South Coast Repertory, 655 Town Center Drive, Costa Mesa
Cost: Tickets start at $23
Information: (714) 708-5555 or scr.org
Cristofer Gross is a contributor to Times Community News.
All the latest on Orange County from Orange County.
Get our free TimesOC newsletter.
You may occasionally receive promotional content from the Daily Pilot.