Fullerton man rediscovers daughter, given up for adoption, who was told he'd died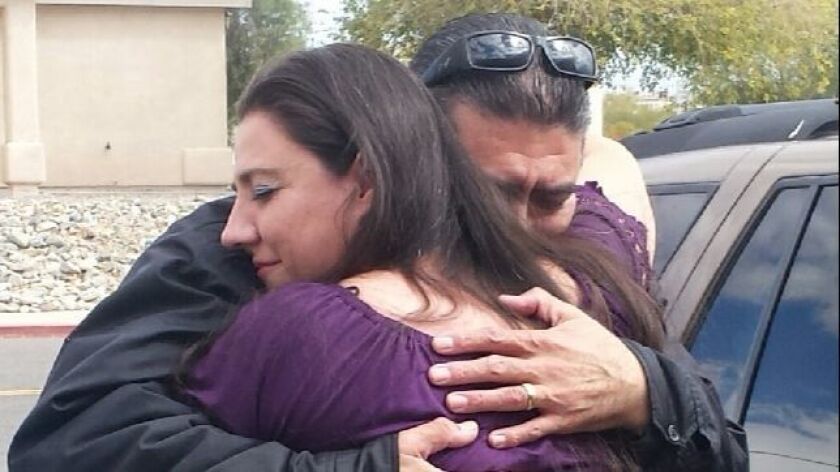 "Oh, my God … I think I found your daughter."
Frank Granados of Fullerton never thought he would hear those words.
He was a teenager when his daughter, Jenelle, was born.
"I used to hold her in my arms," said Granados, now 54. "I was just a kid myself."
But Granados, who grew up in Santa Ana, barely had time to bond with his daughter before learning from friends that Jenelle's mother took the baby and left.
"All I knew after that was that she was given up for adoption to some family in Arizona," he said.
A short time later, Granados met his future wife, Rachel.
They've been married for 29 years, and Rachel is the only other person who knew about his daughter.
The couple never had children together. Granados never stopped thinking about the daughter he never knew.
Jenelle, whose last name is now Rodriguez, is 36, married, and has three children.
She grew up in Arizona with her adoptive family and was told as a child that her biological father died in a car accident.
"Even when I thought he wasn't here, he's always been in my mind and my heart," Rodriguez said.
About 10 years ago, Rodriguez located her mother and discovered her father was very much alive.
In an attempt to find him, she invested in a 23andMe genealogy kit, which uses DNA to trace ancestry.
As it turns out, Granados' niece, Rachel Saucido, also used a 23andMe test, and the names of Jenelle Rodriguez and her mother came up on a list of possible relatives.
Nobody in the family recognized the names.
Then, on Feb. 18, Saucido contacted Granados.
She asked her uncle a few questions. Based on his responses, she blurted:
"I think I found your daughter!"
Then came the first phone call between father and daughter.
"Once I asked him questions that I had in my heart and my mind my whole life and wanted to know the truth from his side, I could feel deep in my heart that he wasn't lying to me," Rodriguez said. "From then on, I could feel his true love. It was so natural. It was like he was only gone for a second, like he went on vacation or something."
Granados and his daughter have gotten together four times since that first life-altering phone call.
When they reunited the first time at Rodriguez's home in Lake Havasu, Granados and his wife immediately became "dad" and "mom" to Rodriguez and "grandpa" and "grandma" to her children.
They've had a family barbecue and visited the Strawberry Festival in Garden Grove together.
A family outing to Knott's Berry Farm is planned for August, and family Thanksgiving after that.
"They get to grow up with their family now," said Rodriguez, referring to her children. "They don't have to miss out."
With 36 years to catch up on, dad and daughter begin texting at 6:30 every morning. By 7:30, they're chatting on the phone.
"We talk about how amazing it is that we have each other," Rodriguez said. "I can't imagine a day without talking to him."
Because Granados is the youngest of 10 children, all of whom have children of their own, Rodriguez suddenly had more aunts, uncles and cousins than she could count.
It may take some time, but little by little, she'll be meeting all of them. However long it takes is fine.
"I'm looking forward to my whole life ahead with them … every holiday, every chance that we can spend time together … I've waited 36 years for this," Rodriguez said.
Lou Ponsi is a contributor to Times Community News.
---
All the latest on Orange County from Orange County.
Get our free TimesOC newsletter.
You may occasionally receive promotional content from the Daily Pilot.