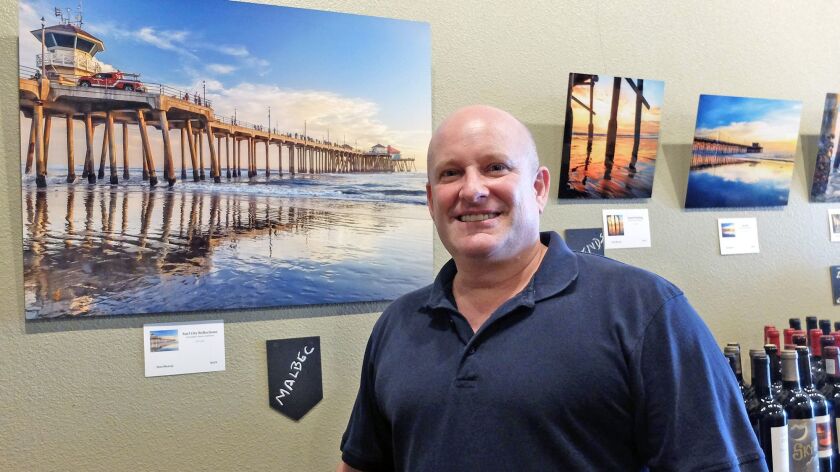 A local photographer hopes to showcase the beauty of coastal Orange County with his smartphone.
Costa Mesa photographer and business consultant Don Murray, 56, started taking landscape photos with his Samsung Galaxy S7 Edge, hoping to push the boundaries of smartphone photography to mirror the high-quality, vibrant images of expensive digital single-lens reflex (DSLR) cameras.
His photos of reflective clouds, crystal balls and sun-lit beaches printed on a full-size metal canvas decorate the walls at Anne's Boutique Wines in a new exhibit that features more than 30 of his original works. The photo exhibit titled, "Life and Adventure Along the Coast," will be on display through May 31.
"Sometimes, DSLR lenses alone can go up to $10,000 — and that doesn't even include the body of the camera," Murray said. "When I go out and shoot, some photographers are looking at me with my Samsung Galaxy, like, 'Who is this guy?' People tend to judge because I'm using a cell phone."
His turn to smart phone-ography — as he called it— started with a solo trip to Croatia last year, where he was experimenting with his new Samsung phone.
"It was nighttime, and I was standing in an ancient church courtyard, taking photos … and I was amazed at the quality and level of clarity, even at night," he said. "It used to be you have to buy a really nice camera, and now, you buy a phone, you get a free one. Today's smartphones are packed with features. People don't realize that they can go beyond their camera phone's capabilities and create real art."
Over the past year, Murray experimented with his phone camera's settings and began shooting during his travels. His favorite places to shoot are Victoria, Newport, Huntington and Thousand Steps beaches.
He prefers shooting during the early morning, just before sunrise; or during the "photographer's golden hour," right around sunset, he said.
He also clips a polarizing filter onto his phone to enhance the colors of his photos.
"It helps to see more of the light; bring out the vibrant, deeper and richer colors that are already there, and let them speak for themselves," he said.
Murray said he looks for cloud formations, silhouettes, waves, reflections, sunsets and different colors in the sky—all of which reflect movement and life, which he believes is the overall theme of his work.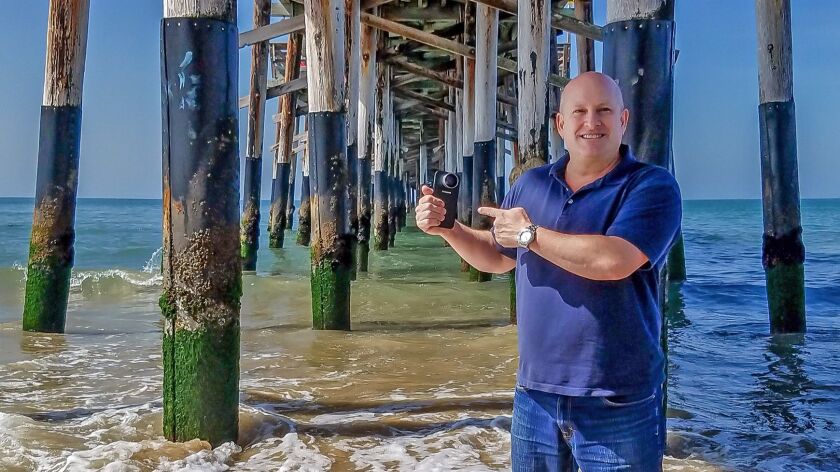 He eventually created an Instagram account, @donmurrayphotos and garnered more than 8,000 followers.
Many of the comments he gets on his posts range from curiosity to disbelief that the images were taken on a Samsung phone.
"I'd love to talk to Samsung," he said. "I've written a marketing campaign that showcases the ease in which their phones allow the average person to create professional-level photos and art, just by clicking a button!"
Along with good framing and editing, Murray's biggest piece of advice to amateurs is to know what and why they are photographing the subject matter. Discovering the world, figuring out what inspires and speaks to them is key, he said.
"As a former sports and wedding photographer, I was having fun, but [those things] didn't resonate with me. But to me, landscape photography really speaks for itself," Murray said. "We don't have to share a language or culture, but we can still share a moment of recognizing beauty."
Murray's adventures in photography started at 17, when he began snapping photos of his high school football team, using his first Canon SLR.
He went to the local newspaper and introduced himself to the editor as the staff's new photographer. Murray's first official photo assignment was to shoot the next sports game, earning him $10 a photo.
He went on to take photography classes at Ohio State University, studying camera basics like composition, depth of field, aperture, shutter speed and lighting, but he switched to studying business, went on to get his MBA, and later became an investment manager and consultant. He moved from the San Francisco bay area to Costa Mesa in 2001.
Since 2008, Anne's Boutique Wines has been known for supporting local artists by not charging prices for wall space and for hosting opening and closing art exhibit receptions.
"When we saw [Don Murray's] photos showcasing mostly coastal Orange County, the owner [Anne Nutten] jumped on the opportunity,"said Spreti Valente, a manager and sommelier at Anne's Boutique Wines.
"I want to convey my own views of the world and philosophies of life through the presentation of beautiful images," Murray said. "People are always looking down at their phones, not really taking the time to see where they are. Look around and find it — the stones have stories to tell."
Anne's Boutique Wines is located at 270 E. 17th St. #14, Costa Mesa. For more information, call (949) 631-6627.
ALLYSON ESCOBAR is a contributor to Times Community News.
---