Buena Park's Medieval Times Dinner & Tournament — along with its sister locations — has made a big, new change in its storyline.
For its 34-year history, the "castle" has been ruled by a king.
But all that's changed now.
Enter the queen.
"I love it," said Alexa Moffo of Anaheim, who is one of seven "queens" who will be playing the new role at the Buena Park location. "I really think it's a great thing that I'm able to be a role model for young girls, young boys and just everybody that comes to see our show. I'm very honored."
Though that role is one of the biggest of the changes, the new show — unveiled Friday — also features new costumes for performers and horses, new suits of armor, shields and helmets, new music and lighting and new fight scenes.
"We went from five sets of jousts and fights to seven — more of the audience will see their knights more often in the combat," said Leigh Cordner, the show's creative director, script writer and rehearsal manager.
The decision to change the show's protagonist from king to queen was a result of a desire to keep things fresh, as well as responding to customer requests of wanting to see women in more prominent roles in the show, Cordner said. The show had used a king/princess format for many years.
"We felt that that had kind of run its course," Cordner said. "We felt like finding another plot involving the same characters might be close to repeating ourselves."
Once the idea of a queen sprouted, Cordner's vision of the role developed.
"When I sat down to start writing her dialogue, I realized 'Wow, this is gonna be awesome,' because she's got a different voice — she's coming from a different place," Cordner said.
Cordner, who has been with Medieval Times for 30 years and has a background in radio and theater, is involved in most facets of the production. While he wrote the script, he also was involved in developing the new music, along with jazz pianist and film composer, Daniel May.
"We basically did a film score," Cordner said.
The changes to the show are no small feat.
Training has been going on for about five months for the redesigned combat and horse acts. The queens have been taking riding lessons on the Andalusian stallions they ride in the show, for about two months, and in the days leading up to the debut, the full cast had four days of live rehearsals.
The cast for each approximately two-hour show includes about 20 actors and their Andalusians or quarter horses — which are used more for jousting and games. The character change didn't involve any change in the number of actors — the princesses from the old show became queens and the kings have new roles as well.
"The guys that were playing king are now in a really fun role as the mentor of the queen, her counselor," Cordner said.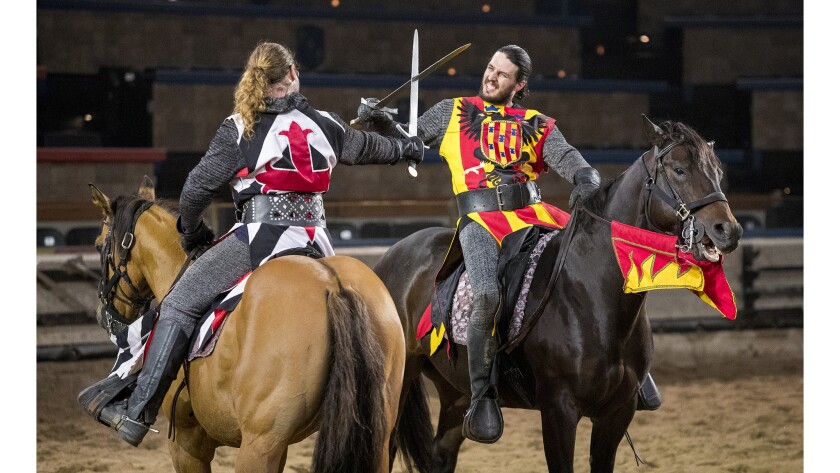 The queen — complete with accompanying gown and crown — is ready to make her impression on guests of the dinner-theater production.
Moffo, who has been acting professionally since she was 19, said she looks forward to playing a strong female role.
"I've never had a role that's so empowering before," she said.
There is a deeper message in the story she hopes the audience appreciates, she said.
"You might have hardships that you come across in life, struggles and challenges, whatever it may be at work, or at school, or whatever," Moffo said.
"I hope that they can relate to the queen as she is coming through her own challenges and coming to be the person that she's supposed to be, and going through your challenges and being able to stand strong as the person that you are, in coming into yourself."
Jessica Peralta is a contributor to Times Community News.
---