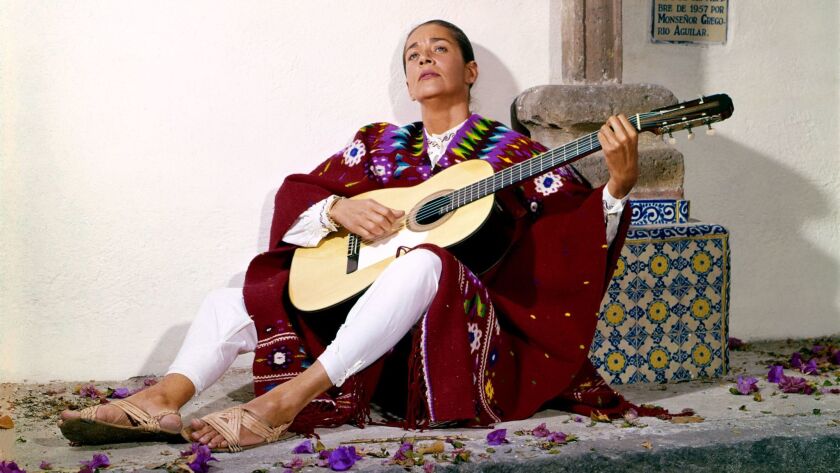 In these trying and politically charged times, a local, largely Latino-themed film festival aims to achieve something that could almost be considered unusual — it wants people to have fun.
The eighth annual OC Film Fiesta starts Oct. 6 with the Orange County premiere of the documentary "Chavela" and continues on weekends through Oct. 15.
A number of unique screenings, workshops, special guests and entertaining events are in the works.
"Mainly we want people to have fun, to have a good time," said Victor Payan, director of the OC Film Fiesta and of Media Arts Santa Ana, the organization behind the film fest. "We also want to introduce people to great spaces, such as the Heritage Museum of Orange County and MainPlace Mall, where a lot of the films are screening. We want people to celebrate and leave feeling inspired."
The films and events on tap are not without political motivations or underpinnings themselves.
"If you look at the historical and cultural record, the contributions to this country — culturally, economically and socially — of the immigrant communities, the Latino communities is undeniable," Payan said. "It's also remarkable how strong the effort is to erase them. We need to understand them ourselves, to really defend the reality of our situation."
Here's a look at some of the films that are part of this year's OC Film Fiesta:
• "Chavela" (8 p.m. Oct. 6) is about lesbian Latin American singer Chavela Vargas, who was an intimate friend of Frida Kahlo and also sang at Elizabeth Taylor's wedding in 1957. Acclaimed Spanish filmmaker Pedro Almodóvar also cited her as an inspiration, using her music in multiple movies and giving her roles in "La Flor de Mi Secreto" and other flicks.
• The short-film version of "A Day without a Mexican," originally released in 1998, will play at 11:45 a.m. Oct. 7 at MainPlace Mall. Director Sergio Arau and writer Yareli Arizmendi will conduct a workshop on cultural responsive comedy during this event.
• "The Rise and Fall of the Brown Buffalo," screening at 8 p.m. Oct. 7, examines the life of Oscar Zeta Acosta, a Chicano writer, lawyer and activist who was famously depicted as Hunter S. Thompson's attorney buddy in "Fear and Loathing in Las Vegas." Filmmaker Phillip Rodriguez is scheduled to attend.
• This year's festival will feature the U.S. premiere of "Juana Azurduy: Guerrillera de la Patria Grande," a film by Bolivian writer/director Jorge Sanjinés that tells the story of the legendary female officer in Simon Bolivar's army who helped bring indigenous communities into the struggle to liberate Latin America from Spanish rule. "Juana Azurduy" will play at 3:30 p.m. Oct. 7.
• At 1 p.m. Oct. 8, "Visions of Magulandia," a free program at Santa Ana College's Main Art Gallery, will pay tribute to Gilbert "Magu" Luján, one of the original members of the Chicano art group Los Four. (UC Irvine is exhibiting a retrospective, "Aztlán to Magulandia: The Journey of Chicano Artist Gilbert 'Magu' Luján," from Oct. 7 through Dec. 16 in its University Art Galleries.) "Visions of Magulandia" will include a screening of rare and never-before-seen videos of the artist, as well as a panel discussion with curator Hal Glicksman. The program will conclude with one of Magu's legendary "Mental Menudo" community discussions.
• At 6 p.m. Oct. 13, the OC Film Fiesta will present a free 75th anniversary screening of Orson Welles' classic "The Magnificent Ambersons," which has nearly been forgotten in the shadow of "Citizen Kane." The 1942 drama, starring Joseph Cotton and Dolores Costello, will screen at the Heritage Museum of Orange County, a turn-of-the-20th century, cotillion-themed setting in Santa Ana.
• As part of a collaboration with the Orange County Musicians' Assn., the festival is presenting "The Spoils Before Dying" at 8 p.m. Oct. 14 at the association headquarters in Santa Ana. Writer Andrew Steele, who's known for his work on "Saturday Night Live," will attend and participate in a discussion. Other films and events are planned throughout the day as part of the musicians' association partnership.
• Finally, the festival will feature "Taco Truck Cinema," with a classic Pedro Infante film to be screened at dusk Oct. 15 on the side of a working taco truck. The location is yet to be announced.
The OC Film Fiesta aims to go year-round after this festival concludes. For director Payan, screening films and organizing events is more than just an exercise in entertainment.
"By looking at the amazing diversity of stories that we have, we hope you'll get the idea that this is what America is about," he said. "There's so much diversity. We have a mission to inspire and promote the production of media arts. We're selecting films that we think will do that. We want to inspire people to want to go out and make a film, make a documentary.
"When you get people together, then they can talk together and really create new projects and new collaborations, because they were inspired by what they saw on the screen," Payan said. "So we're in a very critical moment."
What: OC Film Fiesta
When: Fridays through Sundays, Oct. 6-15
Where: Multiple locations in Santa Ana; most screenings will be at Picture Show at MainPlace Mall, 2800 N. Main St., Santa Ana
Admission: $10 general admission, $5 for students, seniors, military, veterans, teachers and Santa Ana residents
Information: 888-906-0340 or visit ocfilmfiesta.org
RICHARD CHANG is a contributor to Times Community News.
---