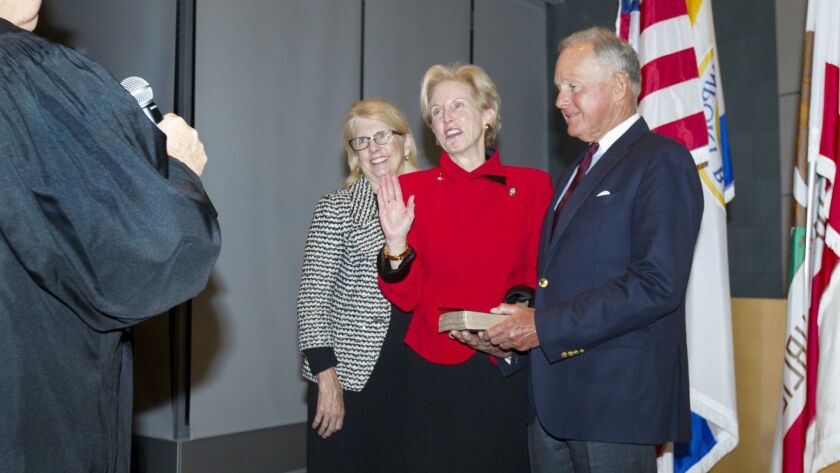 Last week I wrote Newport Beach should take a clue from Costa Mesa and elect its mayor, rather than having council members voting among themselves for the position.
It's my opinion because the behind-the-scenes lobbying for the position of mayor, which is the norm, continues without public say-so or awareness.
At Newport's Tuesday council meeting, newly elected member Joy Brenner and incumbents Marshall "Duffy" Duffield, Kevin Muldoon and Diane Dixon were sworn in. They joined Councilmen Jeff Herdman, Will O'Neill and Brad Avery in selecting Dixon as mayor, and O'Neill as mayor pro tem, each serving for a second time.
But controversy and power plays were taking place way before Tuesday night.
Within weeks after the election, my phone was blowing up with calls from political players in town meeting with Dixon, telling me she was lobbying hard for the mayoral spot to edge out O'Neill.
In November 2015 I wrote about Dixon, who was chosen as mayor pro tem acing out Councilman Tony Petros for the position. Petros was surprisingly candid about the behind-the-scenes goings on then.
It was a glimpse into this power-grabbing process that continues to this day.
Fast forward to now. Apparently Dixon wasn't the only one wanting to do a end run on O'Neill becoming the next mayor.
I was privy to a letter last week signed by over 70 residents sent to council members saying, "We are concerned citizens respectfully asking that you consider selecting a council member other than Mayor Pro Tem Will O'Neill to be Mayor in 2019."
"Relationships on the council, as well as between the council and community, have been unnecessarily strained over the past years," the letter stated, adding " the town has been faced with more scandals and discord than at any time in recent memory," and that residents "perceive the current council as an adversary rather than an advocate for their best interests."
The group felt O'Neill was a "large part of the problem, and we are very worried that his selection as mayor would exacerbate the conflict and disconnect between the council and community."
The letter outlined examples like his part in the removal of former City Manager Dave Kiff, and that "O'Neill is perceived by many as hostile to residents who disagree with him."
The writers claimed O'Neill "went out of his way to post partisan voting recommendations and negative comments about candidates running against incumbents on social media, using his title as mayor pro tem."
Tuesday morning I talked with Brenner and Herdman about the letter.
Herdman called it a "real dilemma" for him.
"I struggled with it," he said, but went into Tuesday night's council meeting with "optimism" about Dixon's leadership and planning on voting for her as mayor (but not O'Neill as mayor pro tem).
That night, Herdman voted for O'Neill anyway.
Brenner told me she had to consider the "cards we were dealt."
"I had to look at how do I do the best for the citizens of Newport Beach," and acknowledged Dixon "is representative of getting the information to the people "regarding the Kiff situation, and she stood up regarding transparency.
Brenner says her role on council is to work with everyone.
Both Brenner and Herdman ran on platforms of "listening to the will of the people".
Sounds good as campaign rhetoric, but the reality is they knew they were outnumbered by Team Newport votes and couldn't choose anyone other than Dixon and O'Neill.
I asked Herdman and Brenner what they thought of electing a mayor in the future and initiating political reform.
Brenner said the issue warranted discussion.
Herdman was more definitive.
"If you're asking me this today, my gut level reaction would be that electing a mayor is something we should do," he said.
Herdman feels this way because of city policy A1, changed this past year with input from O'Neill, which gives the mayor more power over meetings.
"In short it gives the mayor a great deal of authority he or she did not have before," said Herdman.
He's asked for the old policy language to compare to the new one as he plans on pushing the issue forward.
Herdman's hope is that this council will come together reversing the language to restore it to its original intent.
Personally, I think Herdman, not Dixon, actually deserved to be mayor this go around.
I liken Dixon's power grab here to when Costa Mesa Councilwoman Sandy Genis voted earlier in the year to remove Katrina Foley and make herself mayor. Voters vindicated Foley and she became the city's first elected mayor.
Newport residents should have a say in who their mayor is, and not be reduced to letter writing and behind the scenes dealmaking.
Barbara Venezia is an opinion columnist writing political and social commentary since 2007. She can be reached at bvontv1@gmail.com
---