Commentary: Mariners' Mile should be transformed into a village akin to Corona del Mar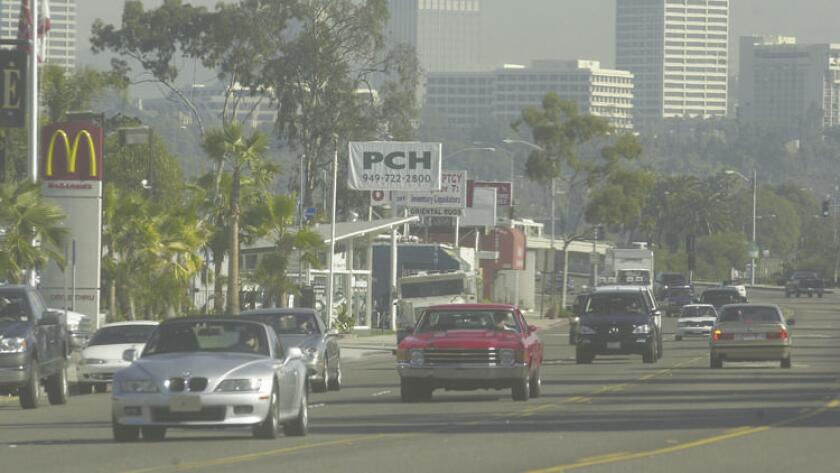 An indispensable General Plan goal is to enhance vitality for residents and visitors, yet traffic conflicts among vehicles, bicyclists and pedestrians continue to plague traveling conditions along Orange County's portion of Pacific Coast Highway.
In coastal cities north and south of Newport Beach there is a historical and growing movement to transform Pacific Coast Highway to a more pedestrian- and bicycle-friendly thoroughfare. From Seal Beach to San Diego, cities are looking to slow traffic, enhance safety, widen sidewalks and bike lanes and implement a variety of changes that encourage people to walk around their communities. The future is about building coastal cities for people.
Seaside towns, from Sunset Beach to San Clemente, are two lanes. The communities of Corona del Mar and Laguna Beach have grappled with this issue and have remained two lanes.
To most Newport residents, Mariners' Mile is considered one of the iconic main streets and the heart of our town. This regional artery services our schools, neighborhoods, business districts and post office. Newport should remain a charming "coastal town" along the tranquil bay. West Pacific Coast Highway is not a raceway or a motor corridor for commuters and commercial traffic.
The businesses, neighborhoods and residents living along Mariners' Mile envision a community village fostering the flow of pedestrians and bicyclists ahead of facilitating the flow of traffic.The city, the county and Caltrans envision a crosstown freeway facilitating the maximum flow of traffic within the shortest amount of time while accommodating limited pedestrians and bicyclists.
Several study groups over the years have been struggling with these varying perspectives and conflicts, and the studies have attempted to build a consensus. Without a clear vision of the prevailing/underlying concept and outcome to be achieved along Mariners' Mile, these efforts will continue to be suboptimal and disappointing.
Newport Beach cannot have it both ways. A consensus must be reached. A village attracting pedestrians and a crosstown freeway are incompatible.
Corona del Mar and Laguna Beach have resolved their differing perspectives and decided upon a village and stopped the widening of West PCH. Why can't Newport reach the same decision for Mariners' Mile?
Business owners and homeowners living in Newport Heights, Bayshores and throughout Newport Beach agree West PCH should remain as it is now, with no new vehicular lanes, and be transformed to a more-friendly village attracting pedestrians and bicycles, retain street parking and be taken back from Caltrans.
The community is committed to workingwith the city for Mariners' Mile to become a more friendly village, encouraging people to ride their bikes, walk around and shop. The City Council must do all within its authority to assure West PCH is transformed into a village that is welcoming to and safe for pedestrians and bicyclists.
PATRICK GORMLEY lives in Newport Beach.
---
All the latest on Orange County from Orange County.
Get our free TimesOC newsletter.
You may occasionally receive promotional content from the Daily Pilot.