High School Male Athlete of the Week: Newport Harbor's Makoto Kenney leads by example in pool
Newport Harbor High boys' water polo coach Ross Sinclair describes senior Makoto Kenney as "laid back." Kenney admits that.
"I'm a quiet guy, so it takes a lot to be vocal in the pool and out of the pool with my teammates," Kenney said. "Lately I've been getting more vocal, but I'm still working on it."
But his laid-back personality doesn't hold him back from dominating the water.
In a loud sport like water polo, the four-year varsity player manages to thrive by letting his play do the talking. And it's worked for Kenney, who led the Sailors to back-to-back CIF Southern Section Division 1 finals.
Kenney finished with three goals, three assists, three exclusions drawn and two field blocks, helping No. 2-seeded Newport Harbor beat No. 3 Los Angeles Loyola 9-6 in the semifinals on Nov. 13.
The No. 2-seeded Sailors come up short against the No. 1 Wolverines, who beat Newport Harbor in the CIF Southern Section Division 1 final for the second straight year.
Three days later, Kenney scored two goals in the Sailors' 6-4 loss to No. 1 Studio City Harvard-Westlake in the championship match at Irvine's Woollett Aquatics Center.
"He's not the type of guy who's going to go and chew your head off," Sinclair said of Kenney, who plays attacker. "He's not this flashy player. He has flashy moments, but he goes out and plays and kind of lets the game speak for itself."
As a freshman, Kenney was a starter, something rare at the high level of water polo that the Sailors play.
"He's not like a typical high school kid," Sinclair said. "He's a mature kid. He's been around 17- [and] 18-year-olds essentially since he was 14 years old. He's been with that varsity group for four years and he's matured quickly. I always wondered if he would come out of his shell, but I don't think he has a shell, it's just who he is."
In the pool, Kenney's balanced play makes him a threat on offense and defense.
"He's very smooth," Sinclair said. "When you talk to other teams and other coaches that's the word that comes to mind when I hear other coaches talk about the way he plays. He's just a really smooth player. He's really in control, never erratic."
Kenney describes himself like a point guard in basketball. He's able to score but enjoys setting up and assisting the goals just as much as he enjoys scoring them.
One of his most memorable goals came two years ago. In a game against Huntington Beach his sophomore year, Kenney scored what he calls "the 360" to send the game to overtime and ultimately win the Sunset League title, the first of three straight first-place finishes in league play for Newport Harbor.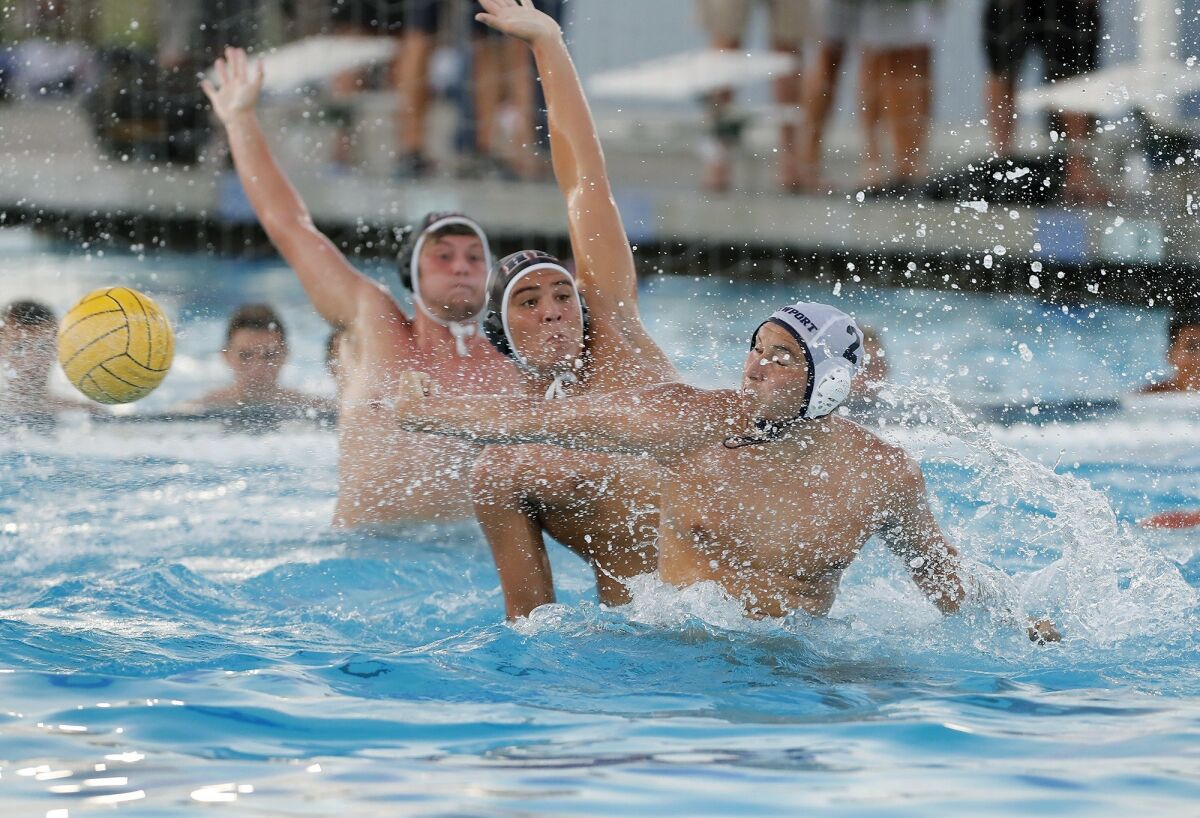 "That was a pretty big-time moment for him as far as stepping up and showing his type of skill set," Sinclair said.
Whether he wanted to or not, Kenney has naturally become a leader for the team during his time with the Sailors.
Now at the end of his senior year, Kenney has set a standard for the younger players on the team and those who will join the program in the future. He uses his experience to encourage the developing players on the team to not be afraid to step up.
"I was laid back my freshman year because we had a lot of seniors, so I let them do everything," Kenney said. "Now I've learned that age is just a number. Go out and play. [I'm] trying to teach the younger guys that."
While a UCLA commit, Kenney still has his eyes set on the present with Newport Harbor.
With the Sailors (26-4) falling for the second straight season to Harvard-Westlake in the CIF title match last week, Newport Harbor opens play in the CIF Southern California Regional Division I tournament on Friday. The Sailors face Foothill in the first round at 7:50 p.m. at Segerstrom High.
Kenney hopes he can help Newport Harbor defend its SoCal Regional crown. The Sailors must win Friday and once on Saturday to reach the 7 p.m. final, which will most likely be a rematch against Harvard-Westlake. This weekend will be Kenney's final action with his second family.
During the ups and downs, the Newport Harbor program has always been there for Kenney.
In the summer of 2014, Kenney's father, Jimmy, died from lung cancer while Kenney was getting ready to play with Newport Beach Water Polo Club's 12-and-under team at the USA Water Polo Junior Olympics. He received support from those around him in the water polo community.
"This program has been my family," Kenney said. "My coaches and age group have all been here for me throughout the whole thing. Any problems I have I can just go talk to them."
Kenney says that Sinclair talks to the team a lot about leaving a legacy. It's something Kenney has had to mull over, and his humble personality shows as he reflects on his time at Newport Harbor, thinking about the team's accolades and not his own.
"I think we have our own legacy that we've already established," he said. "It's been a while since we've had a team that has gotten as far as we've gotten because we've pushed ourselves so hard."
Makoto Kenney
Born: Nov. 23, 2001
Hometown: Costa Mesa
Height: 6 feet 2
Weight: 210 pounds
Sport: Water polo
Year: Senior
Coach: Ross Sinclair
Favorite food: Sushi
Favorite movie: "Unbroken"
Favorite athletic moment: Winning the CIF Southern California Regional Division I title last year.
Week in review: Kenney led the Sailors to their second straight CIF Southern Section Division 1 final by finishing with three goals, three assists, three exclusions drawn and two field blocks in a 9-6 win over Loyola in the semifinals on Nov. 13. Kenney scored twice as Newport Harbor lost to Harvard-Westlake 6-4 in the title match on Nov. 16.
::
Support our sports coverage by becoming a digital subscriber.
For more sports stories, visit latimes.com/socal/daily-pilot/sports or follow us on Twitter @DailyPilotSport.
All the latest on Orange County from Orange County.
Get our free TimesOC newsletter.
You may occasionally receive promotional content from the Daily Pilot.