Newport Harbor's Kenney shows strength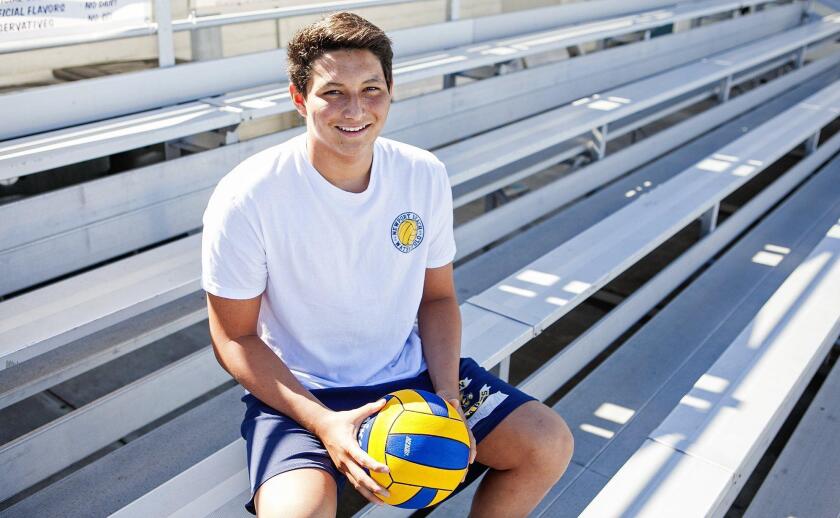 One thing about Newport Harbor High freshman Makoto Kenney is that he's a quiet kid, but never mistake his silence for weakness.
There is a sort of strength and confidence in his game for the Sailors boys' water polo team. He may not turn 15 until next month, but opponents can't tell the difference, not with his quick shot and growing 6-foot frame.
Kenney has been starting all season for the Sailors, and don't think a freshman starting on varsity is a normal thing at a program like Newport Harbor.
"I couldn't tell you the last one that did, if there was one," said Sailors Coach Ross Sinclair, who graduated in 2003. "My senior year there was Clay Jorth, but he didn't start, he came off the bench."
Sinclair tells Kenney, who goes by "Mo" among his coaches and teammates, that age and grade level are just numbers. Kenney, an attacker who wears cap No. 2, soaks up water polo knowledge and is constantly trying to improve. He's the one who Sinclair never took out of the Battle of the Bay game at Corona del Mar earlier this season. In a back-and-forth game where fans had to find time to catch their breath, Kenney never got a quick breather.
"I'm really proud [of being a freshman starter]," he said. "I've been working hard trying to get my teammates to trust me, earn a spot on this team."
Kenney said water polo provides a release for him, and that makes sense when one considers his history. In July 2014, his father Jimmy passed away from lung cancer.
Jimmy died before Makoto was to participate for Newport Beach Water Polo Club's 12-and-under boys' team at the USA Water Polo Junior Olympics that summer. Makoto's mom, Waka, never told her only child the news, letting him play in the tournament instead.
"[Jimmy] was out of the house at a healthcare place, so [Makoto] didn't know until after his coach told him," Waka Kenney said. "I didn't have the guts to tell him. I was hiding [it from] him until he finished JOs."
Coach Marco Palazzo was the one who broke the news to his player. As is typically the case, Makoto, who was then just 12 years old, didn't have much to say. To this day, it's not a discussion he has really had with his mom.
Waka said she hopes that Makoto is doing fine.
"He doesn't talk about it at all," she said. "Once in a while, I ask him, 'How are you doing?' and he says, 'OK.' I actually don't know how he's doing, because I'm mom and he doesn't want to talk. I'm hoping he's talking to his coach or friends ... I'm so proud of him, and I'm so blessed because Ross is taking care of him. All of the coaches from Newport, Stefano [Ragosa], Marco, they are raising him."
Makoto has grown into a strong kid. Water polo has provided a support system for the Sailors freshman. A GoFundMe page started after Jimmy's passing raised more than $8,000 for the family.
"My coaches were there for me, and so was my mom, my friends," Makoto Kenney said. "Everybody supported me ... I'm doing fine."
The same is true in the water. In last Saturday's win at El Toro, Kenney showcased his all-around play, with a goal, an assist and a steal. He scored twice in Wednesday night's Sunset League game against Huntington Beach, which tied him for the team lead in that game with senior co-captain Cole Brosnan.
"He's a very skilled all-around player," Sinclair said. "Talent-wise, he's up at the top. You can see some signs of brilliance, and then there are times where he doesn't want to interfere. Trying to get him to just take over games is a hard task, especially for a freshman. I have all the confidence in the world in him, and he sees it at times and he doesn't see it at times. He'll learn, and that's what makes him special, that he's coach-able, respectful and a good teammate. Each game, he gets better and better.
"He's just a very quiet kid. I'm sure in four years, when you interview him again for Daily Pilot Dream Team Player of the Year, he'll be a different man then."
I wouldn't bet against it. Kenney looks forward to a bright future in the sport. And he said he believes that Jimmy, who was one of his biggest supporters when he started playing water polo at age 10, is watching over him with a smile.
"He always supported me," said Kenney, who continues to have a lot of people in his corner.
Breakers fall into tie for first
The Laguna Beach High boys' water polo team has been leading the CIF Southern Section Division 2 poll the entire year. But this week, the Breakers got some company.
Laguna Beach is tied for first with Agoura in the latest Division 2 poll. Agoura had a better showing than Laguna last weekend at the North vs. South Challenge tournament, where the Breakers finished in 13th place and Agoura finished sixth.
Laguna does have the head-to-head edge over Agoura, having beaten the Chargers, 6-4, at the Santa Barbara tournament on Sept. 9.
The Breakers, who improved to 4-0 in the Orange Coast League with Wednesday's 14-2 win at Estancia, have a key game at Palos Verdes on Tuesday. Palos Verdes is ranked tied for eighth in Division 2.
Three local teams are ranked in the Division 1 poll, with Huntington Beach at No. 2, Corona del Mar at No. 5 and Newport Harbor at No. 7.
--
Matt Szabo covers boys' water polo and girls' tennis in the fall.
Twitter: @mjszabo
---