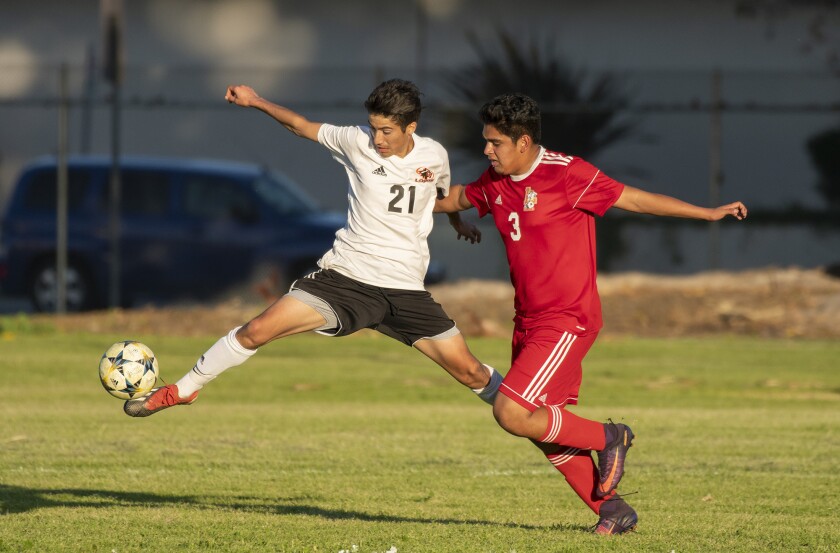 Los Amigos High senior striker Francisco Lopez was named the Garden Grove League Offensive Player of the Year in boys' soccer.
Lopez had 14 goals and five assists in 14 matches played for the third-place Lobos (9-4-5, 6-2-2 in league). Los Amigos lost 4-1 at North Torrance in the first round of the CIF Southern Section Division 3 playoffs.
Senior center back Brandon Alfaro and senior left back Pedro Leyva were first-team selections for the Lobos. Alfaro scored three goals to go with one assist. Leyva had one goal.
Senior center midfielder Jose Felipe and junior goalkeeper Brandon Santos received second-team all-league honors.
Santiago senior defender Javier Bello earned the Garden Grove League MVP award. Senior defender Alexis Rodriguez was named the Defensive Player of the Year for the Cavaliers (16-4-2, 8-1-1), who won the league championship.
Loara senior Eduardo Rivera received the Goalkeeper of the Year award for the second-place Saxons (13-5-3, 7-1-2).
::
Support our sports coverage by becoming a digital subscriber.
For more sports stories, visit latimes.com/socal/daily-pilot/sports or follow us on Twitter @DailyPilotSport.
---