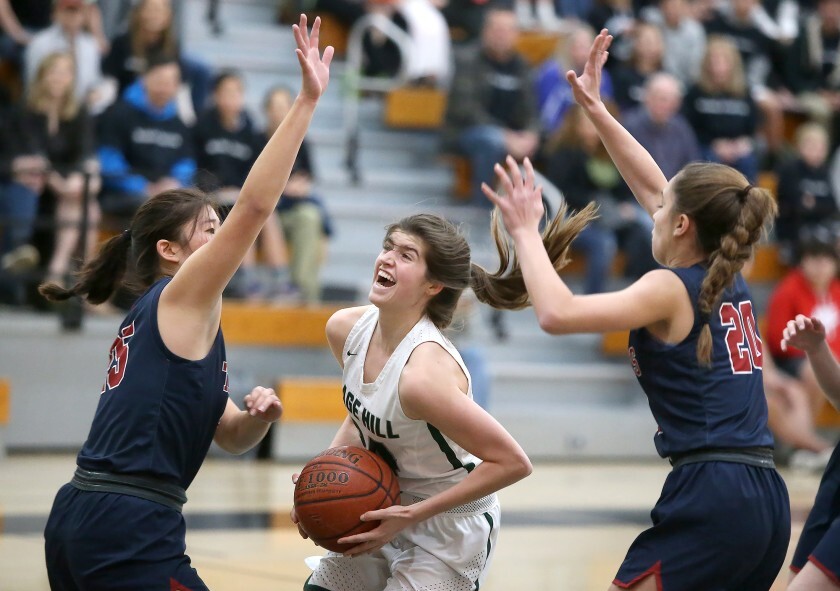 Sage Hill School's Isabel Gomez and Corona del Mar's Trasara Alexander received All-CIF Southern Section girls' basketball honors in Division 3AA, while Laguna Beach's Madilyn Garwal was selected for Division 5A.
Gomez, a sophomore point guard, averaged 17 points, 5.8 rebounds, 3.9 assists, 2.5 steals and 1.4 blocked shots per game for the Lightning. She was a first-team All-San Joaquin League pick.
Sage Hill went 17-10 overall and 4-4 in the San Joaquin League, taking third place behind co-champions Orangewood Academy and Fairmont Prep. The Lightning were eliminated by No. 2-seeded Manhattan Beach Mira Costa 44-42 in the second round of the playoffs.
Alexander, a junior shooting guard, gave the Sea Kings 15 points, nine rebounds and three assists per game. Her production went up to 19 points and nine rebounds in the postseason, during which the first-team All-Surf League pick also shot 50% from behind the three-point line.
CdM went 23-8 overall and 4-2 in the Surf League, finishing in second place behind Huntington Beach. The Sea Kings beat No. 4-seeded South Torrance 48-42 in the second round, before bowing out with a 34-28 loss in the quarterfinals against Lancaster.
Garwal, a senior forward, became Laguna Beach's all-time leader for total rebounds in a career with 917 in her three seasons.
The first-team All-Wave League selection averaged 4.1 points, 12.6 rebounds, 2.9 steals and 2.8 assists per game for the last-place Breakers (10-18, 0-6).
::
Support our sports coverage by becoming a digital subscriber.
For more sports stories, visit latimes.com/socal/daily-pilot/sports or follow us on Twitter @DailyPilotSport.
---