Daily Pilot Girls' Basketball Dream Team: Sage Hill's Isabel Gomez becomes a multifaceted scorer
The local community first learned of Isabel Gomez's athletic abilities through the Daily Pilot Cup youth soccer tournament.
Gomez played all four years — third grade to sixth grade — while at Harbor Day School in Newport Beach, reaching the finals twice.
Playing multiple sports has long had its supporters. Once at Sage Hill School, Gomez had to make a choice between basketball and soccer, due to both being played during the winter in high school.
She would be remiss if she did not think that one sport contributed to her success in the other.
"My dad [Michael] played soccer in college [at the University of Pennsylvania], so there is kind of a history there," Gomez said. "He really loves the sport. I really love the sport.
"I lived in Germany for two years in kindergarten and first grade, and I played on an all-boys' team [called TSV Grünwald], which really kind of lit a competitive fire in me because I just wanted to compete with them and be the best I could be, so I think that had a lot to do with my fitness and my competitive drive."
Gomez had nerves of steel to become the Lightning's primary ball-handler as soon as she joined the Sage Hill girls' basketball program.
In her sophomore year, an increase in her scoring elevated Sage Hill's prospects, making the Lightning a dangerous team in the CIF Southern Section Division 3AA playoffs. For that, Gomez is the Daily Pilot Girls' Basketball Dream Team Player of the Year in the 2019-20 season.
Sage Hill played in a lot of close games this season, so Gomez almost never left the floor. Both playoff contests were decided by two possessions or less, including a 44-42 loss to No. 2-seeded Manhattan Beach Mira Costa with the Lightning trying to pull off the upset at home in the second round.
In the first round against Chino Don Lugo, Gomez had 28 points, six assists and five rebounds to lead the Lightning to a 61-55 road victory.
The regular-season finale at home against Fairmont Prep, which ended in a 57-51 defeat, was a big step for the Lightning in terms of their belief going into the playoffs. Gomez made seven three-pointers as part of a 27-point, 10-rebound performance.
"Honestly, even though we lost, I felt it was really good for us going into the playoffs because we knew that we could compete with that upper-tier team," Gomez said. "That really brought us a lot of hope for the playoffs."
Sophomore point guard Isabel Gomez, a first-team All-San Joaquin League first-team pick, helped the Lightning to third place in the league.
Sage Hill (17-10, 4-4 in league) went into the playoffs as the third-place team from the San Joaquin League. Co-league champions Orangewood Academy (27-7, 7-1) and Fairmont Prep (25-7, 7-1) were a pair of powerhouses that wound up meeting again in the Division 2AA championship game. The Spartans beat the Huskies 57-49.
For the season, Gomez averaged 17 points, 5.8 rebounds, 3.9 assists, 2.5 steals and 1.4 blocked shots per game. She also shot 34.5% from three-point range and 79.7% from the free-throw line.
Gomez, who earned All-CIF Southern Section Division 3AA and first-team All-San Joaquin League accolades, knows she did not do it alone. A twin-tower duo in the paint in the form of junior power forward Emily Elliott and senior center Zoe Mazakas opened space for Gomez to shoot. Sophomore guard Megan Shean, who played on the same Daily Pilot Cup team as Gomez, took on some of the toughest on-ball defensive assignments.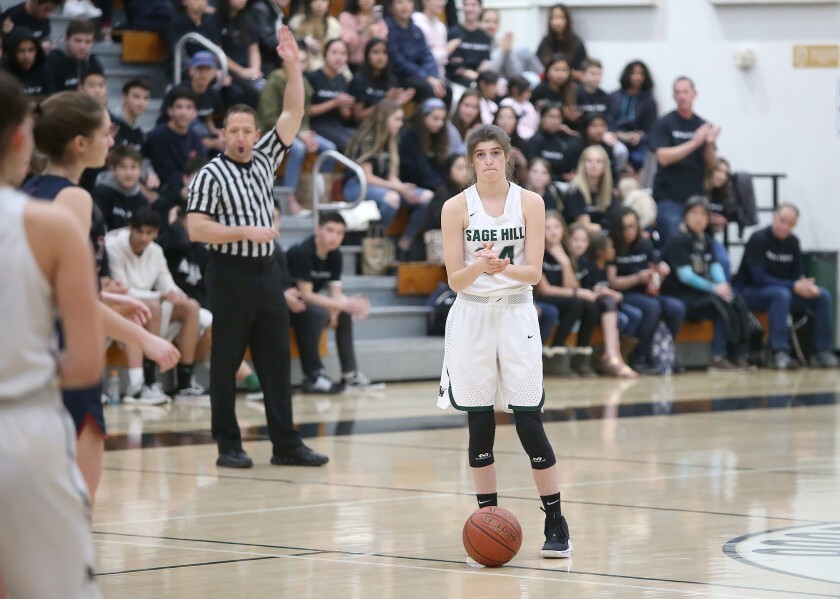 In the summer, Gomez had the opportunity to train with the Mamba Academy and learn from the late Kobe Bryant. Among the things she learned from him were how to dip her shoulder, as well as the importance of change of pace and change of direction, both vertically and horizontally.
"I feel really lucky that I was able to learn from him, a basketball genius, and take as much of that as I could and implement it into my own game," Gomez said of Bryant.
Lightning coach Kerwin Walters said that Gomez has evolved into a multifaceted scorer.
"I think this year, she found her own identity a little bit better," Walters said. "I think next year is going to be even crazier because I think she is going to take another leap. It's all about her progressing every single year to her final goal, which is to play collegiate basketball."
Walters believes his team will come back stronger, and if it does, it might just secure the signature postseason victory it was so close to getting this season.
"Next year, we are going to take another step," Walters said. "[Gomez] is going to be one of the main reasons why we're taking the next step."
COACH OF THE YEAR
Marianne Karp
Fountain Valley
Under the direction of Karp, Fountain Valley has made steady progress in each of her first three seasons in charge. Karp took over following a season in which the Barons went 0-10 in the Sunset League. The Barons improved by three wins in league play her first year at the helm. In the 2018-19 season, Fountain Valley advanced to the CIF Southern Section Division 4AA playoffs as the second-place team in the Wave League. This season saw Fountain Valley (16-13, 5-1) win the Wave League outright, which marked the first league championship for the Barons since the 1995-96 campaign. Fountain Valley lost to No. 3-seeded Calabasas Viewpoint 47-32 in the first round of the Division 3A playoffs. The Barons will return four starters next season in guards Audrey Tengan, Margaret Tengan and Madison Suekawa, and center Zoe Ziegler. All four of them will be juniors.
FIRST TEAM
Marisa Tanga
G | Huntington Beach | Sr.
A four-year varsity player, Tanga endeared herself to her coaches and her teammates in multiple ways. Not only did she bring the leadership expected from a varsity veteran, but she impressed Oilers coach Russell McClurg by never taking a break on the defensive side of the ball. Tanga shared the Surf League MVP award with teammate Alyssa Real, as Huntington Beach (23-6, 6-0) repeated as the league champion. Her across-the-board contributions included 7.1 points, 4.1 rebounds, 3.3 assists and 2.8 steals per game.
Trasara Alexander
G | Corona del Mar | Jr.
After the graduation of point guard Samantha Uehara last season, Alexander took matters into her own hands. The physical guard could create space for her jump shot by being effective with dribble penetration. Alexander, an All-CIF Southern Section Division 3AA pick, provided 15 points, nine rebounds and three assists per game for the Sea Kings (23-8, 4-2), who were the second-place team in the Surf League. The first-team all-league selection converted at a 30% clip from the three-point line and at a 77% rate on free throws. Alexander averaged 19 points and nine rebounds in the postseason, leading CdM to the Division 3AA quarterfinals. The Sea Kings' playoff run included a 48-42 upset of No. 4-seeded South Torrance in the second round.
Kat Luu
F | Fountain Valley | Sr.
The story of Luu's four years with the Barons is literally one of starting from the bottom and climbing to the top. Fountain Valley went 0-10 in the Sunset League in her freshman season. Things came full circle for Luu and the Barons this season, with Fountain Valley claiming its first league championship in 24 years. Luu averaged 10.3 points, 4.6 rebounds, 2.8 assists and 1.6 steals in earning the Wave League MVP award. "Kat is one of those players I will never forget," Karp said. "She chases down loose balls. She's locked in every play 100%. She loves playing basketball. Her stats are not record-breaking, … but she brings a commitment of love for the game, her coaches and her teammates."
Emily Elliott
F | Sage Hill | Jr.
When the game gets physical, Elliott thrives in tough situations. Now a three-time Dream Team selection, she had her biggest games on the biggest stages. She scored 31 points to go with 22 rebounds in a 62-57 win over Oceanside El Camino in the championship game of the NAIA Division at the SoCal Holiday Prep Classic in San Diego. Sage Hill narrowly missed out on an upset of Mira Costa. Elliott, a second-team All-San Joaquin League pick, had 30 points, 11 rebounds, four steals and three assists for the Lightning in the 44-42 loss. The junior power forward gave the Lightning 16.8 points, 11.7 rebounds, 3.2 steals, 2.7 assists and 1.8 blocks per game.
Andie Payne
C | Huntington Beach | Jr.
Payne knew that her team would not be as good without her on the floor, so she battled through an ankle injury for much of the season. Despite the injury, Payne, a first-team All-Surf League selection, found ways to be effective. She was the difference for Huntington Beach in a 53-48 win over Aliso Niguel in the first round of the Division 1 playoffs. In that game, Payne provided game-high totals with 25 points and 14 rebounds. She demonstrated improved outside shooting with a trio of three-pointers in the contest. On the season, Payne averaged 10.6 points, 8.9 rebounds, 1.9 steals, 1.6 blocks and 1.4 assists per game.
SECOND TEAM
Position, Name, School, Year
G/F Willa Rath, Newport Harbor, Jr.
G Alyssa Real, Huntington Beach, Jr.
F Greta Graeler, Marina, Sr.
F Taylor Fullbright, Edison, Sr.
F Tarah Harmon, Costa Mesa, Jr.
C Zoe Mazakas, Sage Hill, Sr.
C Makena Tomlinson, Corona del Mar, So.
::
Support our sports coverage by becoming a digital subscriber.
For more sports stories, visit latimes.com/socal/daily-pilot/sports or follow us on Twitter @DailyPilotSport.
---
All the latest on Orange County from Orange County.
Get our free TimesOC newsletter.
You may occasionally receive promotional content from the Daily Pilot.