CIF cancels high school spring sports season due to coronavirus pandemic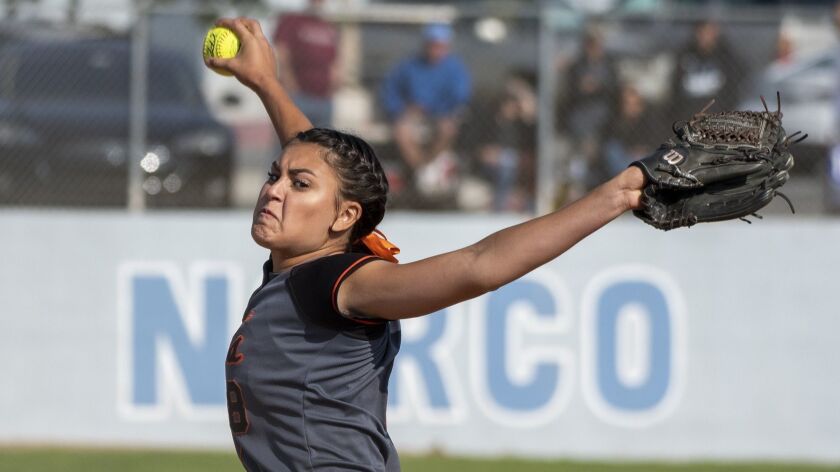 There had been little doubt that the news to come out of Friday's meeting between the CIF State office and the 10 CIF section commissioners was on its way.
Based on recent statements made by Gov. Gavin Newsom and State Supt. of Public Instruction Tony Thurmond that schools would employ distance learning for the remainder of the school year, the CIF made the decision to cancel the rest of the high school spring sports season, including all section, regional and state championships.
"We understand this is disappointing for everyone involved in education-based athletics and empathize with our student-athletes and all who are impacted by the COVID-19 outbreak," CIF executive director Ron Nocetti said in a statement. "As always, our top priority is everyone's ongoing health and safety during this challenging time, and we all look forward to the day when education-based athletics resumes."
The Southern Section issued its own statement following the release from the state office. Among the issues addressed were athletes' ability to compete in organized sports outside of high school and the summer dead period.
Athletes can now play for outside teams when it is deemed safe for them to do so. Stay-at-home orders are the main hurdle to that now.
Huntington Beach High senior softball pitcher Grace Uribe is still hoping for a chance to compete with her travel ball team before heading off for her freshman year at Texas A&M. Uribe plays for the Firecrackers TJ, coached by T.J. Houshmandzadeh, a former NFL wide receiver.
"Just being able to travel and go play travel ball, especially for me, it's with a team that I've been playing with since I was 11 years old when I started travel ball, so I definitely want another year with them," said Uribe, who is holding out hope that the Premier Girls' Fastpitch Nationals softball tournament will still take place in the summer. "I'm praying, and I think we're going to get it."
As they close their campuses to fight the spread of the COVID-19 coronavirus, public and private schools have moved to distance learning, providing online classwork and other materials for students as they stay at home. Here's how families are making the transition.
In the face of campus closures, Corona del Mar football coach Dan O'Shea said that the earliest his team could return to the field would be July 6. He accounted for the Newport-Mesa Unified School District closures through the end of the school year and the two-week dead period.
O'Shea, who guided the Sea Kings to the CIF State Division 1-A title in 2019, added that he is hopeful that when his team can practice again, it will be on a newly renovated field at CdM. The Sea Kings held preseason practice at Newport Harbor's Davidson Field last year.
July is the latest that Estancia athletic director Nate Goellrich said he would feel comfortable with athletes returning to team practice if the fall sports season were to start on time. He was mindful of students' safety even after restrictions are lifted.
"Obviously, our fall sports would like to be going as soon as possible," Goellrich said. "I think for getting practices in and the safety of the kids, with injuries, you're looking at July is when we probably need to get going before you would start looking at, 'Do we push back the fall season a bit?'
"I don't know what CIF's mindset is on that, but if we can get going by July, I think we'll be all right."
Estancia has sent out workouts that can be performed at home by its athletes. Goellrich said the weekly workout sheets were designed by the school's athletic trainer, Stephen Rivas.
"It's all following guidelines, stay-at-home orders and CDC guidelines and everything," Goellrich said. "It's just a way for our kids to stay active, stay mentally strong, too."
Both Estancia and Edison play host to summer league basketball. As much as he would like to be coaching boys' basketball, Edison athletic director Rich Boyce says it does not look good.
The Battle at the Beach passing league tournament is also a high-profile football event held in the summer at Edison.
"Everybody's got something going on that they're invested in and they're hoping to have," Boyce said. "We're all hoping to have it, so we're not exactly sure if it's going to happen. We'll be ready if it does, but if it's not, I mean, saving lives is more important than playing a basketball game, I have to say."
With the Huntington Beach Union High School District keeping schools closed due to COVID-19, the season ends for Edison, Fountain Valley, Huntington Beach, Marina, Ocean View and Westminster.
Support our sports coverage by becoming a digital subscriber.
For more sports stories, visit latimes.com/socal/daily-pilot/sports or follow us on Twitter @DailyPilotSport.
---
All the latest on Orange County from Orange County.
Get our free TimesOC newsletter.
You may occasionally receive promotional content from the Daily Pilot.