Orange County high school coaches react positively to new CIF sports calendar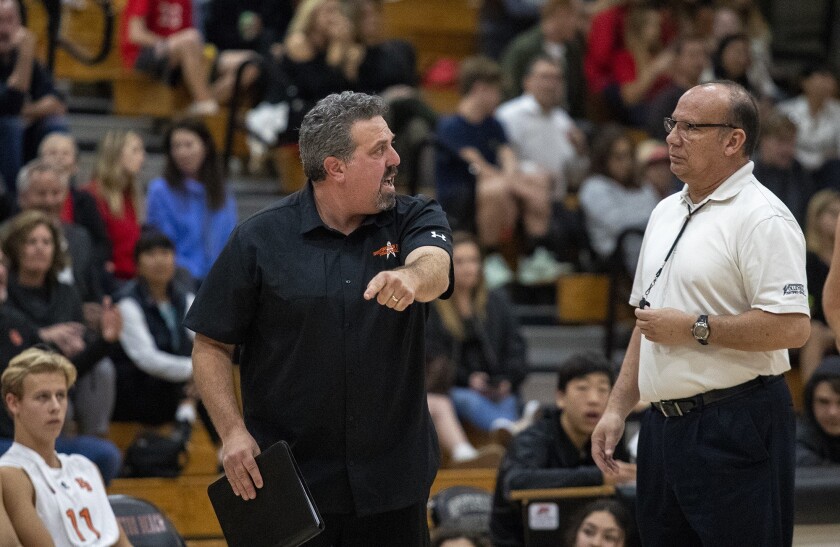 When the coronavirus pandemic shut down high school sports in March, it was as if a dark cloud had covered up the sun.
As professional sports resume with no fans, the virus is still having its say. Students and staff will not be able to return to campus for classes and school activities until their county has been taken off the state's COVID-19 watch list for 14 consecutive days.
The first glimmer of hope for high school sports in the 2020-21 school year, however, is a new calendar put forth by the CIF.
Usually split into three seasons — fall, winter and spring — the calendar for this school year will combine the sports into two seasons — fall and spring.
Fall sports are slated to begin in December or January. Many coaches expressed gratitude that fall sports have a way forward instead of being canceled outright.
"I believe this is the best plan to allow us to hopefully get back to workouts prior to season starting," Marina High School football coach Jeff Turley said. "It's going to be strange not having double-day practices in August. Knowing a start time that hopefully will work is good. [It is] something to prepare for with less question marks.
"Bowl games, playoffs, championships, that is January and February football, so I think it will be fun for a season. More weather to work through."
The condensed schedule brings forth complications. Coaches of both genders in a sport with those teams competing in separate seasons will now have to manage both simultaneously.
Boys' volleyball moved from the spring season to the fall to join girls' volleyball, and girls' tennis has been moved to the spring to join boys' tennis, to cite a couple of examples.
"I'm just glad the kids will get to play again," said Joshua Nehls, who coaches the boys' and girls' volleyball teams at Ocean View. "That's always what it's been about, and if we have to stretch ourselves even more than we already do so that they can have a little volleyball in their life while they are going through what might be the hardest thing they've ever been through, then that's OK by me."
With some sports seeing their seasons moved around or extended later than usual, Dan Hay, who co-coaches the Marina softball team with Shelly Luth, liked that the CIF is allowing students to participate in outside competition during the high school season of their sport for the upcoming year.
Hay, the president of Premier Girls Fastpitch, noted that there are PGF qualifiers and recruitment showcases as the calendar turns to June on the travel ball circuit.
Regional championship finals for baseball and softball are now scheduled for Saturday, June 26.
Huntington Beach volleyball coach Craig Pazanti said he was happy that CIF was doing all it could to provide a season for student-athletes.
"Boys' and girls' club [volleyball] could also be going at the same time," Pazanti said. "We probably could use a couple of extra hours in the day to get it all in, but hopefully this is a one-year deal, and it's way better to struggle through an impacted schedule than not having sports."
In some cases, the fall postseason may overlap with the start of the spring season. Cross-country runners who reach the section finals and beyond may miss the opening meets for track and field.
"In regards to concerns about the overlap, this will be something new for everyone, but [you] just have to have a positive and can-do attitude and make it work out for the best," Costa Mesa cross-country and track and field coach Steve Moreno said. "I am sure it will work out and the athletes and coaches will just be excited to be practicing and competing again. I know I will."
Here is the list of fall sports: boys' and girls' cross-country, field hockey, football, gymnastics, traditional competitive cheerleading, boys' and girls' volleyball, and boys' and girls' water polo.
Here is the list of spring sports: badminton, baseball, boys' and girls' basketball, competitive sport cheerleading, boys' and girls' golf, boys' and girls' lacrosse, boys' and girls' soccer, softball, boys' and girls' swimming and diving, boys' and girls' tennis, boys' and girls' track and field, and boys' and girls' wrestling.

Nowell Kay retires as Newport Harbor boys' cross-country and track and field coach

Newport Harbor boys' cross-country and track and field coach Nowell Kay has opted to retire.
"I've decided to hang up my coaching whistle," Kay said. "It's been a great run of 35 years coaching track and field and 30 in cross-country, with the last 20 being the boys' head coach in both [for the Sailors]."
A 1980 graduate of Newport Harbor, Kay, 58, said that he had a great experience coaching at his alma mater.
He looked back fondly on coaching Newport Harbor's boys' cross-country team in 2007, which went on to qualify for the state meet. That team was the fastest (76 minutes 6 seconds at the Woodbridge Invitational) in program history.
Kay also worked with Trevor Jones, a 2000 graduate for the Sailors who is still the Orange County record-holder in the 300-meter hurdles with a time of 36.45 seconds.
::
Support our sports coverage by becoming a digital subscriber.
For more sports stories, visit latimes.com/socal/daily-pilot/sports or follow us on Twitter @DailyPilotSport.
---
All the latest on Orange County from Orange County.
Get our free TimesOC newsletter, coming in August.
You may occasionally receive promotional content from the Daily Pilot.