Edison High graduate Kyle Higashioka sees years of work rewarded with Yankees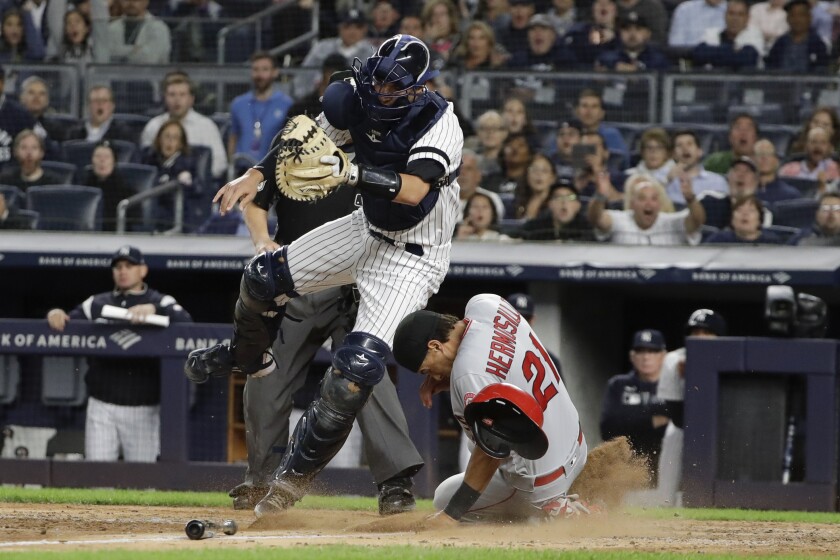 Through time immemorial, coaches have shared words of wisdom, trying to tap into their players' potential.
Steve Lambright, who served as head coach of the Edison High School baseball team from 2006 to 2013, said he has often told his players, "You get rewarded for what you put into it."
In his mind, no one he has ever coached has personified that more than Kyle Higashioka.
After 12 years of battling through the minor leagues, Higashioka earned the backup catcher role for the New York Yankees, the team that drafted him in the seventh round in 2008.
Lambright indicated that Higashioka, 30, had always hung his hat on his play behind the plate, especially in blocking and pitch framing. It helped him build a rapport with fellow Orange County product Gerrit Cole (Orange Lutheran), and he became the ace's personal catcher as the season rolled on.
"Kyle with his forte [being] defense, any pitcher in his right mind would want to throw to that guy because he knows that he is going to call a good game," Lambright said. "He's going to do a good job behind the plate, make him better."
It worked both ways. Higashioka could not offer up enough superlatives to describe his battery mate. He was behind the plate for Cole's last four starts of the regular season. It culminated in him drawing the start in a winner-take-all Game 5 of the American League Divisional Series against the Tampa Bay Rays, who went on to lose to the Los Angeles Dodgers in six games in the World Series.
In their first outing together, Cole threw five shutout innings before allowing five runs (one earned) in the sixth inning at Baltimore on Sept. 5. Higashioka recounted how special he thought Cole's stuff was that day.
"It didn't end up the way that we wanted it, but the first few innings was like incredible," Higashioka said. "I was thinking to myself, 'This is maybe the best pitcher I've ever caught.'"
"I would say a little bit of the pressure of pitch-calling was taken off me because his stuff's so good," Higashioka added. "It's almost every situation you have multiple options as far as what pitch to call because of just the nature of how good his stuff is. It's pretty fun to catch."
The path to the major leagues was elongated by struggles with the bat. Lambright remembered his former catcher as a "cage rat," one that he had to ask to leave at times so that he could go home for dinner.
Higashioka did not stop working, but in the minors, hitting coaches could change in rapid succession, especially in moving between levels. The 2008 Edison graduate, who had passed on a scholarship offer from Cal to play professional ball, realized that he would have to be the one to retool his swing. He would unwittingly join a movement that became known as the launch angle revolution.
"After the 2015 season, I kind of underwent a drastic swing overhaul where I was kind of taking a risk because it wasn't something that was being taught widespread at the time," Higashioka said. "It was kind of just based on more like physics, creating more margin for error for myself, basically matching the plane of the pitch with my swing, so having a slight uppercut."
The fruits of that labor showed up with a bang, or several, when Higashioka hit three home runs in a 13-2 win over the Toronto Blue Jays at Yankee Stadium on Sept. 16.
Asked if he was superstitious about using a hot bat or if he put it away as a memento, Higashioka chuckled.
"Actually, I kept using it, and then our hitting coach Marcus Thames, he was like, 'Hey, you need to save that bat,'" Higashioka said. "It kind of dawned on me, 'Oh, I probably should put it away,' and so I had our trainer Steve Donohue mark it up, and so now it's sitting in my house."
The baseball bubble had its oddities. Higashioka noted that even his wife and parents were unable to attend a game until the Yankees were in San Diego for the playoffs.
In a year where few could play sports due to the coronavirus pandemic, Lambright, who is now the pitching coach at Cypress College, was thrilled for the former Chargers standout. Lambright said Higashioka never takes anything for granted, and he had a likable personality, treating lower-level players like they were "an All-Star."
"I always knew that if he just kept working hard that he would get a shot, and just to see his success in the playoffs, it was amazing as [his] former high school coach," Lambright said. "As a coach, you're proud to see him have some success."
Looking back on his time at Edison, Higashioka recalled being knocked out of the CIF Southern Section playoffs by a Freddie Freeman-led El Modena team his junior year. The next year, the Chargers were shut down in the first round by Long Beach Wilson and Aaron Hicks, who is now his teammate.
Higashioka, who did not make his major league debut until 10 days prior to his 27th birthday, knows that hard work is what got him there and is what will keep him in the league.
"It's definitely something that I've worked my whole life towards," Higashioka said. "I don't think, by any means, I've made it yet. I'm still working hard every offseason to get better and better, just take advantage of whatever time I do have in the major leagues."
::
Support our sports coverage by becoming a digital subscriber.
For more sports stories, visit latimes.com/socal/daily-pilot/sports or follow us on Twitter @DailyPilotSport.
---
All the latest on Orange County from Orange County.
Get our free TimesOC newsletter.
You may occasionally receive promotional content from the Daily Pilot.