2020 in review: Top sports stories of the year
The local sports world was not immune to the drastic changes that hit in 2020. High school sports were put on hold and many mourned the loss of a basketball legend.
Here are some of the top sports stories from 2020:

Kobe Bryant, John Altobelli among nine that die in helicopter crash
Newport Beach resident Kobe Bryant, an 18-time All-Star who won five NBA titles and spent his entire career with the Los Angeles Lakers, was among nine people who died in a helicopter crash in Calabasas on Jan. 26.
The crash claimed eight others, including Bryant's daughter Gianna and longtime Orange Coast College baseball coach John Altobelli. Altobelli's wife Keri and daughter Alyssa were also among those who died in the crash, along with Christina Mauser of Huntington Beach, Sarah and Peyton Chester of Newport Beach and pilot Ara Zobayan of Huntington Beach.
The basketball world and the Newport Beach community mourned Bryant's death, with murals popping up honoring the Lakers legend. Altobelli was honored just two days later at the Pirates' season opener.
Lakers win 17th NBA title
Local Lakers fans who grieved at Bryant's passing in January still were able to celebrate the franchise's 17th NBA title in October.
In the NBA "bubble" in Orlando, the Lakers beat the Miami Heat 4-2 in the NBA Finals. The team wore Bryant's "Black Mamba" style snakeskin jerseys five times in the playoffs, going 4-1 in those games.
After winning the title, star LeBron James told NBA TV that Bryant's death brought the team closer. Sammy Marks of Costa Mesa, a big Lakers fan, saw that as well.
"I'm not exactly a religious guy, but I am spiritual, and you felt Kobe throughout the entire playoffs," Marks said. "The Lakers made damn sure that this is for Kobe. The Lakers winning the championship is literally the only way to honor such a great, not just basketball player, but man, father, husband."

Dodgers win first World Series since 1988
Though the Los Angeles Angels play in nearby Anaheim, Orange County also has plenty of Dodgers fans. They also got to celebrate a title in October.
The Dodgers won the World Series for the first time in 32 years, beating the Tampa Bay Rays in Arlington, Texas.
Shortstop Corey Seager earned National League Championship Series and World Series MVP honors, while the title also gave the first ring to longtime Dodgers players like starting pitcher Clayton Kershaw and relief pitcher Kenley Jansen.
High school sports shut down
The spring high school sports season was shut down in mid-March due to the novel coronavirus pandemic.
Local high schools postponed athletic events until further notice on March 13, while the CIF State office canceled the remainder of the spring sports season on April 3.
The moves came after California announced it would employ distance learning for the rest of the 2019-20 academic year.

Will high school sports be played in 2020-21?

In July, the CIF Southern Section announced a modified calendar for the 2020-21 season, with games set to start in December. But COVID-19 and its rising numbers have also wreaked havoc on that plan.
No games can be played until Jan. 25, 2021, according to updated youth sports guidelines released Dec. 14 by the California Department of Public Health.
Additionally, many sports face a hard road back to games as 2020 draws to a close. Football would not be allowed to be played until a high school's county was in the orange tier for reopening, while basketball would need a move to the yellow tier.
The CIF Sports Medicine Advisory Committee had recommended to the state that all sports be allowed to be conducted in the red tier, CIF Southern Section Commissioner Rob Wigod said.
Wigod said he will provide an update on the section's fall sports championships on Jan. 19.

Fountain Valley, CdM wrestling earn titles
There were success stories before the pandemic shut everything down. In February, the Fountain Valley High wrestling team won the CIF Southern Section Division 3 dual championships before the Barons also repeated as CIF Northern Division individual wrestling champions.
Fountain Valley had five individual CIF champions including Sean Solis (113 pounds), Mikey Folch (120), TJ McDonnell (138), Luis Ramirez (145) and Max Wilner (160). Wilner, a junior, won his third individual CIF championship.
Wilner, an Arizona State commit, went on to take fifth place at the CIF State meet,
Success on the mat also was not limited to Fountain Valley, as Corona del Mar won the CIF Southern Section Division 6 dual meet title with a 48-23 win over Montebello. Emilio Franco went 4-0 with four pins at 220 pounds on the final day for the Sea Kings, who won their first CIF dual meet championship since 1972.
Historic season for Fountain Valley boys' basketball
The Fountain Valley High boys' basketball team also ruled the gymnasium last winter, as the Barons had arguably their most successful season in program history.
Fountain Valley, led by junior guard Jeremiah Davis and sophomore guard Roddie Anderson among others, earned Wave League runner-up before advancing to the CIF semifinals for the first time in the program's 54-year history. The Barons lost there but also made a deep run as the No. 15 seed in the CIF State Southern California Regional Division III playoffs, making the semifinals before losing at No. 11 Burbank Providence.
The Barons, coached by former Riverside King and Orange Lutheran assistant coach D'Cean Bryant, have enjoyed their turnaround. They also surely hope there will be basketball played this spring, as they graduated just one senior off last year's team.
Another ring for Laguna Beach girls' water polo
The Laguna Beach High girls' water polo team has established itself as the preeminent program in Southern California over the last decade, and 2020 was no exception.
The Breakers won their second straight CIF Southern Section Division 1 championship, and fifth in seven years, after rallying to beat Foothill 7-6 in the Division 1 title match on Feb. 22.
Coach Ethan Damato's Breakers also won the CIF SoCal Regional Division I title and would be favored to win both titles again in 2020-21. Daily Pilot Dream Team Player of the Year Nicole Struss leads a deep senior class, as all 11 seniors have signed to play in college.
Marina girls' water polo breaks through
The Marina High girls' water polo team also made itself very relevant, winning the CIF Southern Section Division 6 title with a 6-4 victory over La Cañada Flintridge Prep. It was the Vikings' first CIF crown since 1998.
Marina, coached by Tamara Towgood, used a team effort on its way to the title, and also advanced to the CIF Southern California Regional Division III semifinals.
Vikings senior goalkeeper Emma Marsh made a CIF Southern Section single-season record 452 saves. Marsh, one of three seniors along with Makenna Reynolds and Rianne Gear, had a career mark of 1,273 saves that is second in the Southern Section's record books.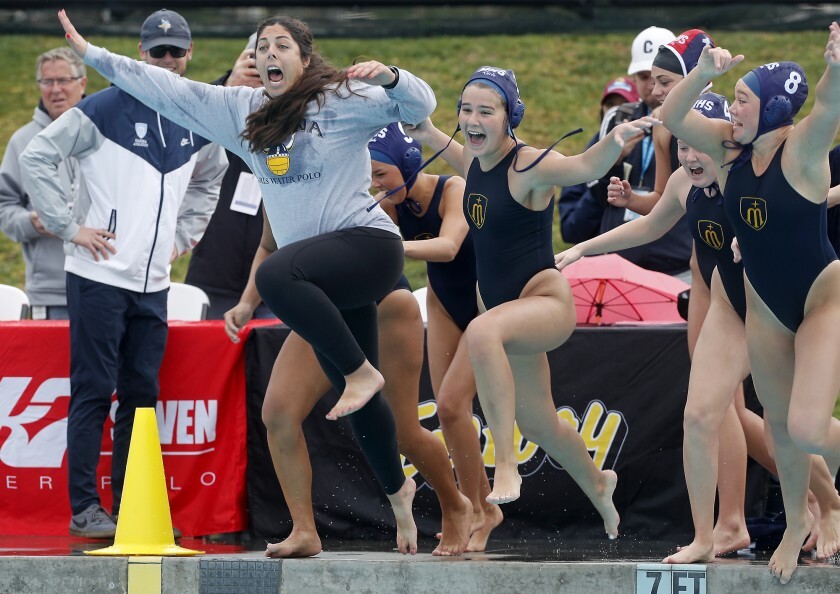 Orange County Soccer Club hosts matches during pandemic
The Orange County Soccer Club became the first professional sports team in Orange County to play matches during the coronavirus pandemic, as the United Soccer League resumed its season in July.
The club, which plays at Orange County Great Park in Irvine, hosted the Phoenix Rising and played to a 1-1 draw on July 16. That match, and subsequent home matches, were played without fans, though a group of people typically gathered outside of the stadium's gates to watch the action.
OCSC finished the season 7-6-3 and failed to advance to the USL playoffs.
::
Support our sports coverage by becoming a digital subscriber.
For more sports stories, visit latimes.com/socal/daily-pilot/sports or follow us on Twitter @DailyPilotSport.
---
All the latest on Orange County from Orange County.
Get our free TimesOC newsletter.
You may occasionally receive promotional content from the Daily Pilot.