Orange Coast College honors late coach, renames facility John Altobelli Park
Two years and three days removed from the day the Orange Coast College baseball program lost its fearless leader, fans returned to the playing facility to find it renamed in his honor.
Orange Coast College played host to El Camino College in the inaugural Memorial Cup on Saturday in the first game at John Altobelli Park, a fitting tribute to the man who led the Pirates to over 700 wins and four state championships.
Altobelli, his wife Keri, and daughter Alyssa were among the nine killed in a helicopter crash on Jan. 26, 2020. The accident also claimed the lives of Los Angeles Lakers legend Kobe Bryant and his daughter Gianna, Mamba Academy basketball coach Christina Mauser, Sarah and Payton Chester, and the pilot Ara Zobayan. The flight had been headed to a basketball tournament at the Mamba Sports Academy in Thousand Oaks.
The voice that rang across the grounds was none other than that of Tony Altobelli, brother to John and the sports information director at the college, who took the liberty of being the first to welcome baseball fans to John Altobelli Park.
"For my family and everyone associated with the college and its athletic program, let me welcome you to 'The House That Alto Built,'" he said.
Tony Altobelli, serving as the public address announcer, shared some accomplishments from his brother's 27-year coaching career and told those in attendance that the official dedication event would take place on March 12, when Orange Coast is scheduled to play Irvine Valley at noon.
After the lineups had been announced and the teams had lined up down the first and third base lines, Orange Coast coach Nate Johnson delivered a heartfelt speech.
"Changing the name of the stadium is the bare minimum that I could do to honor that man," Johnson said, fighting back tears. "He touched so many lives. You just look around, and some way, somehow, he left his mark on each one of you. He left his mark on this place.
"Everything that you see here is because of him and his hard work. Whether you played for him, your son played for him, you worked with him, coached with him, or you just knew him, I want you to know that you were part of his family. Because of that, you're now a part of my family."
Johnson also honored Altobelli's late wife and daughter, saying the spectator area down the first base line would furthermore be known as the Keri Altobelli Family Section. He also highlighted the hard work Alyssa put in toward becoming a good basketball player.
"I'm wearing her number 5, so that I always remember that smile, but more so that I never forget to work my butt off, just like Alyssa," Johnson added.
Matt Mauser, a singer and songwriter who lost his wife in the fatal helicopter crash, sang the national anthem.
The Memorial Cup series also honors the life of former El Camino catcher Sladen Mohl, who was killed by a drunk driver in 2019.
Orange Coast defeated El Camino 8-3 on Saturday at home, salvaging a game in the Memorial Cup series. El Camino won the first two games on Thursday and Friday.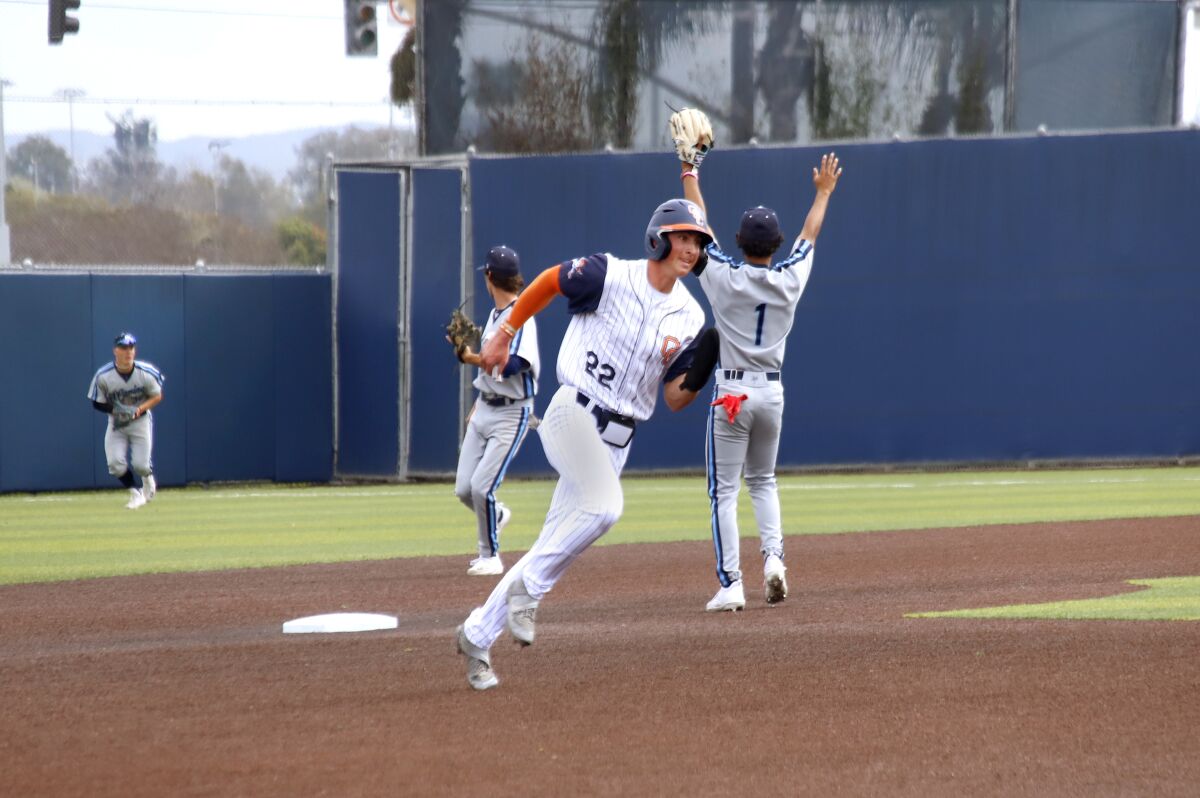 After starting left fielder Ricky Teel was injured running into the wall chasing a fly ball in the top of the first inning, Alex Talamante came in and had two hits and a walk, scored two runs and drove in one for the Pirates off the bench.
Shortstop Jordan Ku and third baseman Garrett Bevacqua also had two hits apiece, and catcher Emilio Morales had a two-run double in the sixth.
"It was huge for us," Talamante said of earning the win in the first game at home following the renaming. "We're definitely going to play this season with [Altobelli's] number 14 on our [hearts], and we're definitely going to come out and give it to anybody who steps on the other side of the field."
Support our sports coverage by becoming a digital subscriber.
For more sports stories, visit latimes.com/socal/daily-pilot/sports or follow us on Twitter @DailyPilotSport.

All the latest on Orange County from Orange County.
Get our free TimesOC newsletter.
You may occasionally receive promotional content from the Daily Pilot.