Tamplin leads Sailors' breakthrough season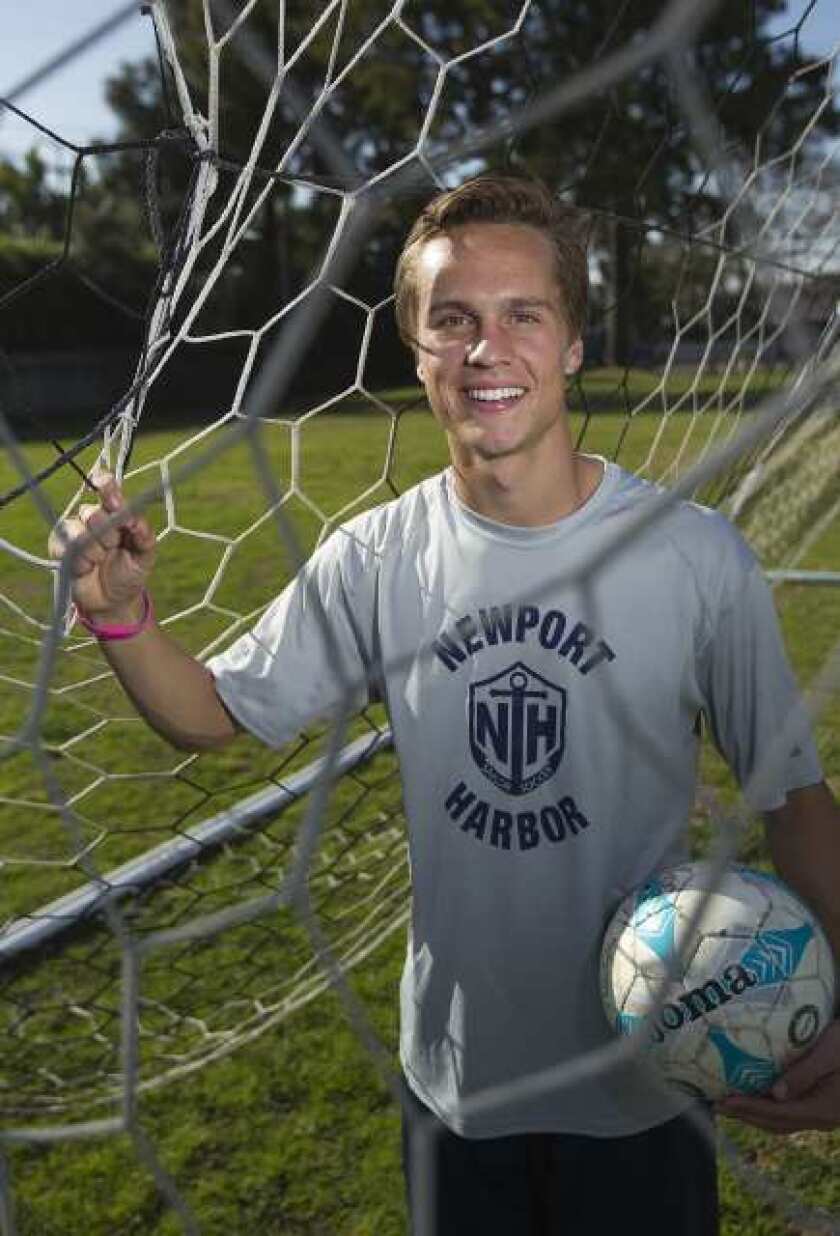 True Tamplin just wrapped up practice with his Newport Harbor High boys' soccer team on Thursday. While he gathered his belongings, one third of the team waited for him near his car.
"I don't know why there are so many of them," said Tamplin, who looked at his eight teammates and then laughed. "Only four of them [fit]. They, like, fight each other out for [a spot in the car]."
Tamplin is more than willing to be their chauffeur. This is the routine after practice. Four jump in and four walk home.
These players are more than teammates to Tamplin.
They're his close friends. He calls them his "homies." He said he's only one of three white kids on a team made up of Latinos.
For the first time in a couple of years, Tamplin has people that he's close to in high school.
This is Tamplin's first year back at Newport Harbor. He was home schooled the past two years. During that time, he played on an academy team and trained with clubs in Argentina, Brazil and Italy.
At 15, a scout noticed Tamplin and his potential. Two years later, Tamplin never imagined he would be back at Newport Harbor.
A meniscus tear in his right knee is the reason why he returned.
"I was playing at the academy level [with the Pateadores]," Tamplin said of the Orange County-based team, which is part of the U.S. Soccer Development Academy. "When I came back, I wasn't in the shape that I was my junior year. They were getting better and I was getting worse. I came back to high school ball just to kind of ease into it."
The program Tamplin rejoined was nothing like the one he was a part of as a freshman. There was a new coach, Juan Mares.
No longer were players allowed to just show up a couple of times for practice during the week. No longer were players waiting around 30 minutes for their coach to show up.
There was structure at Newport Harbor.
The team didn't enjoy much success during Mares' first two seasons. Mares had to rebuild the program and his work has led to Newport Harbor's first CIF Southern Section Division 1 playoff win since the 2008-09 season.
Mares said having Tamplin around helped. The senior player gives the credit to Mares.
"He took the program from a pile of garbage to being in CIF," Tamplin said. "As soon as coach stepped on the scene, he cracked the whip in a good way, got these guys organized, and the boys liked it. They complain about fitness, but you know what? When they're winning games, they're not complaining. He really got us organized, taught us humility, integrity."
The players bought into Mares' message and Tamplin led the way down the stretch for Newport Harbor, which earned an at-large postseason berth out of the Sunset League.
At the start of the season, when the Sailors struggled to score goals, Mares moved Tamplin from midfield, a position he has excelled at, to striker. Tamplin was never a goal scorer. He was used to controlling the middle of the field and setting up goals for others.
Now, it was Tamplin's job to find the back of the net.
While his shot wasn't great, what Tamplin did possess was a presence up top. At 5-foot-11, he's one of the tallest players on the team.
During matches, he started taking chances and striking the ball. When the ball started going in, he began to refine his shot. It paid off as Tamplin produced a team-best 15 goals, a handful of them on penalty kicks.
On Thursday, Tamplin and four teammates worked on penalty kicks. Everyone made theirs, except for Tamplin. He rarely missed from 12 yards out.
The Sailors knew they could count on Tamplin when it came to a game-type situation. They continued to prepare for their next match, a first-round playoff contest at third-seeded El Toro on Friday.
Newport Harbor advanced to this round after picking up a 1-0 wild-card win at Sherman Oaks Notre Dame on Wednesday. The day before, Tamplin was confident that his team would prevail, saying he planned to lead the team in warm-ups during the next practice.
He was right. The Sailors' season continued. He wasn't going to be so bold again, not against an El Toro team that went into the match with a 24-1-1 record.
Tamplin did give the Sailors a 1-0 lead in the 30th minute, but it wasn't enough. El Toro, which had only trailed twice before in a match, rallied for a 2-1 victory.
Tough losses always sting. While 14 teammates can look forward to next season, Tamplin cannot.
Tamplin said: "For me, there is no next year."
*
True Tamplin
Born: July 8, 1995
Hometown: Newport Beach
Height: 5-foot-11
Weight: 165 pounds
Sport: Boys' soccer
Year: Senior
Coach: Juan Mares
Favorite food: Spaghetti
Favorite athletic moment: Training and living in Argentina and Brazil.
Week in review: Tamplin scored a goal in the Sailors' Sunset League finale, a 3-1 win against Marina that allowed them to share third place in league and earn an at-large berth into the CIF Southern Section Division 1 playoffs.
Twitter: @DCPenaloza
---