Huntington Beach's McClurg reflects on 400th win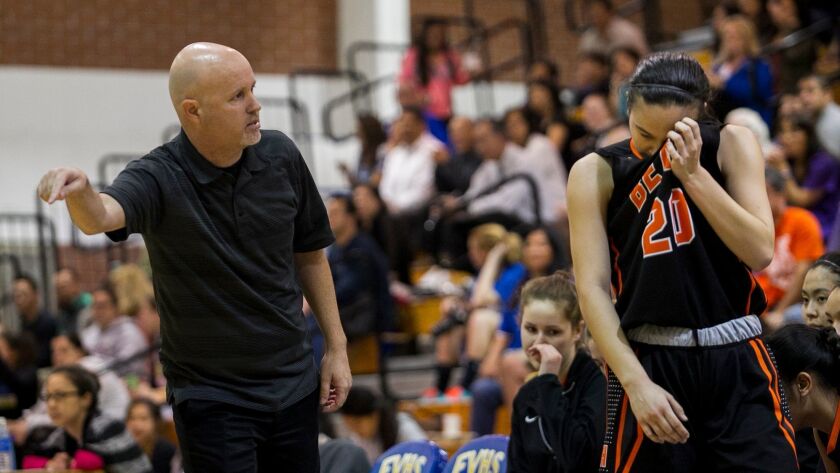 Reaching major milestones are one's opportunity to celebrate both longevity and consistency.
Last Friday, a high school girls' basketball team coached by Russell McClurg came out on the right side of the scoreboard for the 400th time.
McClurg knew the day was coming, having begun the season just eight wins shy of that mark. When his Huntington Beach team defeated Whittier La Serna 49-31 in the Garden Grove Tournament last week, he knew what he had to do.
Recognizing that a coach is only as good as their program, he thanked the players and assistant coaches who helped pick up the latest victory. All the while, he was also thinking about players, parents and assistant coaches of the past.
"Having such a young team this year, what was more exciting for me today was just going, 'Hey, thank you guys. You freshmen are a big part of this,'" McClurg said following the win. "That's always the best thing is seeing them succeed over what I do. I always like the fact that I can enjoy today."
McClurg has coached high school girls' basketball since the 1994-95 campaign at Calvary Chapel. He coached at Calvary Chapel for six seasons before he began coaching at Huntington Beach in the 2003-04 season.
While every year has been different, McClurg, in his 21st season in charge of a high school girls' basketball program, has seen sustained success thanks to his feeder program, the Huntington Beach Wave.
This season has been one of the leaner years, as the Oilers, at times, have dressed just six players for junior varsity games. Even with the youth of freshmen Meghan McIntyre and Alyssa Real and sophomore Marisa Tanga starting as guards, Huntington Beach is 9-5 overall at the varsity level.
"You realize how each year is so different," McClurg said. "I work really hard to make sure that the feeder program is there and we can have success every single year.
"I kind of already know next year what is going to be going on. You kind of look to the future. I don't sit on my laurels. I don't sit on the victories."
Huntington Beach begins its Sunset League schedule with a home game against Newport Harbor on Thursday at 7 p.m.
Ocean View repeats at Tri-City Christian Tournament
The Ocean View girls' basketball team is hitting its stride just in time for the start of Golden West League play.
Ocean View won the Vista Tri-City Christian Tournament crown for the second year in a row on Friday. The Seahawks (10-5) also appeared in the Villa Park Lady Spartans Winter Shootout championship game the week before.
Seahawks coach Kim Morris said that her team found itself down in the early stages of the last three games, but it was able to claw its way back. Ocean View defeated Encino Holy Martyrs Armenian 52-50 in the final.
"I have a healthy respect for those kids because they're scrappy, and there is usually one or two really good players off a couple of those teams," Morris said of the competition found at the Tri-City Christian Tournament.
"They're consistently performing, and they have good, solid kids that just go after it. It's very similar to what we're trying to cultivate as a culture here [at Ocean View]. I love going down and playing those teams because it's iron sharpening iron at that point."
Freshman Hosanna Walker had 23 points and 13 rebounds in the Seahawks' tournament opener against San Diego Maranatha Christian. She added a team-high 18 points with nine rebounds in the title game.
Seniors Erica Almiranez and Emi Yamasaki paced the Seahawks with 16 points apiece in their team's 61-46 win over Los Angeles Sacred Heart of Jesus.
Ocean View visits Laguna Hills on Thursday before hosting Segerstrom to start league next Tuesday.
Edison's Sparks wins USA Volleyball Beach HP U19 World Trials
The women's beach volleyball pair of Lindsey Sparks, a senior at Edison, and Devon Newberry defeated Maya Harvey and Megan Kraft 21-18, 28-26 in the USA Volleyball Beach HP U19 World Trials on Saturday at the Chula Vista Elite Athlete Training Center.
In winning the tournament, Sparks has qualified for the 2018 FIVB U19 Beach Volleyball World Championships in Nanjing, China. The event will be held from June 26 to July 1.
Sparks has signed with UCLA to play beach volleyball in college. She played setter and outside hitter in her time with the Chargers' indoor girls' volleyball team.
CdM's Kipp receives another honor
Corona del Mar junior opposite Kendall Kipp has been selected to the CalHiSports.com All-State first team in girls' volleyball.
The honor comes on the heels of a season that saw Kipp produce a team-high 429 kills in helping the Sea Kings to a semifinals appearance in the CIF Southern Section Division 1 playoffs and a berth in the CIF State Open Division tournament.
Kipp has earned Daily Pilot Dream Team, first-team All-Orange County and All-CIF Southern Section Division 1 honors.
Twitter: @ProfessorTurner
---
All the latest on Orange County from Orange County.
Get our free TimesOC newsletter.
You may occasionally receive promotional content from the Daily Pilot.