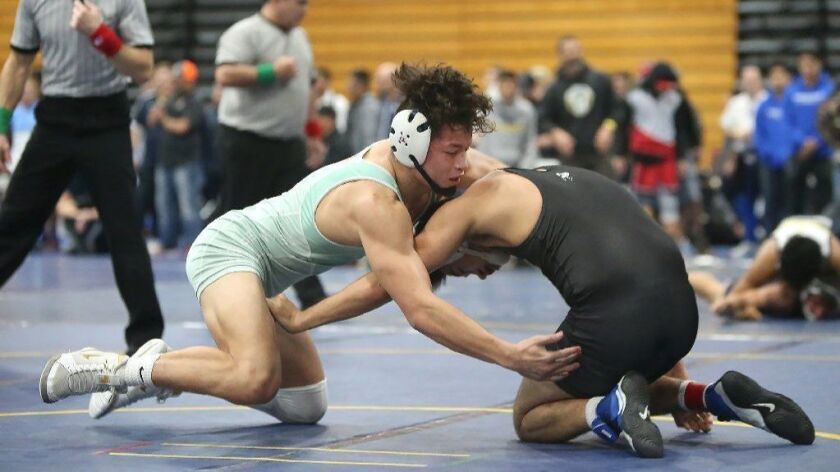 The CIF Southern Section released the pairings for its Dual Meet wrestling championships on Thursday afternoon.
Three Sunset Conference teams — Fountain Valley, Newport Harbor and Corona del Mar — are set to compete. Wrestling begins Saturday at 11 a.m. at six high school sites, each hosting a different division's 16-team bracket.
Fountain Valley (10-1), the Surf League champion, will open its bid for a Division 3 title against host Lakewood (8-3), which received an at-large berth out of the Moore League. The No. 2-seeded Barons capped the regular season by defeating Marina 54-24 on Jan. 16, completing an undefeated run through the Surf League. The Barons have won eight consecutive league titles.
A young corps of talented wrestlers has helped the Barons sustain their success. Freshman Sean Solis (18th, 106 pounds) and sophomores Luis Ramirez (19th, 145), Dylan Zotea (25th, 152) and Max Wilner (fourth, 160) are all ranked in the state by TheCaliforniaWrestler.com.
Dividing the Sunset Conference allowed for a new league champion. Newport Harbor stepped forward to claim the first Wave League title. The Sailors beat Huntington Beach 41-30 in the regular-season finale, clinching the crown outright, the program's first league title since the 1996-97 season.
Sophomore Josh Martinez (120 pounds), junior Santino Panasitti (132), and seniors Dakota Mungall (152), Austin Osumi (220) and Eddie Rios (285) had pins against the Oilers.
Newport Harbor (10-6) will face Perris Orange Vista (5-0), the Inland Valley League champion, in the first round of the Division 6 dual championship tournament at Lake Arrowhead Rim of the World High.
Sailors coach Dominic Bulone said that his team's goal is to win the Division 6 title. He has been motivating his wrestlers by drawing a picture on the board at practice of a red stop sign, which bears a resemblance to the patch that CIF champions receive.
"The team is good," Bulone said. "They're excited. We've had some success in dual meets this season, and Division 6 is sort of wide open. I have these kids believing they can do it. These kids have me believing they can do it.
"They've been working real hard preparing. They've been talking all week. Some kids are like, 'This week is going too slow. We're ready for Saturday.' "
CdM, the second place team in the Wave League, will face 605 League champion Norwalk John Glenn (11-7). The Eagles are the top seed in the Division 6 draw.
The Sea Kings have qualified for the CIF Duals in back-to-back seasons, the first two appearances in the postseason tournament for CdM in program history. Last year, CdM advanced to the CIF Duals as the runner-up to Irvine out of the Pacific Coast League.
::
CIF Southern Section Dual Meet championships
When/where: Saturday, 11 a.m. at various sites
Division 1: at Canyon High
Division 2: at Moreno Valley Canyon Springs High
Division 3: at Lakewood High (Fountain Valley)
Division 4: at Simi Valley Royal High
Division 5: at Westminster High
Division 6: at Lake Arrowhead Rim of the World High (Newport Harbor and Corona del Mar)
Fan info: Admission is $10 for adults and $5 for students with ID and children.
Twitter: @ProfessorTurner
---