Comfortable with facing long odds, Bercovici looks for his chance to shine with Chargers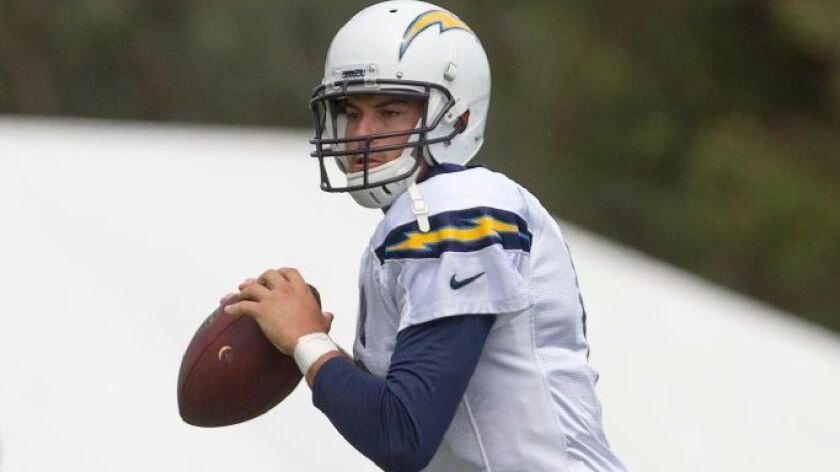 Reporting from Costa Mesa —
If there's one man who shouldn't be counted out, it's Los Angeles Chargers backup quarterback Mike Bercovici.
The former Woodland Hills Taft High star and San Fernando Valley prep standout still gets asked often about the play that defined his career.
On Oct. 5, 2014, Bercovici forever carved his name into the annals of Arizona State history and college football lore when his 46-yard Hail Mary pass to wide receiver Jaelen Strong was caught for a touchdown as time expired.
The score resulted in a miracle comeback victory for Arizona State, which upset host and No. 16-ranked USC, 38-34, for the program's first victory in the Los Angeles Coliseum since 1999.
The play is easily found on YouTube and is on standby whenever any team completes a Hail Mary.
"You know it's probably the first thing or it is the first thing that comes up when Arizona State and USC get together," Bercovici says through a chuckle. "It's what comes out of people's mouths and I'm just happy to be a part of history and the amazing fun."
While there was a dog pile in the end zone around Strong, Bercovici was 50 yards away near midfield on the ground cramping up.
Teammates finally helped pick up the exhausted quarterback and lead him to the promise land.
As Bercovici practices during his second summer camp with the Los Angeles Chargers in Costa Mesa, he's aware of the similarly big odds he's facing.
The 6-foot, 204-pound signal-caller is one of three quarterbacks trying to earn a spot behind Pro Bowl starter Phillip Rivers.
Bercovici's competition consists of Cardale Jones and Kellen Clemens.
"It's a mental game at this level," Bercovici said. "Everybody can throw. Everyone is great on defense, great on offense. What it boils down to is how well you can pick up things each day in practice and continue to get better. You also have to eliminate the mistakes that you've been making."
Though Bercovici has yet to take a regular season snap with Los Angeles, he's had his ups and downs.
As a rookie, he signed a free agent contract in April of 2016 with the Chargers after going undrafted following his senior season in Tempe, Ariz.
Bercovici's first professional action wasn't too positive, as the quarterback completed three of six attempts for 46 yards and an interception on Aug. 13, 2016 in the Chargers' preseason opener against Tennessee.
However, the following week Bercovici shined against the Arizona Cardinals. Bercovici turned in his finest preseason effort as he completed nine of 13 passes for 108 yards. Though he didn't toss a touchdown, he led the Chargers on two scoring drives in a 19-3 victory.
Just as Bercovici put together a strong effort in his pursuit of the back-up quarterback position, fate turned against him.
Bercovici's last two preseason games against Minnesota and San Francisco were forgettable as he completed less than 50% of his passes, and he tossed four interceptions versus one touchdown.
Two days after the Chargers' preseason finale, Bercovici was told to call the Chargers' general manager. He was cut on Sept. 3.
"That's one of the hardest things that I've ever been through, being released," Bercovici said. "First time you're not playing football in the fall. It took a lot of hard work to keep myself level-headed."
If Bercovici's plight wasn't challenging enough, the drama unfolded during the regular season for a viewing audience as Bercovici's story was told as part of the NFL Network's "Undrafted" show, which follows the journey of specific players who were not picked in the NFL Draft.
Though down, Bercovici received a lift from some expected sources and perhaps one not so anticipated.
"I'm blessed that I have incredible parents, an incredible family and girlfriend and a support staff that's helped me," Bercovici said.
While Bercovici watched the final season of the San Diego Chargers unfold along with his reality television exploits, he kept in touch with Rivers.
Communication with the veteran quarterback served as a lift for Bercovici, who pined for another shot.
"Phillip said that the biggest thing is that you can't really predict anything in this business," Bercovici said. "You just keep your head up and keep working hard. He's just a great mentor, someone who I look up to.
"He's a coach on the field. When I wasn't here, he told me the same thing. Just continue to work hard."
On Jan. 10, Bercovici received another call from Chargers management, this one positive. He was offered a contract and signed.
Even with the disappointment of last summer fresh in his mind, there was no hesitation.
"When I got the chance to come back here, it was a no-brainer," Bercovici said. "I knew that I wanted to be here and I'm treating it like a little bit of unfinished business. I'm trying to pick up where I left off and do a little bit better and hang around."
The Los Angeles Chargers' preseason kicks off Sunday against the Seattle Seahawks at the StubHub Center, about 35 miles southeast of where Bercovici first shined at Taft.
Perhaps there is something to proximity and family, at least former Riverside Notre Dame star Kenjon Barner believes so. The Chargers signed the Eagles special teams specialist and running back in April and he's enjoyed his homecoming.
"It's amazing, it's an amazing feeling to be back home with my family, my dad," Barner said. "To have my family at every practice – my mom, sister, brothers, friends, an aunt and uncle – it's an amazing feeling. To have that support group behind you, that can only help you."
A year wiser and with plenty of support, Bercovici is ready for a second chance and for one more surprise.
"I think this second time around it's just about being more of a player and making more plays with my arm," Bercovici said. "I know the offense better than last year, so it's about continuing to get better and proving to my coaches my value."
---
All the latest on Orange County from Orange County.
Get our free TimesOC newsletter, coming in August.
You may occasionally receive promotional content from the Daily Pilot.