Brethren Christian loses coach Pat McInally, varsity football program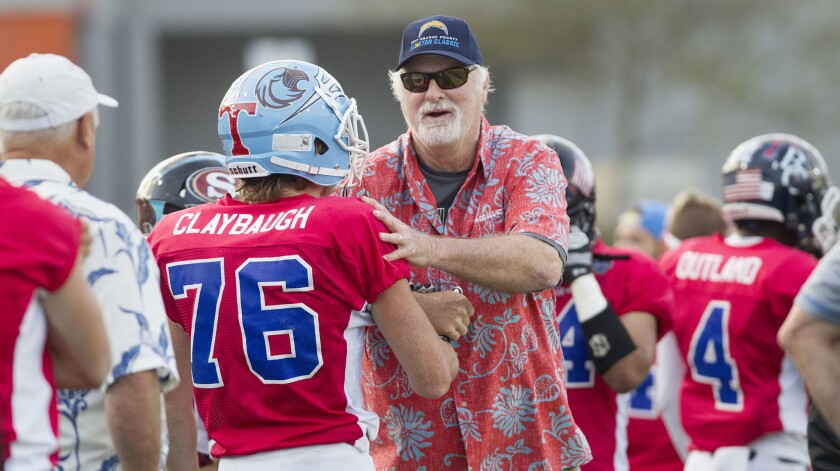 On the last day in June, everything football related was going well for Pat McInally.
As McInally arrived to coach in the 58th edition of the Orange County High School All-Star Football Game that day, he received a call from the Cincinnati Bengals. He found out the team he played for in the NFL was going to honor him as part of its 50th anniversary this upcoming season.
"They named the top 50 players of all-time, as voted by the fans and the media, and I'm on it," said McInally, who played for the Bengals from 1976 to 1985. "It wasn't by position, so I didn't make it as a punter. I made it as a player. Anything inside 50 is pretty amazing. I'm just a [guy] from Harvard, you know?"
The evening ended with McInally guiding the South team to a 28-6 win against the North at Orange Coast College. Four of McInally's players at Brethren Christian played a role in the outcome.
The recent graduates helped McInally win the OC All-Star Game as a coach, 46 years after he won it as a player.
Little did the 64-year-old know at the time that the annual summer event would also be his last as a head coach.
McInally said he is retiring after Brethren Christian dropped its varsity football program on Monday due to low numbers. McInally, who led the Warriors for six seasons, said the decision was a difficult one, especially after his two most successful years at the school.
"You could play baseball with 10 people, maybe, but you can't play football with 15," said McInally, who went 47-19 overall during his time with the Warriors. "[It's] very disappointing. When this happens normally, the school's gone through a really difficult period of time where they've lost 10 games and lost by 50 points [per game] or something, but we're coming off [a 20-3 record during the last two years].
"We just didn't have the number of kids to play. We thought we would. I hate doing it this late. I feel horrible, particularly since we had this happen to us last year [in May, when Sage Hill left the Academy League and moved to eight-man football], and it cost us a [berth into the] playoffs [because we had to play as a freelance team]."
McInally said the low turnout at Brethren Christian, which has an enrollment around 236 students, had a lot to do with how last season ended.
The Warriors did not make the CIF Southern Section Division 10 playoffs, despite having a near perfect regular season. Brethren Christian went 9-1, having to forfeit its season-opening win against Ocean View because the section ruled it used an ineligible player.
McInally said the circumstances in which his team missed the postseason for the first time under him hurt the morale. Brethren Christian, ranked No. 4 in the division, did not make the playoffs as an at-large entry because the division had no room. Brethren Christian could have finished 10-0 and still not qualified for the playoffs.
"This a team that could've won a CIF title last year," said McInally, who led the Warriors to the semifinals of the East Valley Division playoffs in 2015, losing to Simi Valley Grace Brethren 46-41. "We should've played in the championship [in 2015 after Grace Brethren had to forfeit playing in the final because it used an ineligible player]. These poor kids [at Brethren Christian]. They get gypped out of [playing for a section title] their junior year. They don't get to go in the playoffs their senior year."
With no season this fall, there won't be another postseason for Brethren Christian.
The Warriors' decision not to field a varsity team affects the other three schools — Crean Lutheran, St. Margaret's and Perris Orange Vista — in the Academy League. They will have to play as freelance teams.
Last week, McInally began to see the writing on the wall. The team's first summer practice was held a day after the Fourth of July, and McInally said 13 players showed up.
"Then I just had to cancel the Thursday [practice]," McInally said. "We didn't have enough people."
By Sunday, McInally said he had only nine or 10 players committed to playing. That night, he said he talked with the school's superintendent, John Moran.
"I explained the situation as far as the numbers, having gone over all the potential people, and then we had a board meeting on Monday, and then that's where it was decided," said McInally, adding that he will miss coaching alongside his son, Jack, who also played quarterback for him at Brethren Christian, and defensive coordinator Keith Laszlo. "[Moran] must have come back to me at least three or four times, [asking], 'Can we make it work?' We all wanted to continue the program, and the board definitely wanted to continue it. [They're] still trying to figure out a way whether they can have a [junior varsity] team."
With no team to coach, McInally's schedule will be free this football season.
McInally had told the Bengals there was one week, during Brethren Christian's bye week in mid-September, he would be free to return to Cincinnati for its 50-year celebration honoring its top players.
Now every week will be a bye week for McInally, who had a hard time saying goodbye to Brethren Christian.
Twitter: @ByDCP
---
All the latest on Orange County from Orange County.
Get our free TimesOC newsletter.
You may occasionally receive promotional content from the Daily Pilot.