Laguna Beach heads to boys' volleyball tournament that can affect CIF Division I playoff seeding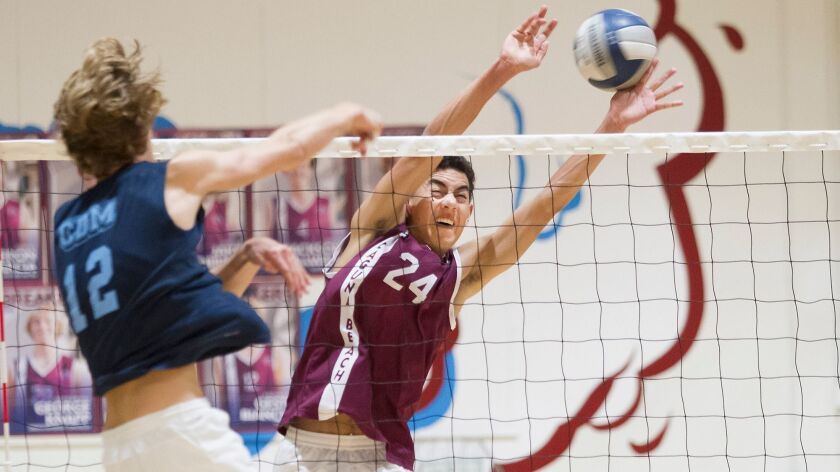 With the CIF Southern Section boys' volleyball playoffs fast approaching, Laguna Beach High will be at the Redondo Union Classic on Friday and Saturday.
The tournament could affect the seeding in the Division 1 playoffs.
Three of the top programs in the Division I poll are in the 32-team tournament, including No. 1 Oak Park, No. 9 Laguna Beach and No. 10 Redondo, the host. Other quality programs in the field are Manhattan Beach Mira Costa, only one of two teams to beat Oak Park this year, San Clemente and Palos Verdes.
If Oak Park (26-2) fails to win the tournament, No. 2 Los Angeles Loyola (22-1), coming off an impressive five-set win at home against No. 3 CdM (24-3) on Wednesday, could replace Oak Park as the top team. Oak Park is the lone team to defeat Loyola, which won the section championship a year ago.
Laguna Beach opens pool-play at the tournament with Burbank Burroughs on Friday at 3:30 p.m., followed by matches against Torrance and Newbury Park.
The section plans to release the playoff pairings on May 5. As always, Division 1 will be stacked.
Newport Harbor (23-3), which has already clinched at least a share of its second straight Sunset League title, is currently No. 4. Edison is No. 7 and Huntington Beach No. 8.
The Oilers and Chargers might swap spots for the postseason. Huntington Beach is in second place in league, two matches behind the 8-0 Sailors and one ahead of third-place Edison.
The Sea Kings have clinched at least a share of the Pacific Coast League crown, marking the 15th straight time they have finished on top. Coach Steve Conti expects CdM to stay in the No. 3 spot, as it holds the head-to-head advantage over Newport Harbor and No. 5 Westlake.
Laguna Beach went into Thursday 8-0 in Orange Coast League play. The Breakers have claimed the league every time in its 11-year existence. A good run in the Redondo tournament could keep Laguna Beach in the top 10.
CdM football standouts receive offers
Corona del Mar junior linebacker Clyde Moore and junior wide receiver TaeVeon Le have picked up more football offers.
Sea Kings Coach Dan O'Shea said Arizona State is the latest program to offer Moore, a 6-foot-2, 220-pounder. Arizona State is one of two Pacific-12 Conference schools offering Moore, and the other is Colorado, O'Shea said. O'Shea added that Hawaii and San Jose State, both from the Mountain West Conference, have also offered Moore.
The Ivy League schools are going all out on Le. Columbia joined Princeton and Yale in its pursuit of Le, who is also a standout in the classroom with a grade-point average above 4.0.
The 6 feet 4, 225-pound Le also holds offers from the Mountain West's Air Force and Colorado State programs, and Iowa State, from the Big 12.
Pacifica Christian freshman lands third offer
Dominick Harris is only a freshman at Pacifica Christian, and the point guard received his third NCAA Division I men's basketball offer.
Shawn Harris said Abilene Christian University has offered his son. The school in Texas joins Stetson University in Florida and California Baptist University in Riverside as the three programs to offer the 6 feet 3 Harris. Cal Baptist, a Division II school, is moving up to Division I.
CdM's Rodman gaining interest
Reports surfaced on social media that Georgia Tech offered CdM sophomore D.J. Rodman.
Sea Kings Coach Ryan Schachter said Rodman, who is 6 feet 4, is getting a lot of interest from Georgia Tech, Gonzaga and Stanford.
Twitter: @ByDCP
---
All the latest on Orange County from Orange County.
Get our free TimesOC newsletter.
You may occasionally receive promotional content from the Daily Pilot.