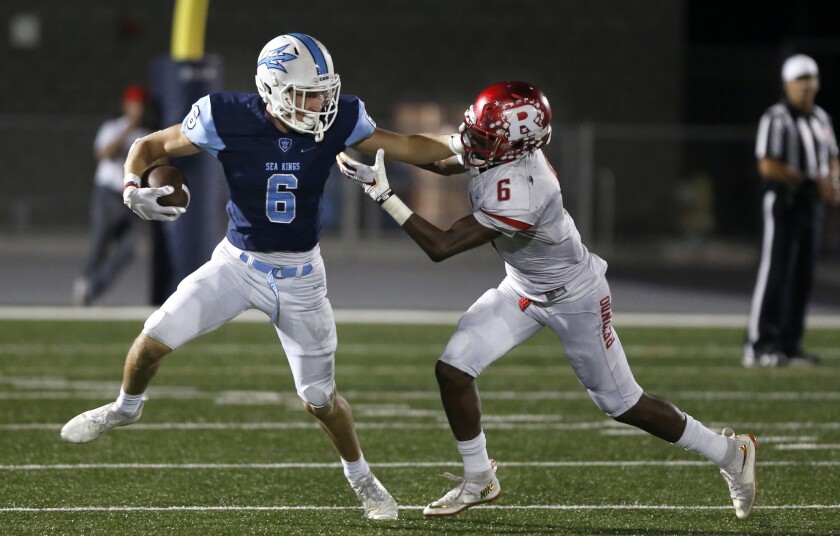 Corona del Mar High junior wide receiver John Humphreys has been named the CIF Southern Section Division 4 Co-Offensive Player of the Year in football, highlighting one of a dozen local players who earned recognition in their respective divisions.
Humphreys was joined by CdM junior quarterback Ethan Garbers, junior receiver Bradley Schlom and junior tight end Mark Redman as Division 4 honorees, as well as junior defensive back Chandler Fincher, senior linebacker Luke Fisher and junior defensive lineman Carter Duss.
Edison senior offensive tackle Grant Conaway and senior linebacker Luke Hoggard earned All-CIF honors in Division 2.
Huntington Beach senior receiver Jeremiah Flanagan earned honors in Division 7. Laguna Beach junior quarterback Andrew Johnson and senior receiver Sean Nolan made it in Division 12.
Humphreys, the Sunset League MVP and Daily Pilot Dream Team Player of the Year, had a record-setting year for CdM (11-2-1). He caught 103 passes for 1,783 yards and 28 touchdowns, all CdM single-season records. He helped the Sea Kings win a share of the Sunset League title and advance to the Division 4 title game, where they lost 26-14 to Simi Valley Grace Brethren. Grace Brethren senior running back Lontrelle Diggs shared Division 4 Offensive Player of the Honors with Humphreys.
Garbers, the Dream Team Offensive Player of the Year, completed 284 of 424 passes for 4,155 yards, 55 touchdowns and eight interceptions. The Sunset League Offensive Player of the Year set a new CdM single-game mark with seven touchdown passes in a Battle of the Bay win over rival Newport Harbor.
Schlom, a first-team All-Sunset League selection, had 72 catches for 1,138 yards and 10 touchdowns. Redman, also a first-team all-league pick, made 54 catches for 598 yards and nine touchdowns.
Fincher wasn't scored upon all season for CdM, batting down seven passes in the process. He was a first-team all-league pick.
Fisher led the Sea Kings with 101 tackles, including 19 in a win over San Clemente and 12 in the Division 4 final against Grace Brethren. Duss had 46 tackles and led CdM with eight sacks
Conaway was the Sunset League Offensive Lineman of the Year for Edison (5-6) at left tackle, helping the Chargers finish third in the Sunset League and advance to the Division 2 playoffs. Hoggard led the Chargers with 115 tackles, 11 for a loss, and also had 2.5 sacks. He was the Dream Team Defensive Player of the Year.
Flanagan had 35 catches for 718 yards and 13 touchdowns for Huntington Beach (6-5), which finished fourth in the Sunset League and earned an at-large berth to the Division 6 playoffs, losing 28-17 at St. Margaret's in the first round.
Johnson completed 238 of 426 passes for 3,246 yards and 42 touchdowns, all of which were Laguna Beach single-season records. A Pac 4 League first-team selection, he had a school-record six touchdown passes in a 45-7 win at Godinez that clinched a share of the league title. He and Nolan helped the Breakers (10-3) reach the Division 12 semifinals.
Nolan, the Dream Team All-Purpose Player of the Year, caught a Breakers single-season record 70 passes for 1,184 yards — also a single-season record — and 18 touchdowns. The Pac 4 League Offensive Player of the Year also had four interceptions at free safety and averaged 41.8 yards per punt, also a Laguna Beach single-season mark.
Twitter: @DailyPilotSport
---