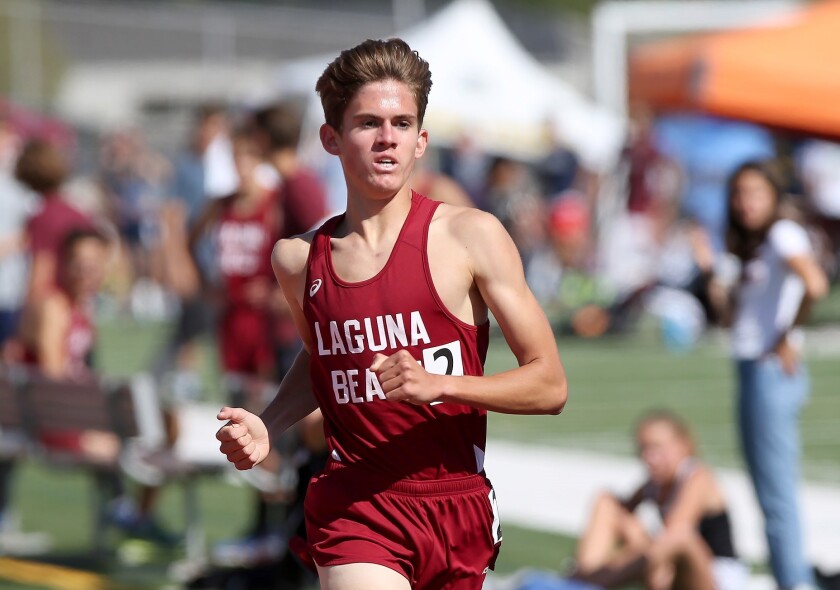 Laguna Beach High senior Sebastian Fisher may make running fast times look easy, but it has been anything but.
On multiple occasions this track and field season, Fisher has been ill after a race, which demonstrates his willingness to push himself to the limit.
Fisher kept his foot on the gas throughout the CIF Southern Section postseason, and it landed him his first appearance at the CIF State championships.
The ride will continue for Fisher, who placed third in his boys' 1,600 meters heat with a time of 4 minutes 12.49 seconds (sixth overall) on Friday to advance to the state finals at Veterans Memorial Stadium at Clovis Buchanan High.
The top four placers in each heat of the 1,600 automatically moved on to Saturday's final.
Fisher highlights one of six local boys who will be competing in Saturday's finals. The others are Edison's Aiden Garnett and Huntington Beach's Jack Wiseman (high jump), Newport Harbor's Aidan Elbettar (shotput), Marina's Skyler Magula (pole vault) and Newport Harbor's Alexis Garcia (3,200).
"He doesn't ever leave anything on the track, and that's something where I think his times speak for themselves," Breakers coach Tommy Newton-Neal said in a phone interview. "He'll do his best tomorrow, and my guess is that he will be throwing up in the trash can after the race."
Fisher entered the weekend ranked No. 6 in the state for the event. He ran a lifetime-best time of 4:11 flat in the Division 3 final.
Newton-Neal said that Fisher is the first Laguna Beach qualifier in at least the last 20 years. He added that the goal for Saturday's state finals is to finish in the top six, which would put him on the podium.
Garnett and Wiseman needed only two jumps on Friday to advance to the second day of the state meet. They cleared the opening height of 6 feet, 4 inches and the following bar of 6-6 on their first attempts.
"I think [setting a personal record] will be great," Garnett said in a phone interview of his goal on Saturday. "I think I can do that."
Asked if it was his practice sessions that have sparked his belief, Garnett said he has gotten enough looks at 6-7 and 6-8 at meets the past two years.
"In practice, I never really jump that high," Garnett said. "I've never jumped that high in practice before, but I've jumped at those heights in meets so many times. I think I'm ready."
The elimination stage of the track and field season can be unforgiving, and it was for Elbettar. The junior entered the meet as the state leader in the discus throw, but he committed fouls on his second and third attempts.
His mark of 147-5 was not enough to advance to the state finals. San Jose Archbishop Mitty's Shane Aberg placed 12th for the last spot in the finals with a throw of 158-2.
Elbettar rebounded to take second place in shotput (61-5¼), an event in which he placed sixth to earn a medal as a sophomore.
"For discus, when I was walking toward shotput, it was just, 'Forget it,' " Elbettar said. "'I've had a really bad day, it's not going to help me moving onto the shotput if I fuel my shotput motivation with anger from discus. Many people have shown in the past that fueling something with anger does not produce the best results for you.
"I just went through, 'Forget it. I'm here for shot now, and I've got to move forward.' "
Magula advanced in the pole vault after clearing a height of 15-3.
Garcia will run in the final of the 3,200 meters on Saturday night.
Corona del Mar senior Cole White was the first one to miss the cut in the boys' shotput, placing 13th with a mark of 55-5¼.
::
BOYS' TRACK AND FIELD
CIF State championships
At Clovis Buchanan High
(Local boys only)
*Denotes state finals qualifier
1,600 – 6. Fisher (Laguna Beach) 4:12.49*
HJ – 1T. Garnett (Edison) 6-6*; 1T. Wiseman (Huntington Beach) 6-6*
PV – 5T. Magula (Marina) 15-3*
SP – 2. Elbettar (Newport Harbor) 61-5¼*; 13. White (Corona del Mar) 55-5¼
DT – 21. Elbettar (Newport Harbor) 147-5
::
Support our sports coverage by becoming a digital subscriber.
For more sports stories, visit latimes.com/socal/daily-pilot/sports or follow us on Twitter @DailyPilotSport.
Twitter: @ProfessorTurner
---