Daily Pilot High School Female Athlete of the Week: Costa Mesa's Tayla Crenshaw making a name for herself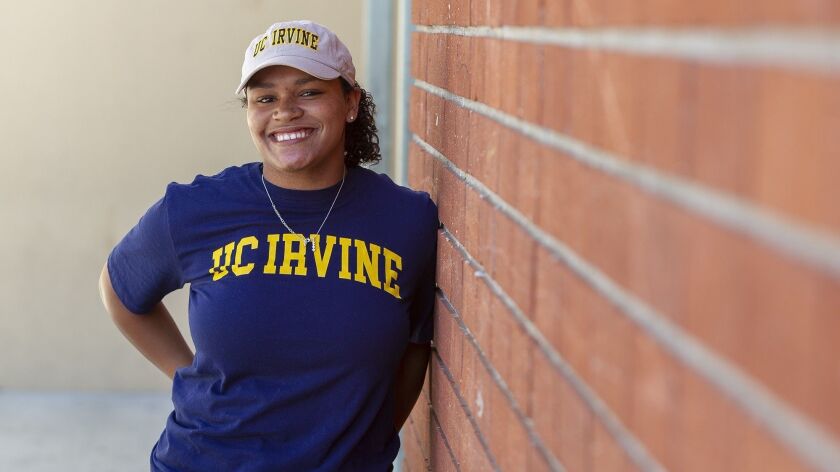 For much of her young life, Tayla Crenshaw has been playing catch-up.
It started from the very beginning, when she followed her twin sister, Felicia, out of the womb.
The phenomenon has continued to play out during their track and field careers at Costa Mesa High. Her sister has claimed the majority of the accolades, establishing herself as the school record-holder for the girls' discus throw with a mark of 156 feet, 8 inches.
Never apart to this point, comparison has been unavoidable as Tayla walks side-by-side with her sister.
Felicia began to produce elite marks in her sophomore year, when she qualified for her first CIF State championship meet.
While her sister set the standard, a storyline began to unfold. Tayla, who went to the 2016 state meet as a supporter, would always have new targets to shoot for.
Expectations that one twin would follow the other led to mounting pressure. More attention gravitated toward Felicia, leaving Tayla behind to figure out what some believed to be unfulfilled potential.
Then Tayla flashed her abilities during the CIF postseason her junior year. She set personal records in both the section's Division 3 finals (129-2) and Masters (136-9).
Tayla had to have a realization that she is Tayla Crenshaw, not Felicia's sister.
Mustangs throws coach Hasan Asrar
A pattern of proficiency had not been there to support the prediction of a possible state bid, but Tayla reached the state meet for the first time in her career last year. When she does pull off surprising performances, Tayla likens herself to a black cat lurking in the shadows.
"No one sees me, but I'm there and I'm slowly creeping up, climbing up the latter," she said. "When I made it to state, I was like, 'See, I'm like a cat.'"
The Felicia comparisons were not put to rest, however. Felicia made the podium at state, while Tayla fouled out in the state preliminaries. In addition, Felicia won her first seven starts in discus this season.
Tayla appears to have turned the corner in the last three weeks. She earned herself a spot in the Saturday night meet of the Arcadia Invitational by winning the girls' discus open section.
Last Saturday, Tayla unleashed a career-best throw of 142-11 to place fourth in the event in the Mt. SAC Relays at El Camino College. Three of the throws in her series would have set a new personal record, including the first two 140-foot throws of her career.
"Tayla had to have a realization that she is Tayla Crenshaw, not Felicia's sister," Mustangs throws coach Hasan Asrar said of the importance for an individual to make a name for themselves. "It's not so much living in the shadow [of Felicia], even though that is kind of what it has panned out to be. Tayla just needed the confidence and the 'I can do this' kind of mentality. Tayla finally got her head squared away to where she is trying to make a mark for herself.
"She's wearing the persona now, so hopefully we can carry that all through CIF."
Tayla climbed to fifth in the section and No. 11 in the state with her new personal best.
On Wednesday, the fun continued as the twins signed with their colleges. Tayla will join the UC Irvine women's track and field program, while Felicia will be headed to San Diego State.
If Tayla can produce with the sort of consistency that she displayed in her series at the Mt. SAC Relays, a return trip to the state meet could be a foregone conclusion. The at-large standard to qualify for state in the girls' discus this year is 134-5.
The twins are very sociable people, but Tayla gave herself the pep talk before her big performance last Saturday.
"There was never a second in my mind that I didn't think I was going to hit 140 [feet]," she said. "I think it was just technique and me trying to not rush it. I think sometimes, I hit it. I hit the mark at [the] Irvine [Invitational], and it barely sectored. I think it was just me finally calming down, working on my technique, and drilling in what I needed to do.
"I focused on what was making me sector or scratch my big marks, and so when it came to Mt. SAC, I just had it in my mind, 'You're going to hit this mark today, and you're going to do everything you've been working on to make sure you hit that mark.'"
All of the noise surrounding the twins has never torn them apart. They love each other, and they love their support system.
A crowd of around 75 people showed up to their signing day event at Costa Mesa on Wednesday. They were the only two athletes being honored during the ceremony.
The Crenshaw twins lost one of their longtime supporters when family friend Diane Beazley lost her battle with cancer in February. The twins have grown up with her daughters, Sophie and Sadie.
"We wanted to dedicate our track season to her," Felicia said. "We got socks just to remember her. We have to do it for ourselves, but we're also doing it for her, too.
"We know that she's there and she's watching over everyone. I'm glad that Tayla and I were able to have such an amazing person in our lives."
To honor Beazley's memory, the Crenshaw twins have worn matching bumble bee socks at every meet this season.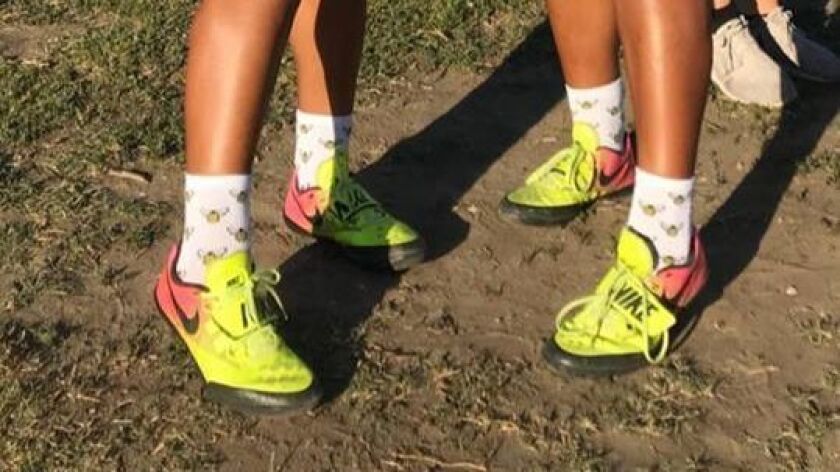 ::
Tayla Crenshaw
Born: Feb. 11, 1999
Hometown: Costa Mesa
Height: 5 feet 5
Sport: Track and field
Year: Senior
Coaches: Steve Moreno (head coach) and Hasan Asrar (throws coach)
Favorite food: Chaffle (a churro waffle) from Seabirds Kitchen
Favorite movie: "Split"
Favorite athletic moment: When she qualified for her first CIF State championship meet in the girls' discus throw as a junior. It marked the first time that the Crenshaw twins had competed together at the state meet.
Week in review: The senior uncorked a career-best mark of 142-11 in the girls' discus throw competition of the Mt. SAC Relays last Saturday at El Camino College. Crenshaw celebrated her performance by signing with UC Irvine on Wednesday.
Twitter: @ProfessorTurner
---
All the latest on Orange County from Orange County.
Get our free TimesOC newsletter, coming in August.
You may occasionally receive promotional content from the Daily Pilot.