Roxie Shaia seems like just one of the boys for the Costa Mesa National Little League Minor B Division John Carroll University Blue Streaks, save for her first name and the long brown hair coming out the back of her catcher's mask.
Shaia, 10, is coach Rob Shaia's daughter and one of just two girls in Costa Mesa National Little League.
"I just kind of like it better than softball," said Roxie Shaia, who has been playing baseball roughly half her life. "I'm not a fan of the underhand pitching. I just felt like baseball would be good for me."
Shaia was good for the Blue Streaks on Wednesday as they battled the Huntington Valley Little League Trojans in the Little League District 62 Tournament of Champions Minor B Division quarterfinal game.
Her defense sparkled and she had the go-ahead groundout in the sixth inning as Costa Mesa National edged Huntington Valley 6-5 at Ocean View Little League. Costa Mesa National will play the Costa Mesa American Red Sox for the first time this season on Thursday in a TOC semifinal game at 5:30 p.m.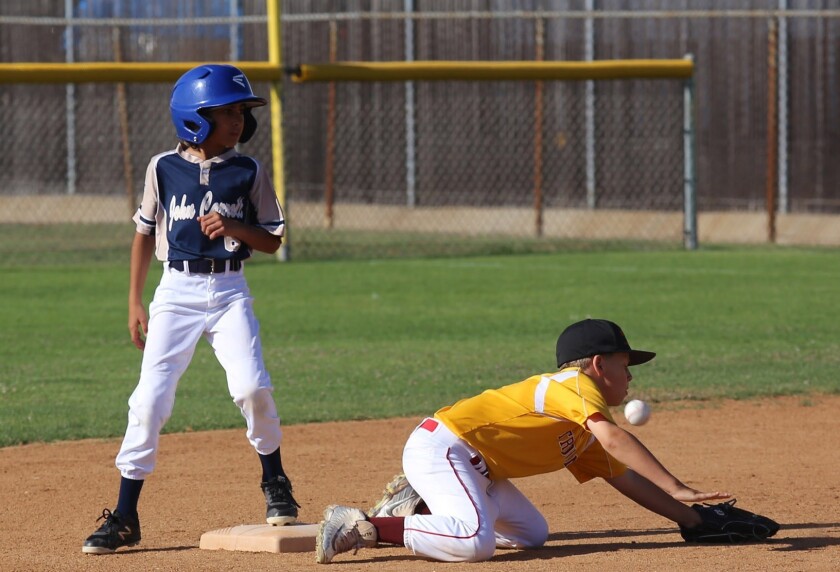 "We were definitely the underdogs," Rob Shaia said of Wednesday's win. "Costa Mesa National is not really known to beat the Huntington Beach teams. We come from a smaller district with a lot less kids … It's very rare that Costa Mesa National will go this far, and that's why we're celebrating so much."
The Blue Streaks' win over Huntington Valley wasn't decided until the final pitch. Cameron Martinez led off the bottom of the sixth with a single for Huntington Valley and he came around to score, cutting his team's deficit to a run. The Trojans also had Nolan Fisher and Noah McCoy on second and third base, respectively, with two outs.
But Costa Mesa National relief pitcher Kai Turek, the youngest one on the team at age 7, got a strikeout looking to end the game.
The score was tied 4-4 going into the sixth, when Turek was hit by a pitch leading off and Conall Maddock drew a walk. The runners advanced on wild pitches, and Roxie Shaia and Donnie Bigelow had consecutive groundouts to first base that each scored a run.
Costa Mesa National took a 3-0 lead in the top of the first inning, staging a two-out rally. Shaia started it off with a line-drive single to center, then Bigelow hit a comebacker to the pitcher. The throw to second to get the attempted force out got away, putting runners at second and third before Brennan Moore walked to load the bases.
Barrett Gillilan cleared them, looping a three-run double to left field for the Blue Streaks.
Huntington Valley would score a run in the bottom of the inning, putting together four straight two-out walks — by Timmy Stone, Ben Jennings, Martinez and Chaise Kinsbursky — to force home a run. But Maddock, the Costa Mesa National starting pitcher, got a strikeout to get out of the jam.
Costa Mesa National added a run in the third when Ricky Lindsey led off with an infield single and eventually came home on Maddock's RBI groundout to shortstop. But McCoy brought the Trojans within 4-2 in the bottom of the fourth, scoring on Caden McTigue's groundout to first base.
Huntington Valley got two runs in the fifth to tie the score at 4-4. McCoy led off with an infield single and eventually scored on Roderick Aaron's single to left. The throw to home got away, and Aaron got all the way to third. He scored when the next batter, Stone, grounded out to the pitcher.
Huntington Valley coach Tim Stone, who is also the league president, said he regretted not putting in his son, Timmy, to pitch to open the sixth inning. Timmy came in with two runners already on base, and both would score.
"Timmy has been my closer all year long, [but] I was playing for potentially the seventh inning," Tim Stone said. "If I hadn't, we would have taken the game. But that's baseball, right?"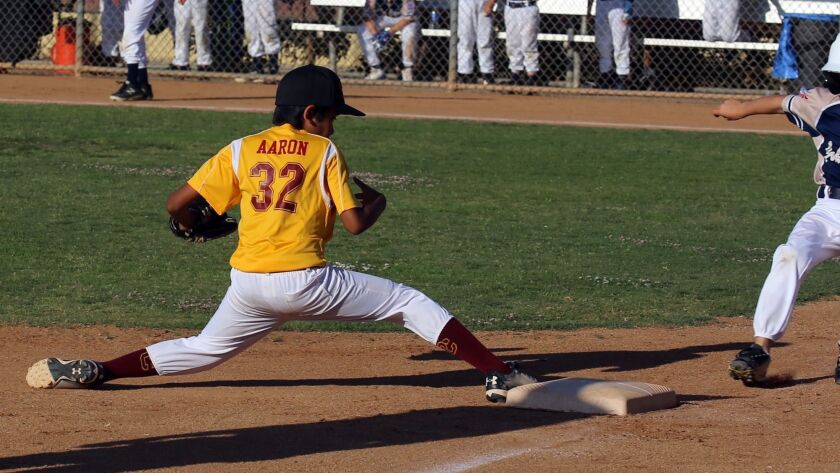 Support our sports coverage by becoming a digital subscriber.
For more sports stories, visit latimes.com/socal/daily-pilot/sports or follow us on Twitter @DailyPilotSport.
Twitter: @mjszabo
---