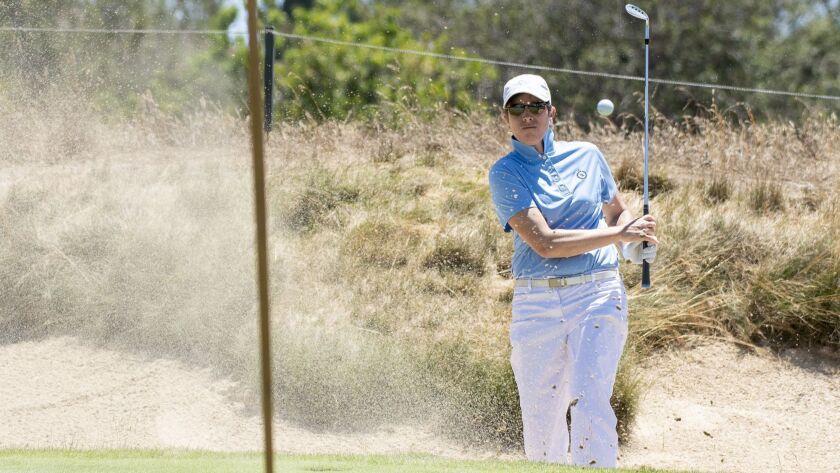 Five local country clubs will take part in the 20th annual Jones Cup golf tournament on Wednesday at Shady Canyon Golf Club in Irvine.
Big Canyon, Mesa Verde, Newport Beach, Santa Ana and Shady Canyon will be competing to add a new chapter to their legacy.
Historically, Mesa Verde has been one of the more successful squads at the Jones Cup. The Costa Mesa-based club ranks second in wins with six.
Big Canyon extended its all-time lead in Jones Cup victories with its 10th last June at Santa Ana, finishing the tournament at nine under par. Mesa Verde placed second at six under.
Heidi Wright-Tennyson took over as head golf professional at Mesa Verde last year and played in her first Jones Cup. It marked the first time someone other than Tom Sargent had captained the Mesa Verde contingent. He led Mesa Verde to all six of its wins in the tournament, including the first Jones Cup in 2000 and the last two that he played in 2016 and 2017.
That bookend performance might have put pressure on Sargent's successor, but Wright-Tennyson said that the only pressure that she felt in her first Jones Cup appearance was that which competitors naturally put on themselves.
"I think everybody wants to win, right?" Wright-Tennyson said. "They're all excited about going out there [Wednesday] and doing our best and trying to bring the win home again.
"I've got nothing but the utmost respect for Mr. Sargent, and he's filled me in on the history of the event, and I hope to continue to lead the team to victories and keep it special."
Sargent can still be found around Mesa Verde these days.
"Mr. Sargent is an honorary member," Wright-Tennyson said. "I see him quite often. He teaches a little bit. He's my Batman."
Mesa Verde's roster also consists of club professional Mike Fergin, ladies' club champion Kim Izzi, men's club champion Tim Beans and senior club champion Tim Harward.
Fergin is the most experienced member of the Mesa Verde team, having won the tournament three times going back to 2010.
Izzi also won the tournament in 2017.
While Mesa Verde has the benefit of veteran leadership to serve as a guide through the 18-hole journey, the club also has another trick up its sleeve.
Beans has been a caddy on the LPGA Tour, and Fergin complimented his abilities to read the greens. It could prove advantageous, as Shady Canyon has large greens to deal with compared to the rest of the Jones Cup circuit.
"The greens are a lot bigger than any of our other sites that we go to, but there are slopes on them, so knowing where to hit [approach shots matters]," Fergin said of the strategy that needs to be put in place at Shady Canyon. "What side [of the green], wherever the pin is, what side of the pin to be at so that we can be more aggressive with our putts, so I think that is one of the keys."
::
Support our sports coverage by becoming a digital subscriber.
For more sports stories, visit latimes.com/socal/daily-pilot/sports or follow us on Twitter @DailyPilotSport.
Twitter: @ProfessorTurner
---