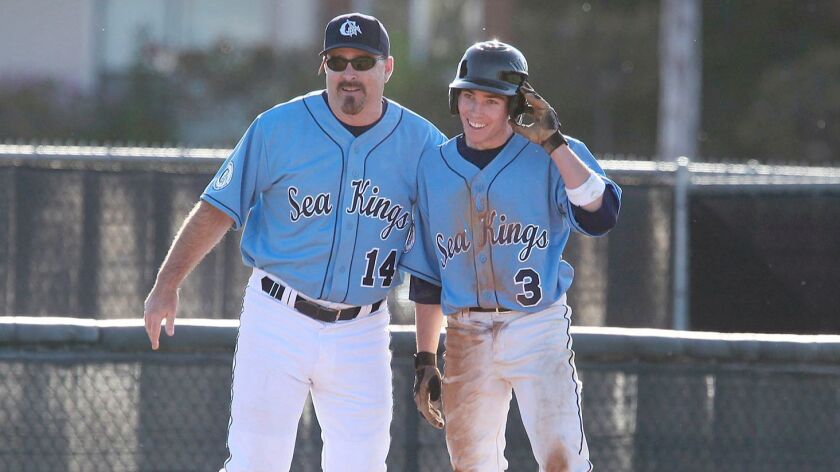 In just its second season, the Hope International University baseball team has fashioned an amazing story that will continue at the NAIA World Series, May 26 through June 2.
The Royals, coached by former Vanguard assistant Erich Pfohl and including players with local ties, swept through their four-team NAIA Opening-Round Tournament that culminated Wednesday with their 12-11 victory over Middle Georgia State that punched their ticket to Lewiston, Idaho.
Hope (36-15 after a 21-28-1 debut campaign in 2016) won the Golden State Athletic Conference crown by finishing 20-10, one game ahead of Vanguard and Biola, who were both subsequently denied postseason bids. Hope had just one all-conference player in junior outfielder Cameron Baranek.
Included on the HIU roster of 24 community college transfers and seven more from four-year programs, are Corona del Mar High product Brett Thompson, former Orange Coast College player Justin Broussard, and Golden West College products Justin Moulds and Chris Dixon.
Thompson, a senior who played at Saddleback and Cerritos JCs, has started 39 games, primarily at designated hitter for HIU this season. He is hitting .290 with eight home runs, 32 RBIs and two stolen bases. He is slugging .517 and his OPS is .900.
Thompson was three for five with three RBIs in a 17-7 win over host Northwest Ohio in the Lima, Ohio Bracket on Tuesday. HIU topped Middle Georgia State, 4-2, to open the tournament on Monday.
Moulds, a senior reliever who earned the victory in the clinching game, is 7-0 this season with a 1.59 ERA and one save. All 20 appearances this season have come in relief for Moulds, whose 11 career wins at Hope are a school career record.
Moulds was a combined 2-0 with one save in 26 2/3 combined innings at Golden West, which he helped win the Orange Empire Conference title as a sophomore in 2015.
Broussard, a senior infielder who hit no home runs and drove in 20 runs in two seasons (2014 and 2012) at OCC, has nine homers, 29 RBIs and a .272 average in 36 starts for the Royals this season. His OPS is .917.
Dixon, a sophomore pitcher, leads the Royals with five saves. He is 2-0 with a 4.72 ERA and has limited opponents to a .220 batting average with 13 strikeouts in 13 1/3 innings.
Pfohl, who was on the Vanguard staff in 2009, guided HIU, which plays its home games at Valencia High in Placentia as it has no on-campus field, to separate winning streaks of eight and nine games this season. Nine of the Royals' last 11 wins have been come-from-behind triumphs.
Saeta's home-court edge
UC Irvine senior Michael Saeta, who teamed with USC's Lucas Yoder to win the USA Volleyball Collegiate Beach Championships title on Saturday in Hermosa Beach, was an indoor All-American this spring for the Anteaters, for whom he holds the single-season aces record with 63.
It's no surprise Saeta was able to excel on the beach. He told me last month that his parents converted a backyard tennis court to a beach volleyball court at their home in South Pasadena when he was a child.
Leja lands in Texas
Former Vanguard women's volleyball coach Eryn Leja, who resigned after six seasons at the Lions helm following the 2016 season, was hired in March as an assistant coach at Houston Baptist.
Leja led Vanguard to five NAIA Tournament appearances, including the program's lone GSAC title in 2015, when the Lions advanced to the NAIA quarterfinals.
Stay classy Howard
Vanguard University freshman softball player Emily Howard is the daughter of John Howard, a television sports anchor for CBS News 8 in San Diego.
Emily Howard, out of Valhalla High in El Cajon, hit .357 with six RBIs in 28 at-bats this season for the Lions (46-15), who claimed the program's first GSAC crown since 1999.
She drove in a run with a single in her first postseason appearance in Tuesday's season-ending loss to Avila of Missouri in the NAIA Opening-Round Tournament at Vanguard.
Twitter: @BarryFaulkner5
---