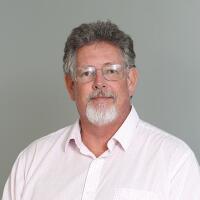 Barry Faulkner
Barry Faulkner is an award-winning writer who covered sports for Times Community News from 1986 until he left TCN in 2017. He was the assistant sports editor; covered UC Irvine, Vanguard University and Orange Coast College; and wrote a periodic column. He became sports editor of the Huntington Beach Independent in 1986, and a full-time Daily Pilot sportswriter in 1990.
It is time to say goodbye to the Daily Pilot.

To the surprise of no one, the recent retirement of Bob Olson after 35 years as UC Irvine director of athletic media relations, was handled without fanfare.

In the end, this rivalry was all about revival.

With an arsenal of all-star arms, combined with pitch-count restrictions designed to protect from overuse, Little League Baseball coaching staffs' bullpen decisions can sometimes alternate between playing the percentages and playing a hunch.

Ty Loomis, a Laguna Beach resident who played college volleyball at UC Irvine, earned his second career victory on the Assn. of Volleyball Professionals beach tour on Sunday at the San Francisco Open.

In the Little League baseball battle of Costa Mesa, the bid to make American great again was significantly challenged Saturday.

UC Irvine baseball players Christian Koss, Cameron Bishop and Andre Pallante are off to strong starts for their respective teams in the prestigious Cape Cod Summer League.

Two players with local ties are competing for local teams in the NBA Las Vegas Summer League that began Friday night.

Like many incoming college juniors, T.J. DeFalco is spending his summer abroad.

Prohibited by a back injury from sleeping on his stomach, Carson Clark spent considerable time the last two years staring at the ceiling, wondering if he would ever again reach volleyball heights.