High School Football Preview: CdM's trio of quarterbacks have a huge target in TaeVeon Le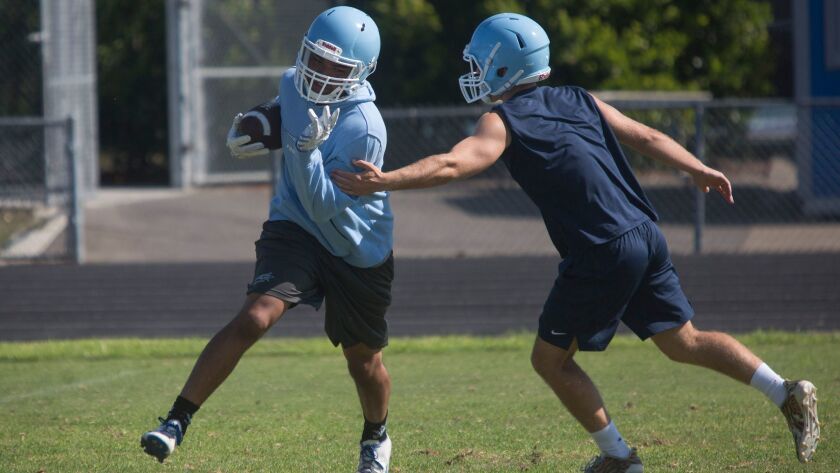 There will be more than an unveiling of a renovated Davidson Field when Corona del Mar kicks off the football season on Friday.
TaeVeon Le, a record-breaking wide receiver with the Sea Kings last year, will be lining up at a new position in CdM's home opener with JSerra at Newport Harbor High.
Colleges are recruiting the 6-foot-4, 240-pound senior as a tight end, and more than half of the Ivy League schools have extended an offer to Le, as well as almost half of the schools in the Mountain West Conference. The one conference that hasn't offered Le a scholarship is the Pac-12, and CdM coach Dan O'Shea said that has a lot to do with those schools never seeing Le play tight end.
They will get their chance this year, as O'Shea said Le would be seeing time at tight end.
As a receiver last year, Le burned secondaries, helping CdM claim its fifth straight 5-0 Pacific Coast League title and reach the CIF Southern Section Division 4 finals. With Chase Garbers as the quarterback, Le finished with 78 receptions for 1,294 yards and 22 touchdowns.
Garbers is a freshman at Cal, and now Le has three quarterbacks throwing him the ball. O'Shea said he plans to use three quarterbacks — seniors Nathaniel Espinoza and Erik Zimmerman, and sophomore Ethan Garbers — against JSerra, ranked No. 7 in the CIF Southern Section Division 1 preseason poll.
The quarterback who is most familiar with the Sea Kings' no-huddle, spread offense is Espinoza. He was the backup last year.
"Everyone has their little spin on it," Le said. "Some guys throw it a little higher. Some guys throw it a little lower. But for the most part, I enjoy catching it from all of them."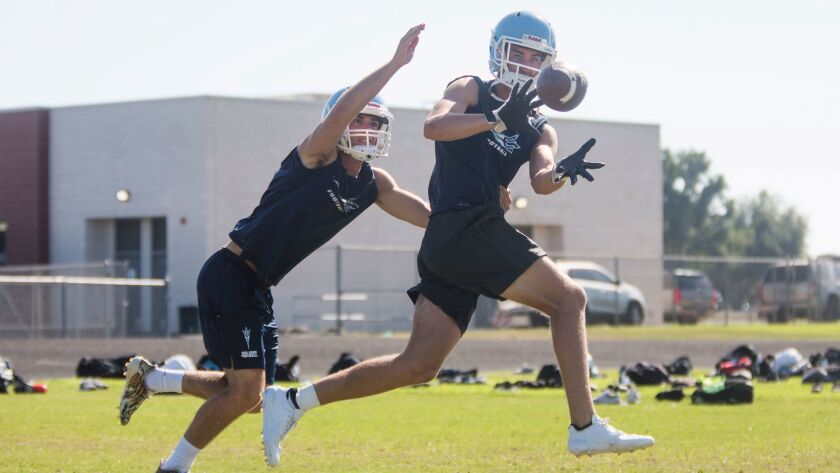 Espinoza, a dual-threat, is the best natural runner of the three quarterbacks, and O'Shea said he has developed into a complete quarterback. O'Shea said Ethan Garbers, who is 6-2 and the younger brother of Chase, is more of a traditional pocket passer, while the 6-foot Zimmerman can run and throw.
Zimmerman, a transfer, is at his fourth school. He played at Pasadena La Salle as a sophomore, then at Sherman Oaks Notre Dame as a junior, before transferring to La Cañada St. Francis during the spring semester of his junior year.
As for why Zimmerman left St. Francis so quickly, O'Shea said Zimmerman's father transferred to Newport Beach for work.
"His dad showed up one day because he was just looking at schools in the area," O'Shea said. "He was at the school looking for the academic side of it, and I said hello. Then I put him in touch with the athletic director [Don Grable], and it's been really smooth and really good."
Zimmerman wasn't the only notable transfer to CdM.
The Sea Kings also added brothers Alex and Julian Pourdanesh, from University, in the spring. They're seniors and their father is Shar Pourdanesh, a former NFL offensive lineman.
Julian is a lineman as well, and he's starting at right guard. Alex will play at H-back and in the slot, and he will back up senior running back J.T. Murphy, who rushed for 1,191 yards and 13 touchdowns last year.
Another transfer to CdM is sophomore Adam Molloy, who is the third-string running back. Molloy comes from JSerra, CdM's biggest test of the regular season.
The Sea Kings, ranked No. 3 in Division 4, will be going up against a Trinity League team for the first time. The league has been around since 2006, and with private schools Mater Dei, Bellflower St. John Bosco, JSerra, Orange Lutheran, Santa Margarita and Servite in it, many consider the Trinity the toughest in the country.
JSerra has a changed a bit since CdM and JSerra decided in January to play this year and next year. The Lions only got stronger last spring with the McClain brothers, Abdul-Malik, a 6-4 senior defensive end committed to UCLA, and Munir, a 6-4 junior receiver, transferring from Santa Margarita.
Other touted players to transfer to JSerra were senior running back Al Fisher, from Paramount, and junior running back Jamiel Henning, from Buena Park. The McClain brothers are eligible to play right away as they had a valid change of residence, as is the case with Fisher. Henning's eligibility status is pending a response from his former school.
"Athletically, they're [like] Lompoc. They have unbelievable speed at every skill position. On the line of scrimmage, they are [Chatsworth] Sierra Canyon. They're physical. They're big," said O'Shea, comparing the Lions to CdM's playoff opponents in the semifinals and finals from a year ago. "We need [the competition]. We will find out where we're at. We need to get punched in the mouth. We got punched in the mouth last year against Palos Verdes, [which] beat the [crap] out of us [42-20 in the opener]. It was the best thing that ever happened to us."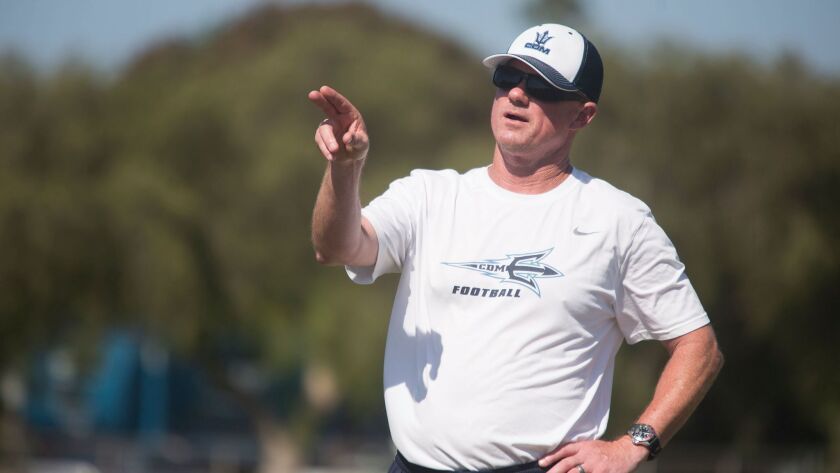 The Sea Kings responded after starting last year with a loss by winning their next 12 games and advancing to the section finals for the fourth time in six years.
The goal, Le said, is to win the Pacific Coast League, in what looks like CdM's last in the league before it moves to the Sunset League next year, and to get back to the section finale.
"We want to go 16-0," Le said of an overall record only one CdM team has achieved, doing so four years ago. "Win [a section championship], then get to state."
While the Sea Kings lost a lot of talented seniors off a 12-2 team — Chase Garbers, center Arwin Rahmatpanah, right guard Bryan Samudro, receivers Billy Shaw and Reese Perez, defensive linemen Bryce Clabaugh and Teddy Barber, linebacker Mickey Quinn, and defensive backs Jaydin Moses and Cameron Kormos — Clyde Moore said he likes where CdM is headed.
Moore, a senior middle linebacker committed to Colorado, is back, along with senior linebacker Jack Fairon and senior defensive tackle Connor Reid. John Humphreys, a sophomore, is starting at strong safety, and senior Max Casper is the free safety. Casper was primarily a kicker last year and he will continue to handle those duties.
The weapons are there on offense with Le and two 6-5 targets in Humphreys and sophomore tight end Mark Redman, and freshman speedster Jereme Rolfe. The Sea Kings are counting on another transfer, Spencer Hook, to catch balls as well.
The question is who will win the quarterback job and be throwing to these options?
There has been a lot of competition at quarterback, and CdM even has a talented freshman at the position named General Booty. His uncles are Josh, John David and Jake Booty, all former college and NFL quarterbacks.
Hook was in the quarterback mix in the spring, when he returned to CdM. He split time at quarterback as a junior at rival Newport Harbor.
"He kind of missed the friend side, the social side of football," O'Shea said when asked why Hook returned to CdM, where his younger brother, Tristan, is a sophomore offensive lineman. "Spencer came back with a great attitude. We said, 'Hey, we're not going to promise you that you're playing quarterback. If we need you at tackle, play tackle. If you're a defensive end, you're a defensive end.' We had a need at wide receiver, and he earned a starting job at wide receiver."
The Sea Kings do have a track record of turning former quarterbacks into standout receivers.
"We always joke that Spencer Hook is kind of a Peter Bush 2.0," said Le, who remembers Bush setting CdM single-season records for receptions (62) and receiving touchdowns (15), to go with 915 receiving yards as a senior in 2015.
The following year, as a junior, Le obliterated Bush's marks.
Le believes he can keep putting up huge stats, even with Garbers gone and him seeing time at tight end.
"A lot people put the question mark around [my] blocking, but I can block. I went to camps. I've proven it," said Le, who has offers from Iowa State, Boise State, BYU, Colorado State, Air Force, UNLV, Hawaii and Army, as well as eight NCAA Football Championship Subdivision programs, Harvard, the University of Pennsylvania, Columbia, Princeton, Yale, UC Davis, Utah State and Georgetown. "For me, it's more of this year kind of just showing on film against live [action that] I can do the role as a tight end, as well as a receiver.
"For the most part. We're throwing some new stuff in this year. I wish I could tell you what it is, but you will see soon enough."
2017 Schedule
Aug. 25: vs. JSerra
Sept. 1: vs. Los Gatos
Sept. 8: at El Toro
Sept. 15: at Newport Harbor
Sept. 29: at Trabuco Hills
Oct. 6: vs. Beckman *
Oct. 13: at University *
Oct. 19: vs. Northwood *
Oct. 27: vs. Irvine *
Nov. 3: at Woodbridge *
* denotes Pacific Coast League game
Twitter: @ByDCP
---
All the latest on Orange County from Orange County.
Get our free TimesOC newsletter.
You may occasionally receive promotional content from the Daily Pilot.