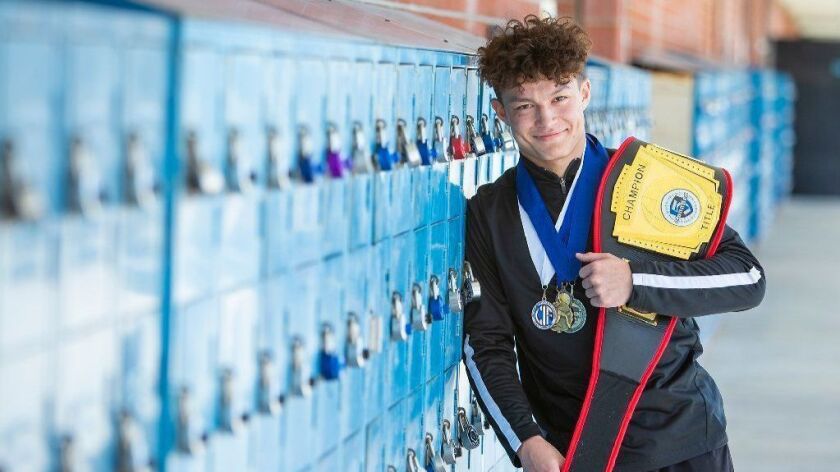 The weight of expectation is nothing new to Fountain Valley High wrestler Max Wilner.
Coming from a wrestling family, Wilner knew that there would be nowhere to run and hide. His brother, Morris, was a two-time qualifier for the CIF State wrestling championships, placing sixth at 182 pounds as a senior at Calvary Chapel in 2016.
Calvary Chapel had a rich tradition of success on the mats, but in going to Fountain Valley, Wilner had a chance to put his stamp on a program that had recently experienced its own day in the sun.
The chance to become the face of a competitive program was there. By winning CIF Southern Section championships in his first two seasons with the Barons, the sophomore has not disappointed himself or the growing group of fans that he has made around the sport.
"When I came into freshman year and I started making a name for myself, I guess, like around this area and stuff and around the state, I knew it would come with it," Wilner said when asked if his success has led to a celebrity-like public persona. "I always told myself to not let it consume me, like change me [to] be all different around people. [I want to be] as I would be with my family."
With all of the attention that has come from his success, Wilner has done well to stay focused and grounded.
"Win or lose, be humble, and give the glory to God," Wilner said. "That's what I always tell myself."
Wilner racked up wins at an alarming rate this season, compiling an overall record of 42-3. Both of his losses at 160 pounds came to Clovis Buchanan's Matthew Olguin, a four-time state medalist and two-time state champion.
The No. 4 seed in the state 160-pound bracket, Wilner dropped his semifinal match to the top-seeded Olguin by a 7-0 decision. The Barons standout battled back to upset the No. 3 seed in Bakersfield Frontier's Max Aguirre by an 11-3 major decision in the third-place match.
"I feel like my third-place match at state was like my dominating match," Wilner said. "I majored the kid, and he was the No. 3 seed, and I was the No. 4 [seed]. Of course, I wanted to win that match, but it wasn't like there was a lot behind it. It was just like, 'I'm going to take third. This kid is not going to stop me from taking third.'
"My whole state run to third place was, I felt, my best tournament wrestling-wise."
As a team, Fountain Valley won its eighth consecutive league title. The Barons also beat Perris Citrus Hill 201-179.5 for the Northern Division title in the CIF individual wrestling championships, giving the Barons two CIF team titles since the 2015 campaign.
Wilner became a Masters Meet champion for the first time this year. In March, he also won his second consecutive National High School Coaches Association national championship (145 as a freshman and 160 as a sophomore) in Virginia Beach, VA. Wilner was also named an NHSCA sophomore All-American.
In a program where league titles have become an expectation, Wilner is setting the pace. The two-time state qualifier had two freshman teammates also advance to state this season in Sean Solis (106) and Zach Parker (113).
"There is nobody in our room that works harder than him," Barons coach Dennis Piramo said of Wilner. "He puts in the time outside of the room. He busts his tail when he is in the room. He's learning to do better in school. He's trying to be an all-around athlete. He's leading by example. He's maturing. He's only a sophomore, going to be a junior.
"He's got high attainable goals, so he wants to be a state champion. He wants to be the first one of Fountain Valley's, and I think for him, he needs those goals, and he keeps striving for them. He's got high goals. He wants to go to [the] NCAA. He wants to wrestle at the next level."
::
COACH OF THE YEAR
Dennis Piramo
Fountain Valley
The former Barons assistant coach took over the program, and Fountain Valley continued to flourish under his leadership. Piramo guided the Barons to their eighth straight league title in the first year of the Surf League, which was brought about for the league dual meet season. Fountain Valley then reached the semifinals of the CIF Duals in Division 3, before going on to win the Northern Division title in the CIF individual wrestling championships 201-179.5 over Perris Citrus Hill. In taking home the crown, the Barons won their second CIF title in the past five seasons. "To be Coach of the Year, it should be Coaches of the Year," Piramo said. "It's a coaching staff thing. There's a lot of variables that go into these kids winning and doing well. A standard has been set here. That's why we continue to do well every year. Hopefully, we can keep that streak going."
FIRST TEAM
Sean Solis
106 | Fountain Valley | Fr.
The path to the CIF postseason goes through league finals tournaments, but before the Barons could show up at the Sunset Conference finals, they had to determine which of their talented lower-weight wrestlers would compete in each weight class. Solis competed in a wrestle-off with fellow Barons freshman Kade Ayres for the right to wrestle in CIF at 106 pounds and won. He went on to win an individual league title and CIF championship. Solis placed seventh at the Masters Meet. At state, Solis lost a 1-0 decision to No. 4-seeded Brayden Abell of Oakdale, but he battled back to win his next four matches in consolation to show the promise that a state medal may be in his future. For the season, Solis went 46-13 with 28 pins.
Zach Parker
113 | Fountain Valley | Fr.
Of the three Barons to make it to the state meet, Parker may have been the biggest surprise. The freshman was not one of the four Fountain Valley wrestlers to reach the championship match of their weight class at the CIF Northern Division finals, finishing fifth to barely qualify for Masters. Once at Masters, though, Parker stunned many, including the No. 1 overall seed in San Marino's Koa Ruiz, whom he beat by a 10-4 decision to reach the semifinals. Parker went 42-19 this season, despite the fact that only 11 of his victories came by way of fall.
Kiersten Muse
137 | Corona del Mar | Sr.
For those that believe art should be shared with the world, Muse and her coach, Mark Alex, found an innovative way to bring it around wrestling tournaments. She wore a "Starry Night" singlet in competition, a nod to the work of Vincent van Gogh, and she certainly starred for the Sea Kings. The senior went 35-7 with 28 pins. Three of her losses were to state champions, including her runner-up finishes in CIF and Masters to Westminster's Aine Drury. The first-time state qualifier was the 143-pound champion of the Rialto Carter Girls Classic and the 137-pound champion of the Montclair Lady Cavalier Classic.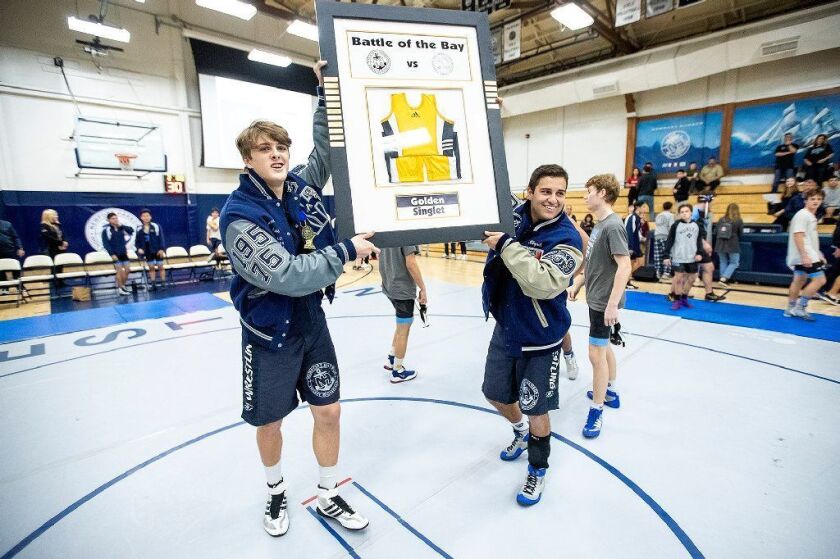 Austin Osumi
195 | Newport Harbor | Sr.
The three-year varsity wrestler won't soon be forgotten, as Osumi put his name in the Newport Harbor record books on two accounts. He began the season with his eye on the career pins mark, a standard that he has now set with 68. His 34 pins as a senior also set a single-season school record. A newly-minted Sunset Conference champion, Osumi placed fourth at the Northern Division finals to advance to the Masters Meet, where he lost in the semifinals of the ninth-place bracket. Osumi boasted an overall record of 45-12 in his final season with the Sailors.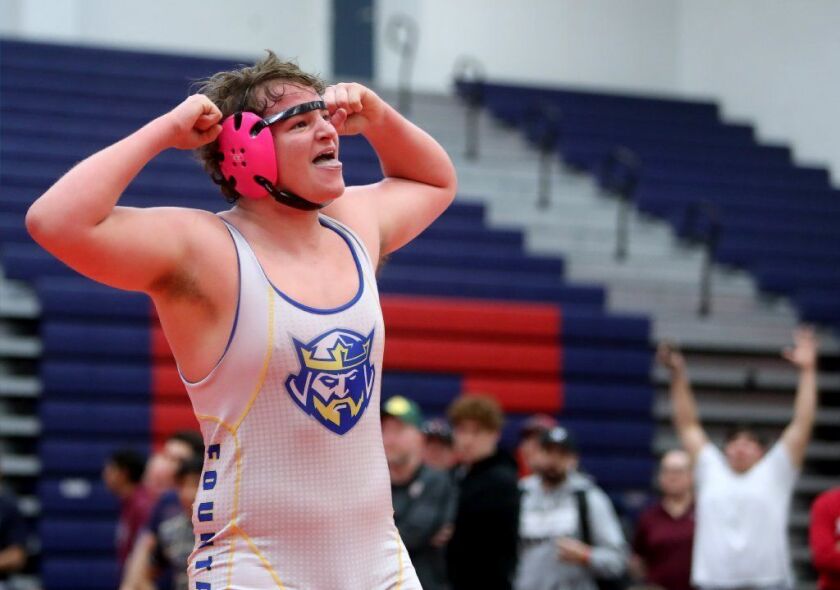 Matthew Fee
220 | Fountain Valley | Jr.
Fountain Valley won the Northern Division team title 201-179.5 over Citrus Hill, but it would not have happened without the Cinderella story that was Matthew Fee. His improbable run to the 220-pound section crown saw him beat the first, second, fourth and fifth seeds in his bracket to win a CIF title. Prior to CIF individuals, Fee had only placed in one other tournament, taking fourth in the Cossarek Classic at Westminster High. The Barons junior went 25-11 with 14 pins for the season.
Emilio Franco
220 | Corona del Mar | So.
Good things keep coming to the CdM wrestling program, which qualified for the CIF Duals for the first time last season. In his first year of varsity wrestling, Franco showed that he will be a force to be reckoned with for the Sea Kings going forward. He went 37-8 overall with 27 pins, winning titles at the Costa Mesa Classic, the San Clemente Tournament and the CdM Duals. The Sunset Conference champion went on to place third in the Northern Division finals to qualify for the Masters Meet.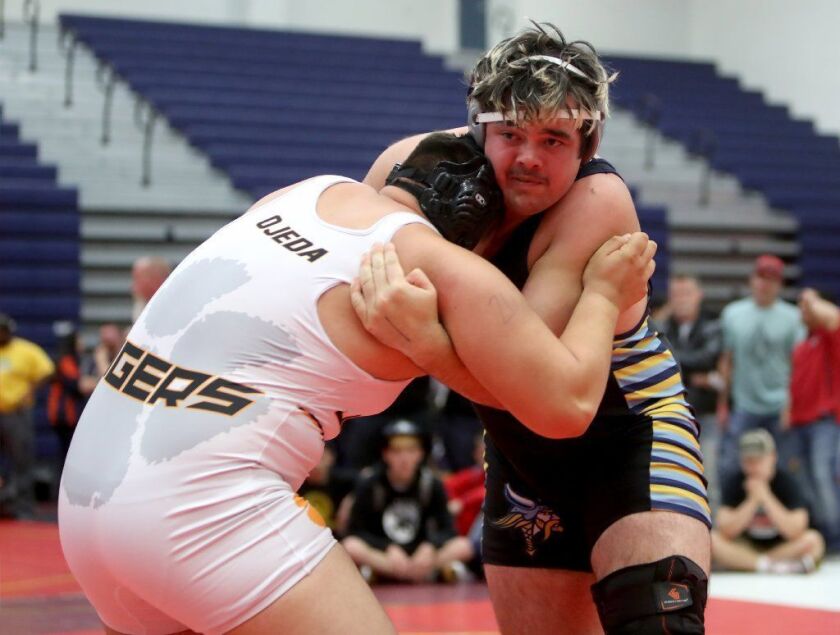 Danny Escamilla
285 | Marina | Sr.
The Vikings heavyweight did much more than ride his opponents out this season, with 86.9% of his victories coming by fall. Escamilla became a CIF placer for the second consecutive season, improving upon last year's fifth-place finish by reaching the championship bout in the Northern Division finals. The senior went 23-7 with 20 pins. The two-time league champion also placed fourth at the Cossarek Classic and sixth in both the Mann Classic and the Tournament of Champions.
::
SECOND TEAM
Name, School, Year, Weight
Mike McCoy, Marina, Jr., 120
Cristopher Rosales Ramirez, Costa Mesa, So., 145
Luis Ramirez, Fountain Valley, So., 145
Jacob Iida, Edison, Jr., 152
Dylan Zotea, Fountain Valley, So., 152
Nico Damschen, Fountain Valley, Sr., 170
Jarred Jimenez, Edison, Sr., 182
Miguel Licona, Newport Harbor, Sr., 182
Christian Zeglinski, Fountain Valley, Sr., 285
::
Support our sports coverage by becoming a digital subscriber.
For more sports stories, visit latimes.com/socal/daily-pilot/sports or follow us on Twitter @DailyPilotSport.
Twitter: @ProfessorTurner
---