Marina High sophomore third baseman Briana Gonzalez caught a pop fly for the final out and flipped the ball in the direction of junior pitcher Emily Rush, who ducked out of the way.
"She tossed it, and I wasn't ready for it," Rush said. "It just scared me a little bit."
While Tuesday's game was in session, little could unnerve Rush, who fielded her position superbly.
Rush surrendered just three hits and recorded seven putouts, as Marina came away with a 3-1 win in a Surf League softball opener at Edison.
The moment at the end of the game involved two key players for the Vikings (12-4), and it also provided some levity at the conclusion of an intense contest. Rush did not shy away from any comebackers during the course of her complete-game outing.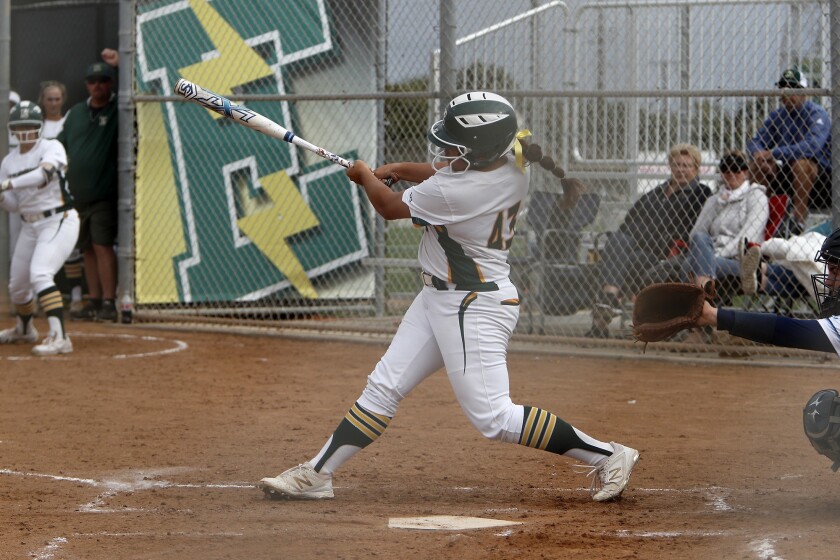 Edison (7-3) put together a rally in the fourth inning. The Chargers trailed 2-0 when Jaelyn Operana bunted for a hit and stole second base. Isabella Martinez followed with a single to center field to cut the lead in half.
A fielding error by Gonzalez put the tying run in scoring position, but Rush, a former third baseman, would bail out her defense. She showed quick reflexes to snare a line drive off the bat of Hailie Benko that could have tied the game.
"I was so pumped because I knew that if that ball went through, we would have had a very hard time coming back up and trying to get the lead again," Rush said. "It was very exciting to get the play."
Rush faced the minimum over the final three innings, thanks to Zoe King, who threw out a runner trying to steal in the fifth inning.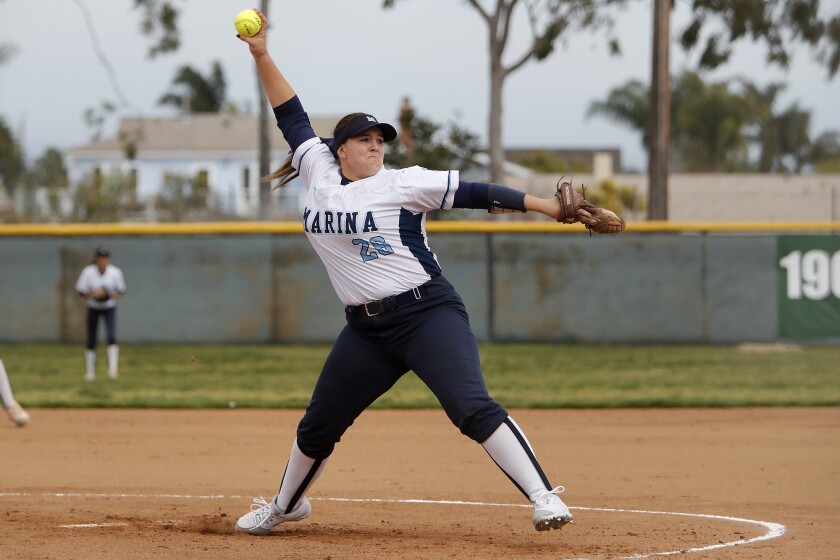 Jacey Henderson, who started at catcher for the Vikings, went two for three. She had the first two hits for the Vikings against Chargers ace Jenna Bloom.
Bloom, who has signed with Arkansas, went the distance on 126 pitches. She struck out 15 against three walks.
The Vikings had seven hits, and put enough of them together to push three runs across. Marina got three consecutive hits with two outs in the fourth inning.
Henderson bounced a ball into center field, and Carlie Hoetker lined a single up the middle. After a wild pitch, Gonzalez laced a single the opposite way to right field to score two runs.
"I was just looking to move over the runners, hit it in the gap to the right side, and that's exactly what I did," Gonzalez said. "I just cleared my mind and went straight to the ball. It was perfect."
In the seventh, Gonzalez led off with a single before Shayla Thomas drove her in with a two-out single.
Thomas was able to stay in the game to take that crucial at-bat after having her ankle stepped on while straddling the bag at first base.
"Anybody else, we have to take out," Vikings co-coach Shelly Luth said of Thomas, who has signed with Cal State Northridge. "Shayla is just a stud. She is irreplaceable."
The bottom of the order — Henderson, Hoetker and Gonzalez — combined to go five for nine for the Vikings.
Meanwhile, a moment of silence was held for Mark Campbell, 57, who died on Monday. Campbell was revered in the softball community as a coach at Pacifica High and on the travel circuit with the O.C. Batbusters organization.
Bloom, who currently plays for the Athletics Mercado, said that she played for Campbell in her age-14 season.
"I played for Mark Campbell for a year," Bloom said. "He taught me to be a competitor in the circle. He is one of the greatest coaches to ever live, so I am very thankful that I was able to play for him. I'm very thankful that I had the opportunity to play for him.
"Rest in peace, Coach Mark."
Twitter: @ProfessorTurner
---