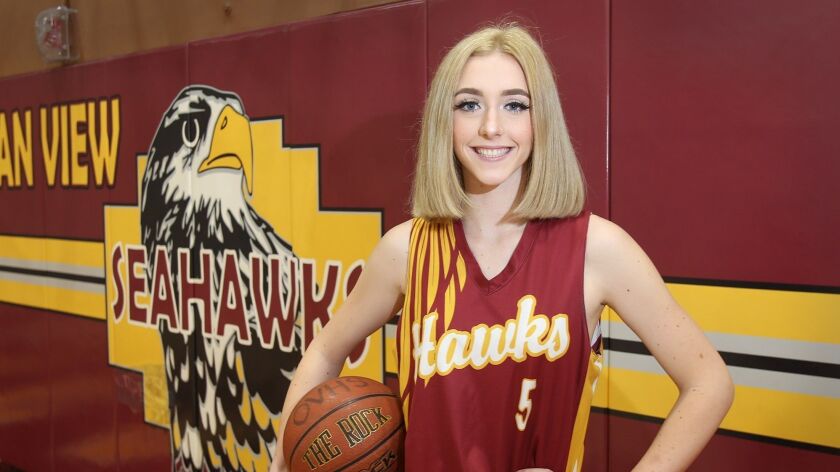 Ocean View High girls' basketball coach Kim Morris sat down senior center Helen Reynolds after an early December trip to Atascadero.
The Seahawks needed more points. They had just dropped a 45-18 decision to San Luis Obispo in the final game of the Ruth Dozier Tournament, falling to 1-4.
Morris' message was twofold. She told Reynolds that she had to score at least 20 points to give the team a chance to win. The team's only returning starter also needed to turn it up a notch as a leader.
"After Atascadero, [we] had a really good heart-to-heart," Morris said. "She's always been a nurturer [to her teammates], but hasn't always been the toughest and most physical.
"Now she's leading by example."
After that Dec. 1 game, the 6-foot-1 Reynolds has emerged as the breakout star for the Seahawks.
The following weekend at the Hawk Holiday Classic at Ocean View, Reynolds averaged 27.8 points per game to help the Seahawks go 4-0 and win the tournament's Premier Flight title.
Reynolds earned the tournament's Premier Flight MVP award. There's no lacking in confidence now.
"When my team has to score," Reynolds said, "they have to look for me."
She demonstrated this in a 38-37 last-second victory over La Mirada in the Lady Spartans Winter Shootout at Villa Park High on Wednesday. With two seconds left, she took an inbounds pass to the post, swiveled and swished a game-winning hook shot.
Since the 1-4 start, the Seahawks entered Friday at 6-6.
She's always been a nurturer [to her teammates], but hasn't always been the toughest and most physical. Now she's leading by example.
Kim Morris, Ocean View High coach
A couple of reasons contributed to the slow start, including transitioning sports. Reynolds was the centerpiece to Ocean View's semifinal run in the CIF Southern Section Division 7 girls' volleyball playoffs. Eighteen days later, Reynolds played her first basketball of the season.
"I definitely missed the physicality," said Reynolds, referring to the move to basketball.
She noted that while her current team needs someone to lead through their play, her teammates in volleyball required different motivation.
"If I was quiet," she said, "they wouldn't feel energy."
"She's very good at communication," Morris said. "She has been very encouraging of other people."
Morris added that the Seahawks lack much experience on the court, so Reynolds needed to embrace a more physical, rather than vocal, role.
Fortunately, she has help. Kasey Torres, a senior guard for the Seahawks, is the proverbial Robin to Reynolds' Batman. They work together, fostering growth and success on this young team.
"I have to give a shout-out to Kasey," Reynolds said. "She helps me [lead] on the court. It's nice to know someone is side-by-side with me."
Reynolds also said she was sick during the first basketball game, a 44-28 loss at Saddleback on Nov. 14. In the next meeting against Saddleback, she finished with 31 points, 13 rebounds, four steals, two blocked shots and two assists in a 43-40 triumph in the Hawk Holiday Classic final on Dec. 8.
"We were excited to play against them again because we knew that it would be like a second chance," she said at the time. "That wasn't us, and [it is] not like we needed to prove anything to them, but it's just like proving to ourselves that we can do better and we can actually execute our game."
The daughter of Mark and Dina Reynolds, she grew up in an athletic but balanced household. Dina played basketball in high school, but focused on the viola and trombone in college. Mark participated in junior varsity baseball.
Helen Reynolds' real inspiration to compete came from her older brother, Andrew, 2½ years her senior and currently an assistant on the Ocean View junior varsity boys' basketball team.
"Whatever he did," she said, "I would do."
When he swam, she swam. When he started volleyball, she followed, discovering a passion she describes in loving detail.
"Time slows down," Reynolds said when describing a spike at the net. "Connecting on sets is so satisfying."
If Andrew sparked her passion for sports, her mother keeps her balanced amid a full workload. On top of multiple sports and school, Reynolds also recently finished as the third runner-up in the Miss Fountain Valley Pageant.
"Mom keeps me in check," Reynolds said with a laugh. "I have to prioritize everything, and narrow down what's most important in the moment."
The pageant, which provides education scholarships to participants, entailed several hours of extra work. This included time with her church group, the local parks and recreation department and other community service.
Morris never fears that these commitments will hinder Reynolds.
"She's very wise," Morris said of Reynolds, who plans to play basketball in college, and Cypress College and Irvine Valley College have shown an interest in her. "From doing community service, singing at a talent show or performing at Miss Fountain Valley, it gives her the energy to compete. If you took those things away from her … she wouldn't have the balance."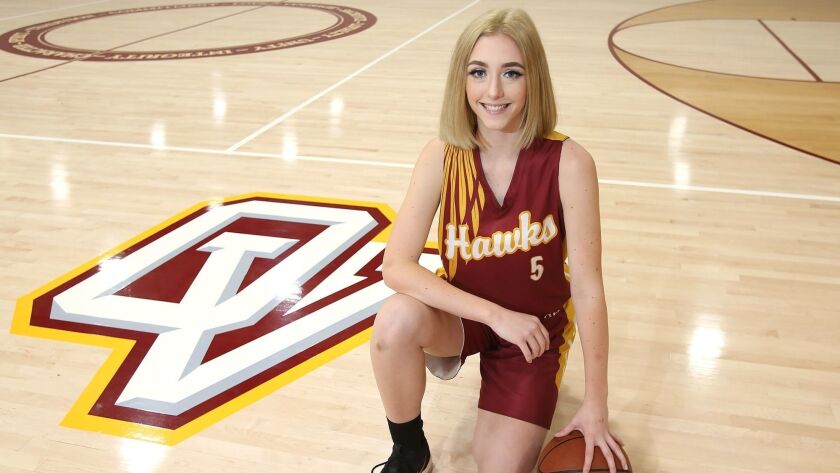 Helen Reynolds
Born: Feb. 7, 2001
Hometown: Fountain Valley
Height: 6 feet 1
Weight: 155 pounds
Sport: Basketball
Year: Senior
Coach: Kim Morris
Favorite food: Butternut squash soup
Favorite movie: "50 First Dates"
Favorite athletic moment: Reaching the CIF Southern Section Division 7 semifinals in volleyball this season.
Week in review: Reynolds finished with 31 points, 13 rebounds, four steals, two blocked shots and two assists, leading the Seahawks to a 43-40 win over Saddleback in the Hawk Holiday Classic Premier Flight title game on Dec. 8. She was named the tournament's Premier Flight MVP.
SAM DODGE is a contributor to Times Community News. Follow him on Twitter: @samgododge
---