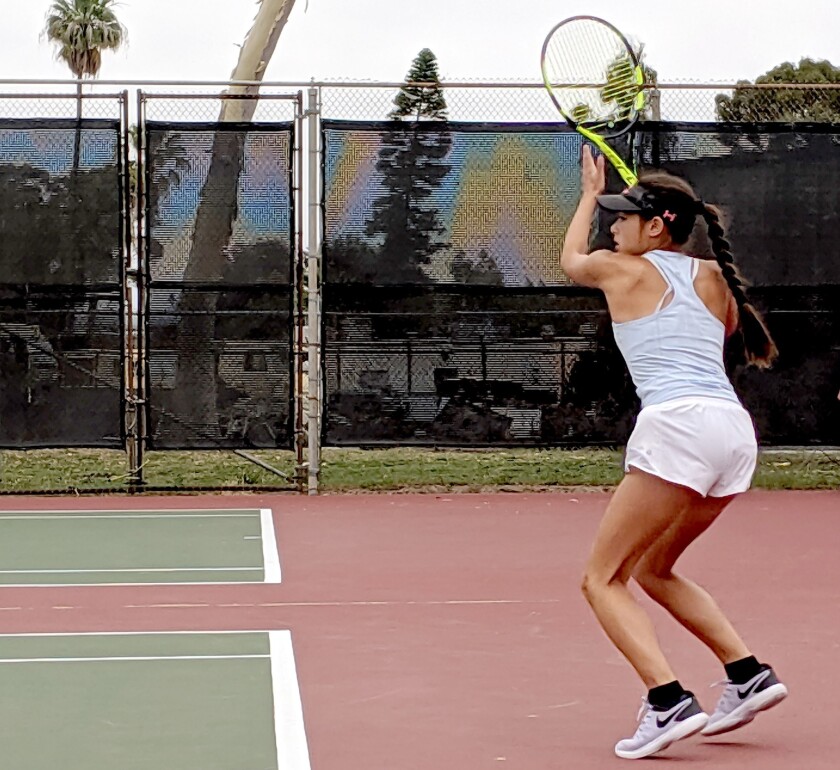 Huntington Beach resident Mika Ikemori entered her round of 32 match in the USTA Southern California Junior Sectional Championships against a familiar opponent.
Earlier this month, Jasmine Tolmoyan of Glendale beat Ikemori 6-0, 7-6 in the semifinals of the Woody Hunt South Bay Junior Tournament in Rolling Hills Estates.
This time, the ninth-seeded Ikemori returned the favor in their girls' 16-and-under singles matchup at Costa Mesa Tennis Center on Thursday morning, beating Tolmoyan 6-3, 6-0.
Ikemori moved on to the round of 16 in the afternoon and won 4-6, 7-6, 4-3 as fifth-seeded Kaila Barksdale of San Diego retired in the third set due to injury. Ikemori will play top-seeded Midori Castillo of Bonita in the quarterfinals on Friday at 10 a.m. at Los Caballeros Sports Village.
Ikemori had mixed feelings before the rematch with Tolmoyan.
"I was excited because I wanted redemption," she said. "I was also kind of scared, to be honest, because she's really good."
Things started shaky for the 14-year-old Ikemori, who will begin her freshman year at Marina High in the fall.
In the opening game of the first set, Tolmoyan looked overpowering, winning on four consecutive points. She drove accurate forehand and backhand shots, forcing Ikemori to cover long distances to keep the ball in play.
Ikemori shook off the opening game quickly.
She combined pinpoint serves and high-arching shots to push Tolmoyan off balance and tie the first set at 1-1. She then broke Tolmoyan's serve to take the 2-1 lead.
Ikemori said she utilized the lessons she learned in her first match against Tolmoyan to bounce back.
"I didn't want her to get a rhythm because she likes to just go cross court kind of flat and hard," Ikemori said. "I just wanted to mix it up to try to get a put-away ball."
With the first set tied at 2-2, Tolmoyan took the fifth game for a 3-2 lead. It would be her last.
Leading 15-0 in the sixth game, Ikemori served an ace to go up 30-0. On the next point, Tolmoyan's return game forced Ikemori into a difficult outstretched, backhand return and then another on her forehand. Ikemori's quick defense won out as Tolmoyan hit the next shot out to give Ikemori the game and tie the set at 3-3.
From there Ikemori dominated. She broke Tolmoyan's serve for a second time to go up 4-3 and then won the next two games for the 6-3 set victory.
In the second set, Ikemori looked unstoppable. Already up 3-0, she broke Tolmoyan's serve on a long rally, where she returned another difficult Tolmoyan forehand on another fully extended backhand. Later in the rally, she utilized a high-arching shot, forcing Tolmoyan to hit a long forehand out of bounds to take a 4-0 second-set lead.
"I knew she hit a good, hard ball," Ikemori said. "I knew I had to take the ball in front of me and just use her pace. I felt really good. I knew that I was playing well, and I just wanted to stay in the zone."
Even after an injury timeout for Tolmoyan to nurse an injured foot, Ikemori continued her strong play, winning the next two games, the set and the match.
Tolmoyan credited her Ikemori's strategy and execution.
"She was hitting the ball and moving me a lot," Tolmoyan said. "I think she just overpowered me today. She played smarter."
Ikemori's mother, Lynn, was pleased to watch her daughter move on in the tournament.
"She played really well because her opponent is phenomenal," Lynn said. "I'm thrilled for her."
::
Support our sports coverage by becoming a digital subscriber.
For more sports stories, visit latimes.com/socal/daily-pilot/sports or follow us on Twitter @DailyPilotSport.
ANTHONY CIARDELLI is a contributor to Times Community News.
---