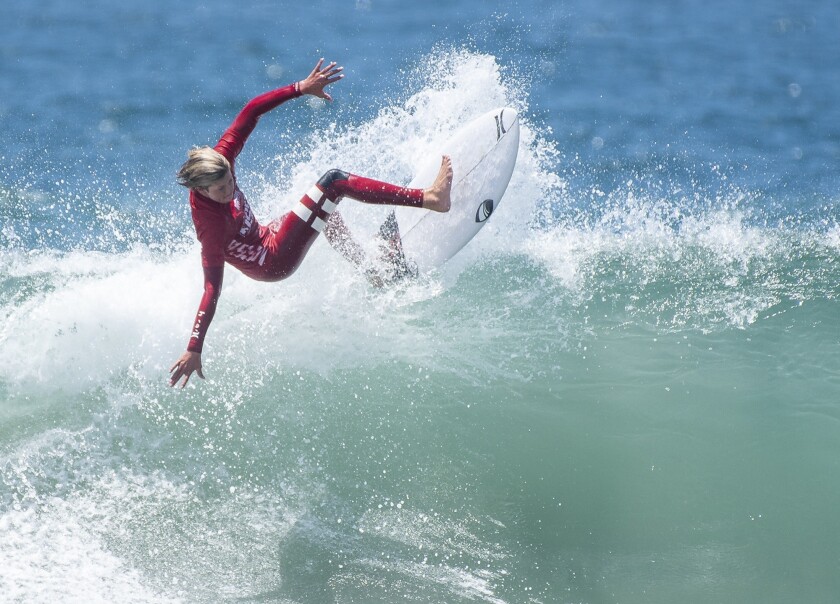 Nick Marshall has been surfing practically his entire life, so he knows how the ocean can be fickle.
The Encinitas surfer also knows that in competitive surfing, the clock is always ticking.
So when Marshall saw the clock tick below one minute in his round 4 heat of the National Scholastic Surfing Assn. National Championships on the south side of Huntington Beach Pier Tuesday, he knew he had to rely on the ocean to give him what he needed.
Marshall, 18, found himself in third place in the three-man heat behind Japan's Tenshi Iwami and North Carolina's Owen Moss. Only the top two would advance to Wednesday's open men's semifinal, with a chance to claim a national title.
Iwami was sitting pretty with a 14.27 two-wave score (8.00 and 6.27), while Moss was in second with a 12.44 (6.67 and 5.77). Marshall had a 10.67 (5.67 and 5.00), so he needed a 6.78 to move ahead of Moss and into advancing position.
With about 15 seconds remaining in the 20-minute heat, a wave came. It wasn't a great wave, but Marshall didn't have a choice. He paddled into it, threw an air-reverse, landed it, rode out of it and waited.
Moments later, it was announced as a 7.27 and Marshall finished with a 12.94, enough to put him into the semis.
"I was thinking, just go to the air," he said. "The waves weren't too good, so I needed a set if I was going to do it on turns. Just looking for anything and kind of flung it off that and hoped it was [enough]."
It was, and Marshall will compete in Wednesday's "finals day," the last of the eight-day competition that has brought together many of the country's best young surfers, as well as some from outside the U.S. The contest has surfers representing California, Hawaii, Florida, North Carolina, South Carolina, New Jersey and New York, as well as Japan, Nicaragua and Barbados.
Marshall will surf his semifinal heat against Hawaii's Sage Tutterow Wednesday morning. In the other semifinal, Iwami goes up against San Clemente's Taj Lindblad.
Like Marshall, Lindblad got through with a second-place finish in a wild round 4 heat. Lindblad secured his spot late in the heat with an 8.50 that momentarily put him in first place.
But Tutterow answered with an epic 9.83 to finish with a 17.66, beating out Lindblad's 16.27.
"So stoked," said Lindblad, 16. "It's really hard and everyone in this comp is super gnarly. Every heat is super stacked. I'm really lucky I made it through."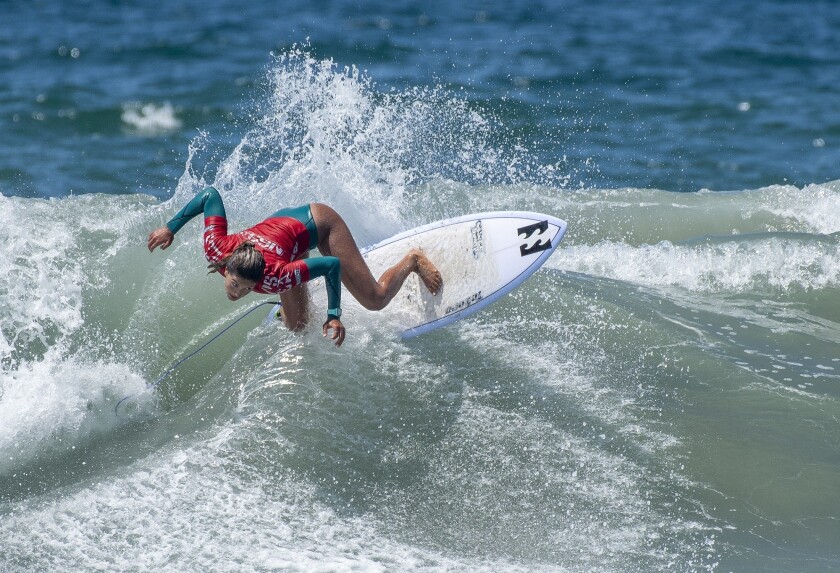 The finals heats have been determined in every other division, including the open women's, where an all-Hawaiian heat will pit Luana Silva against Gabbi Knudson.
In her semifinal Tuesday, Silva beat Sawyer Lindblad, Taj's sister, by putting up some big numbers in the latter half of the heat. Ultimately, Silva won 16.23 (8.50 and 7.73) to Lindblad's 11.97 (6.40 and 5.57).
"In the beginning I was a little nervous, I kept falling on some of my waves, which was kind of a mistake, I shouldn't have picked those waves," said Silva, 15. "Then I kind of calmed myself down and waited with priority and finally I got that eight."
::
Wednesday's finals schedule:
NSSA air show, 8:20 a.m. — Hayden Rodgers, Tony Nunez, Luke Swanson and Max Beach
NSSA junior air show, 8:50 a.m. — TBD
Open women, 9:20 a.m. — Luana Silva vs. Gabbi Knudson
Open men, 9:50 a.m. — TBD
Open boys (12 and under), 10:20 a.m. — Cannon Carr, Luke Tema, Diesel Storm Butts and Jak Ziets
Open juniors (15 and under), 10:50 a.m. — Shion Crawford, William Hedleston, Lucas Owston and Robert Grilho
Open girls (14 and under), 11:20 a.m. — Pua DeSoto, Luana Silva, Vaihiti Inso and Valentina Resano
Open mini-groms (10 and under), 11:50 a.m. — Tiger Abubo, Loyal Kenworthy, Quaid Fahrion and Kalanoweo DeSoto
Open super girls (12 and under), 12:20 p.m. — Bella Kenworthy, Vaihiti Inso, Candelaria Resano and Isla Sexton
Open longboard (all ages), 12:50 p.m. — Mahina Akaka, Mack Landry, Nicholas Ferry Lee and Pua DeSoto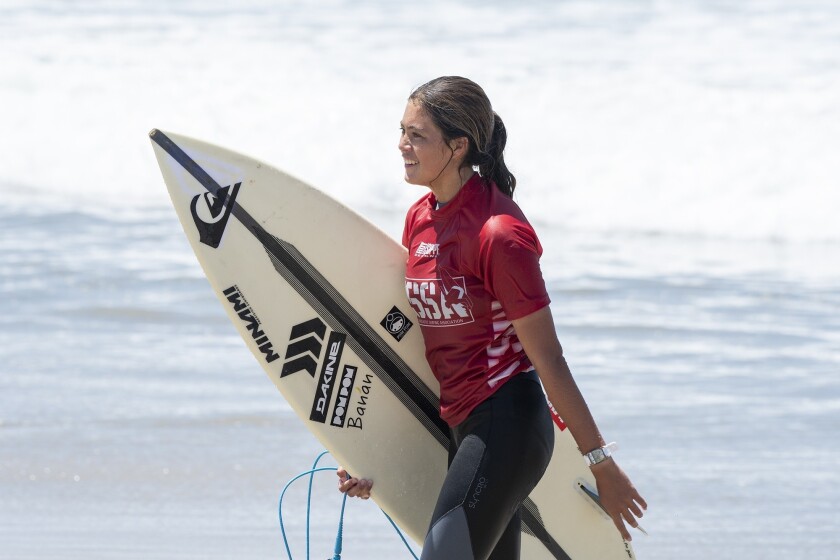 Support our sports coverage by becoming a digital subscriber.
For more sports stories, visit latimes.com/socal/daily-pilot/sports or follow us on Twitter @DailyPilotSport.
JOE HAAKENSON is a contributor to Times Community News.
---